10 Great Movies from Female Directors in 2014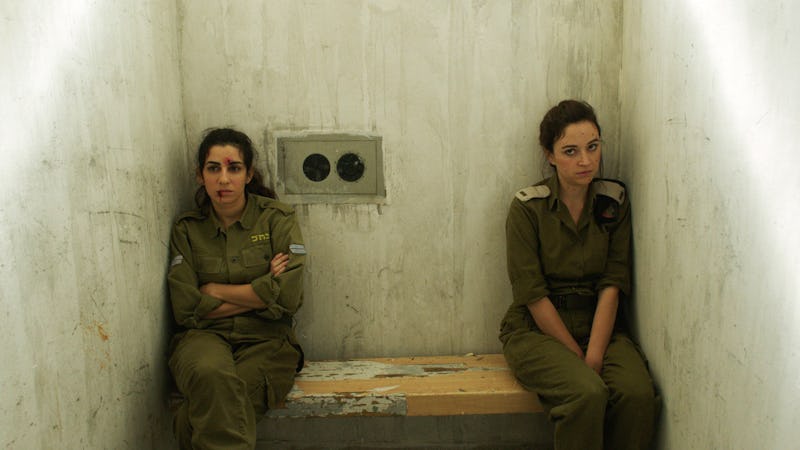 Women directors are treated like an anomaly — a rare species that only substantiates in the presence of "intrinsically feminine" subject matter, like vampire films or superheroine pictures. But industrial chauvinism aside, women directors turn over quality entries in every genre year after year. 2014 was a particular stellar example of the unsung diversity in female-helmed cinema. These past 12 months have showcased exceptional dramas, comedies, thrillers, horror flicks, and documentaries all sprouting from the minds and eyes of lady filmmakers.
While you've likely heard of at least one or two of the movies on this list — it's pretty tough to avoid one of the biggest Oscar contenders of the year, after all — that doesn't change the fact that female-directed movies don't get the same attention, nor the Awards clout, of those cranked out by their male counterparts. As such, we're charged with making an effort to seek out these diamonds in the rough… it helps matter that everything mentioned below is more than worth a watch.
So, be you on the hunt for historical drama, romantic comedy, slow-burning thrills, or the odd existential feature about people and birds, you're in luck: this collection of female-directed films from 2014 has you covered.
Dramas
If you've heard about one female-helmed movie this year, it's likely Selma. Hitting theaters at a time so desperately in need of a story highlighting the American justice system's history of oppression of its black citizens, the tearful picture about Martin Luther King's civil rights march through Alabama is an insuperably powerful piece of cinema. Independent of its tragic timeliness, Selma is a grand display of director Ava DuVernay's expertise in character construction and emotional pulp.
Somewhat lighter in sociopolitical context, albeit no less masterful in craft, is Palo Alto. The love letter to teenage ennui comes from Gia Coppola, heir to her family's directing empire, directing her own screenplay adaptation of James Franco's short story anthology (Franco himself stars in the picture). Coppola's institution of a hazy and feverish sensibility is remarkably reminiscent of high school horror, without skimping on the gravity.
Comedies
On one hand, Obvious Child is one of the edgiest, raunchiest, and most biting comedies to hit theaters this year. On the other, it's also a sweet embrace of the traditional rom-com formula, and one with plenty of authentic heart. Writer/director Gillian Robespierre both celebrates and subverts the genre with a story about a New York comedian (Jenny Slate) navigating a budding relationship in the weeks leading up to the abortion of her unplanned pregnancy. Thanks to Robespierre's sense of humor as well as her earnest and loving touch, the heart and the edge live snugly together in this wonderful flick.
The comic stylings of Talya Lavie are a trifle more bananas. Her feature debut Zero Motivation plants a swarm of plucky, irreverent young ladies in the Israeli army, affording them no shortage of humorous opportunities: running amok on the military base, cracking wise to superiors, and even fending off the clutches of an evil spirit. (Yes, this movie gets bizarre!) Lavie's aptitude with such a wily, tone-hopping project shows off chops that you don't often see in mainstream comedy directors.
Thrillers
I imagine that it is no picnic to enliven ecological activism to the height of blockbuster thrills, but Kelly Reichardt's Night Moves does not fall short whatsoever. From beginning to end, this socially conscious and morally ambiguous feature maintains palpable tension, cutting viewers' breath again and again when stars Jesse Eisenberg and Dakota Fanning test the limits of legality to put a stop to environmental atrocities.
Perhaps more ambitious in form is A Girl Walks Home Alone at Night, which rallies the tenets of Iranian culture, vampire lore, the Western genre (and Quentin Tarantino-esque throwbacks thereto), and rock and roll to create a cool, crisp, haunting, and entirely inimitable little picture. Iranian-American writer/director Ana Lily Amirpour transformed her own 2011 short film into a feature-length project to create A Girl Walks Home, which is exemplifies more stylistic bravado (in a good way) than almost anything to come out in 2014.
Horror Films
Another movie you've liked at least heard chatter about is the year's most celebrated horror movie… by the public, by critics, even by The Exorcist director William Friedkin : The Babadook, a years-in-the-making movie by Jennifer Kent. Few horror pictures in recent years have displayed The Babadook's tenacity for visual chills, not to mention a through-line grounding that actually works to make the material all the more terrifying.
Documentaries
Perhaps the very best, and almost certainly the most important, documentary to release in 2014 extrapolates on the spotlighted story of Edward Snowden. But Citizenfour is a profound expedition in two ways: first and foremost, director Laura Poitras is the sole true purveyor of Snowden's story, having relocated to Hong Kong to pioneer the publication of his grave revelations about the American government. But beyond its sociopolitical implications, Citizenfour is a dynamic story about a man under duress, about freedom fighters working toward a cause, and about the tension pouring inward from a world so bent on silence. That Poitras was able to maintain such a gripping narrative despite confining most of her footage to a single room is a testament not only to the subject matter, but to her directorial prowess as well.
Manakamana is a much different sort of doc, though one also limited to a single setting. Co-directors Stephanie Spray and Pacho Velez shoot an array of disparate folks traveling to and from the sacred Manakamana temple in the mountains of Nepal. Despite absence of narrative (and, in many instances, dialogue), Spray and Velez's patience, devotion, and imagination allow the film to feel like a story, and the people like characters.
Existential Oddities
Bird People, another of my favorite movies of 2014, is a tough one to describe… let's just say, vacationers, hotel employees, and birds are tossed into a philosophical blender that leaves you with more questions than answers. Director and co-writer Pascale Ferran certain shows off a love for character work in this slow, strange, wholly internal piece of poetry. And her visual flare, although subtle, is something likewise to be reveled in.
And these are just 10 of the most recent terrific female directors to wow the cinema with expert work. Keep an eye out for more rising greats in 2015!
Images: Zeitgeist Films; Paramount Pictures; A24 Films; Cinedigm Corp; IFC Films (2); The Weinstein Company