You Have to See This 'Chandelier' Parody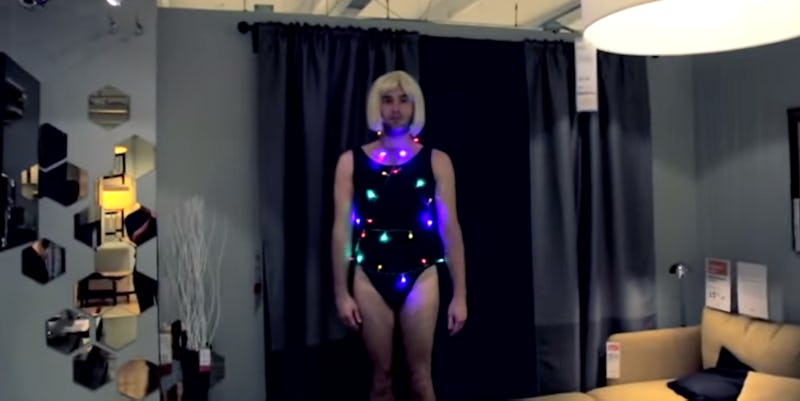 Ikea is the closest thing to a free theme park we're ever going to get, and no two Ikea experiences are alike. One Ikea shopper took this idea to the next level. How else would you describe a cheap furniture-inspired take on Sia's "Chandelier" video? That's what I thought.
In a valiant effort to recreate the music video — which originally starred Dance Moms ' Maddie Ziegler — Scott Nelson dressed up in a blonde wig and leotard (similar to the one Ziegler wore in the actual video), and proceeded to thrash around the store, much to the joy of his fellow Ikea patrons. Except this time, the leotard was covered in Christmas lights. Because Nelson was a "Holiday Chandelier," hence the title of the video. And although the Sia-directed original version is, like, critically acclaimed and stuff, I think I prefer Nelson's video.
But the whole "Holiday Chandelier" plan didn't go off without a hitch, although amazingly enough he did manage to keep that wig on his head. Nelson dances everywhere from the checkout lines to the parking lot to on top of beds... and more than once, he gets asked to leave the store. Does he? No, he does not, because the show must go on. Naturally, most of the people who don't work at Ikea seemed to find the whole thing pretty hilarious, and even pulled out their phones to record what was going on. My favorite part is when, after rolling around on the ground near the entrance, one Ikea employee runs over to Nelson and says: "Hey, we just had a talk with you, man! Seriously?"
Sometimes you have to break the rules to create truly great art, and I have a feeling that if Sia ever sees this video, she'd be pretty proud.
Image: "Holiday Chandelier" on Youtube