Screech's Arrest Wasn't the Only 'SBTB' Scandal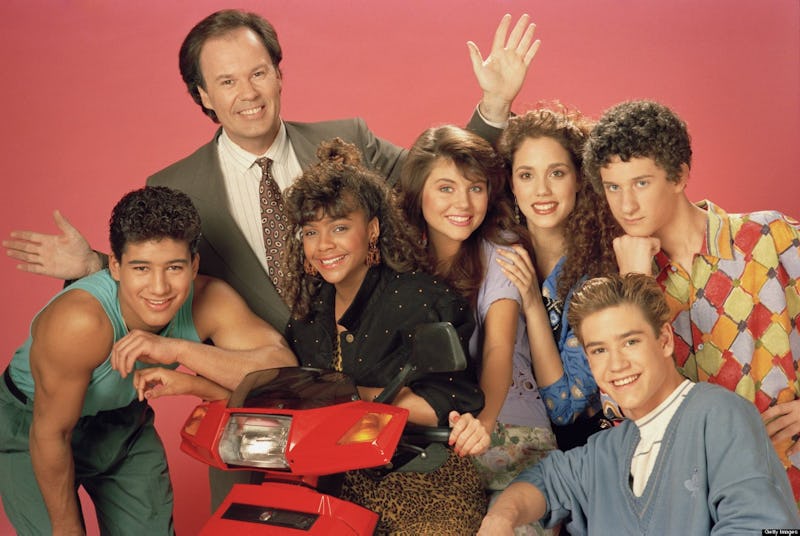 It's always traumatizing when one of your favorite childhood stars ends up behind bars. The most recent shocking mug shot happened when Dustin Diamond, a.k.a. Screech, was arrested for an alleged fight involving a knife on Christmas near his Wisconsin home. Although Diamond penned tell-all Behind the Bell — well, a ghost writer did, at least — about the sex, drugs, and general insanity on the SBTB set, it was a "take it with a grain of salt" situation. Do we really believe that executive producer Peter Engel had threesomes with Mark-Paul Gosselaar and Tiffani Theissen during press tours, or that Diamond slept with two thousand women because of his fame? That book inspired Lifetime's Unauthorized Saved by the Bell Story , which also falls under the category of potentially stretching the truth.
Whether or not Diamond's claims are true, he was the first to be arrested from the Bayside gang. However, the rest of the cast hasn't escaped noteworthy crazy moments throughout their careers post-SBTB. The other lead actors have all had their fair share of "scandals" in the past two decades, although most of them are nothing compared to Diamond's. Take a look at six scandalous moments in SBTB cast history.
Mario Lopez's Quickie Marriage to Ali Landry
Lopez and Doritos-Girl-turned-actress Landry were married for only two weeks before their marriage was annulled in 2004. After she discovered that he had cheated on her, things quickly ended, and Lopez admitted that he was never in love with her — even though they were together for six years — in his memoir, Just Between Us.
Elizabeth Berkley's Showgirls Role
After playing such an innocent character on Saved by the Bell, people were shocked to see Berkley as the lead in 1995's Showgirls. The NC-17 movie was full of nudity and obvious sexual content and would have shocked Jessie Spano.
Lark Voorhies' "New Look"
Like with what happened with Renee Zellweger, Voorhies simply was out of the spotlight and aged, which is why she looked so "different." However, many questioned if she was doing drugs or had cosmetic surgery after a video interview with her with viral in 2012, and her mother told People that Voorhies is battling bipolar disorder. The actress has since denied those claims.
Tiffani Thiessen's Not-So-Innocent Role on 90210
After SBTB (including the College Years and a movie), Thiessen jumped into a completely different role on Beverly Hills, 90210. Valerie Malone was the opposite of sweet Kelly Kapowski, and though Val had an emotionally dark past that made her troubles make sense, it was still shocking for fans to see. Above is a very Fifty Shades of Grey-like scene that proves it.
Thiessen's Awkward Reunion With Dennis Haskins
When Thiessen appeared on the Today show, Haskins (who played Mr. Belding) walked in to surprise her. Just watch her reaction to see how awkward their little reunion was. Womp womp.
Everything About Behind the Bell and the Lifetime Movie
These are both worth mentioning again because of how insane Diamond's claims were. In the ghost-writer-penned Behind the Bell, he says the cast got high behind the scenes, swapped partners sexually (including Thiessen allegedly cheating on her boyfriend with both Gosselaar and Lopez), and much more. The Unauthorized Saved by the Bell Story on Lifetime toned down on the sexual content, but showed a darker side of the teens' lives as well.
Images: Getty Images (2); NBC