Do You Want to Watch 'The Lizzie McGuire Movie'?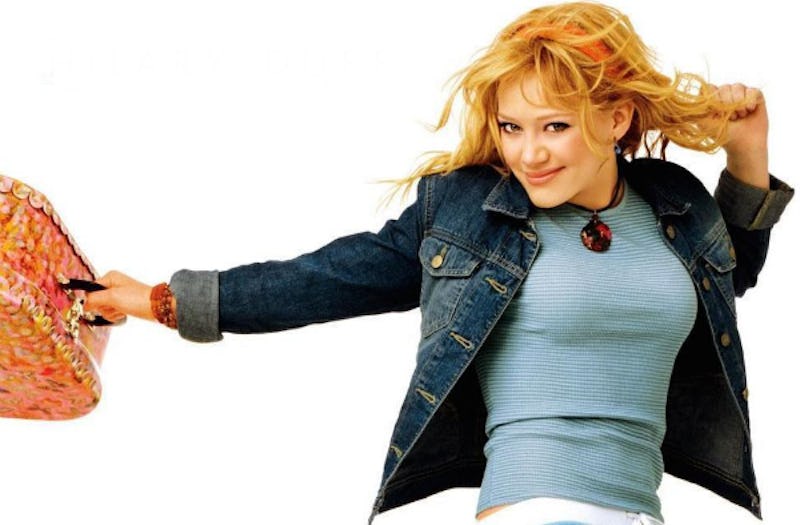 On Monday night, ABC Family made a huge mistake. In fact, they're going to keep making that mistake all week, but Monday was the start of it. You see, ABC Family is airing Lizzie McGuire, Even Stevens, and That's So Raven as part of their That's So Throwback holiday week, because they have learned that children of the '90s will stay up late to get their nostalgia feels on from their favorite shows, even if it's only two episodes from 12 a.m. to 2 a.m. Monday night kicked off the week with two episodes of Lizzie McGuire. (It included, awkwardly, the episode where she falls in love with Aaron Carter. And it's awkward because Aaron Carter is still in love with Hilary Duff, even though she's married and has a kid. And not with him. But I digress.) Two episodes is NOT ENOUGH. And, sadly, The Lizzie McGuire Movie wasn't part of the marathon.
Thankfully, you can still get your closure online. The Lizzie McGuire Movie was the precursor to the Disney Channel series Hannah Montana, featuring Lizzie traveling to Italy on a school trip and being mistaken for an Italian superstar singer who happened to look exactly like her but brunette. She also finally, finally, finally falls in love with and then kisses Gordo — just in time for the entire series to end. Anyone who says that Gordo and Lizzie weren't one of their childhood 'ships is totally lying to you. So where can you see the magic begin and end? Here are your options.
Watch It Online
Unsurprisingly, The Lizzie McGuire Movie is so beloved — and so hard to find online — that you can find the film in its entirety uploaded to YouTube. As a bonus fact, you can currently watch Lizzie McGuire Season 1 and Season 2 on Disney Video. It might not be the whole movie, but, hey, at least it's more than the two episodes ABC Family was showing.
Pay For It Online
If you're ready to shell out the cash for your childhood feels, there are plenty of places to do that as well. Amazon Instant Video has The Lizzie McGuire Movie available to buy or rent in SD for $2.99 or $9.99 respectively. Disney Video also has a digital download of The Lizzie McGuire Movie available via iTunes for $17.99. That way, you can carry the movie around with you everywhere and force all your friends to watch.
Buy It On DVD
If you want to go old school — much like the '90s show you are trying to watch — then you can herald back to the caveman days and buy The Lizzie McGuire Movie on DVD. Amazon is selling the film for $6.87, Netflix has the DVD available for an extra $7.99 a month (along with other, unlimited DVDs), and, if you become a member at Disney Movie Club, you can get four DVDs, including The Lizzie McGuire Movie, for just $1.00. To be honest, these are all small prices to pay to relive our childhoods. How else are we going to get rid of all the feels ABC Family gave us Monday night without this movie as closure?
Image: Disney; inthelandofgifs, mile-leelee/Tumblr