The New Illustrated 'Harry Potter' Is So Spot-On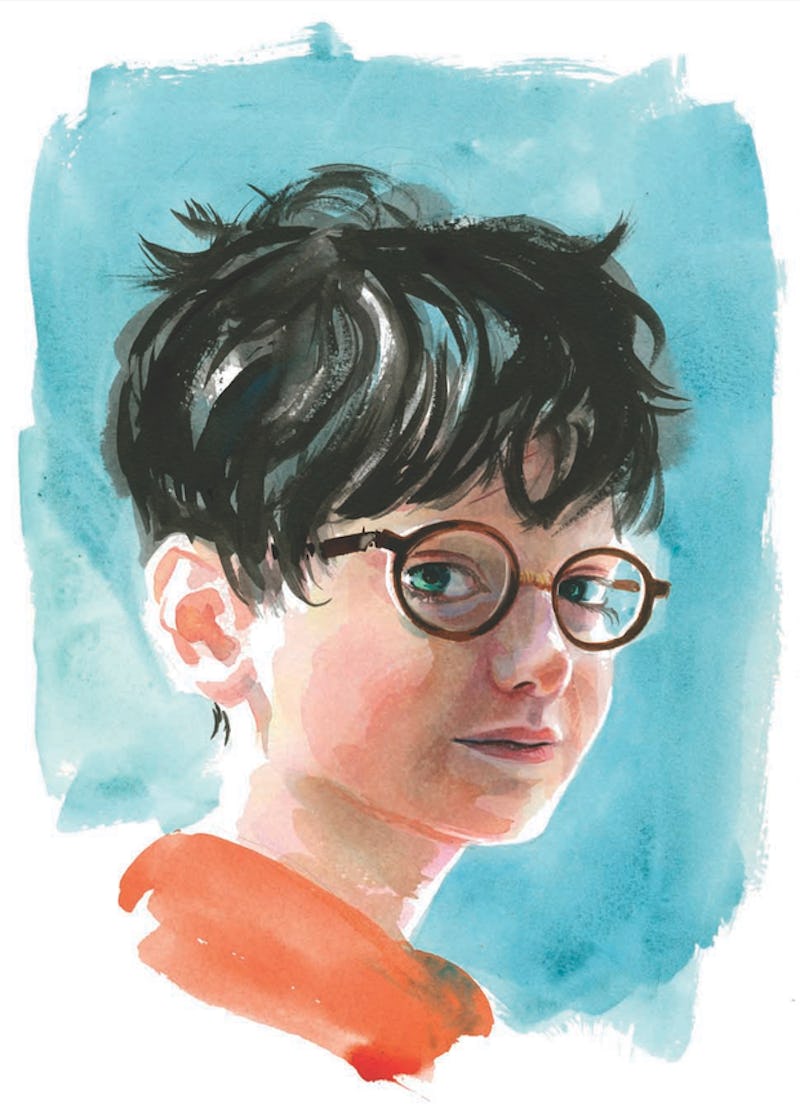 As if Harry Potter couldn't get any more magical (I had to), Carnegie medal-winning illustrator Jim Kay has been tapped to re-imagine J.K. Rowling's world for a new illustrated edition of Harry Potter and the Sorcerer's Stone . Although the book won't hit shelves in the U.S. and U.K. until October (*cough* Christmas presents for everyone *cough*), Kay has been kind enough to us Muggles to showcase some of his work so far. He's taken his craft to Harry, Ron, and Hermione, of course, but he's also given life to Hagrid, the villainous Draco Malfoy, and Hogwarts itself — which Kay has said is his favorite subject to illustrate:
It's been lovely thinking about creating the characters, but at the moment my favorite task is creating Hogwarts — it's the first time I've thought about building something supported by magic — it's harder than you'd think.
Kay won the prestigious Carnegie Medal for his dark illustrations in Patrick Ness' book, A Monster Calls. So he's no stranger to the spotlight. But, as expected, taking on the universally beloved Harry Potter world, and it's millions of fans, was a major step forward for the artist. As he tells The Guardian:
Scientists say the Big Bang is to be followed by the Big Crunch. I feel I have first hand experience of this theory, for hearing the news that I'd got the commission was an explosion of delight, followed instantly by an implosion of brain-freezing terror.
That sounds about right. But judging from his amazing work thus far, he shouldn't have much to worry about because we Potterheads are flat-out stoked. First, of course, there's our protagonist Harry.
I'm in love with the little hint of Mona Lisa-style secrecy in his eyes. Basically, he's perfect. And then, there's our real protagonist, Hermione Granger:
Working hard getting it done, as always. And sidenote, when Kay was asked who is favorite character in the Harry Potter world was, he talked up our girl:
This is like trying to choose your favorite record, it changes all the time. I have a soft spot for Neville, particularly because of his awkwardness, but you have to admire Hermione, because she puts the hours in at the library, she's the cement really that holds it all together, well, it would be a different story without her.
So Ron Weasley is the least realized at this juncture, but boy, did Kay capture that little awkwardness in our favorite boy redhead.
I'm obsessed with how Hagrid fills up the entire frame. I would have imagined him with a bit more of a smile in his face, but maybe he's in the middle of being like, "Oh kids, what are you doing now?"
Oh, Draco, you are stone cold. And finally, there's Hogwarts, Kay's favorite subject.
(You can't see me right now, but I'm starting a slow clap.)
Kay, in these illustrations, seems to be embodying his own advice to budding illustrators:
And don't forget, if you have a great idea, it will shine through the crudest of drawings, in the same way a great song might only need three chords on a guitar to bring it to life.
It's clear that Kay has taken this responsibility extremely seriously, and he's not only getting the visual depictions of the characters correct, but he seems to be putting their heart and souls into the illustrations, too.
Images: llustrations by Jim Kay © 2014 by Bloomsbury Publishing Plc.