9 Books To Get You Through Love's Toughest Moments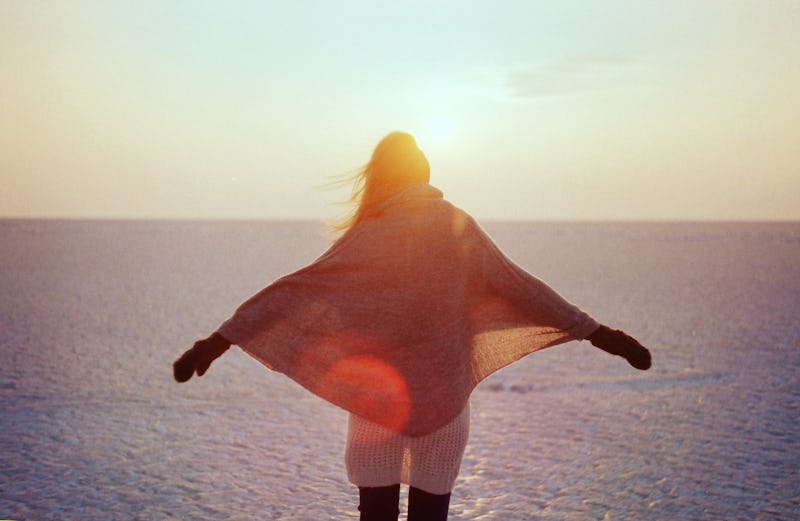 Like the gospel of the good and mighty Rolling Stones has taught us: in life, and more importantly in love, you can't always get what you want. You might have found your soulmate and readied yourself for a sunset cruise into the happily ever after, only to discover that Mr. or Ms. right was looking for a quick dip in the waters of love rather than a "till death do us part" moment.
Young love doesn't isn't always smooth sailing: all that waiting for the other person to call, wondering if you said the wrong thing, grinning through awkward silences only to discover later that you had spinach in your teeth? It's exhausting. That's right folks, this just in — love hurts.
We've all been there, prostrate on the bed crying our eyes out, or working up a rage so fierce only a desperate desire to stay out of prison (or the principal's office) can hold us in check. So what's the solution to all this madness? Well, I suggest a return to the limitless wisdom of the one and only T. Swift — sometimes you've got to just shake it off, and that's what books are for.
f you find yourself struggling with a good love gone bad or awkwardly making your way into a new relationship, turn your ringer off for one night and cozy up to a novel that may just help you navigate the uncertain waters of love.
If there's one thing that can put heartbreak into perspective, it might just be cancer. Of course, when you combine a tale of love and loss with the story of incurable illness, you have a recipe for unimaginable sadness. And yet, Green's widely adored YA masterpiece is ever so much more about the value of hope and the power of love than it is about the pain of loss. Take heed and take heart whenever you're feeling down with this powerhouse of a novel.
Kazuo Ishiguro's unsettling dystopian romance novel follows three young friends at a mysterious school in the English countryside, serving up a version of heartache and acceptance so unusual that it borders on the unimaginable. If you're looking to put love, heartbreak, and new beginnings into perspective without the stark realism of Green's YA fiction, try Ishiguro's masterful novel on for size.
Old Yeller is not merely a highly-regarded classic among animal-lovers, but also the heartwarming story of a love that blossoms slowly and never dies. When a wandering dog shows up at the ranch young Travis Coates is minding with his mother and younger brother, the poor pup is hardly welcome; however, over time Old Yeller earns the love and affection of the family he cares for. If you find yourself struggling with a love both new and untested, take some time with Old Yeller and revel in the beauty of a relationship built up over time, step by uncertain step.
Sometimes we do crazy, ridiculous, utterly unadvisable things in the name of love, and very occasionally the choices we make come back to haunt us in ways we could hardly have imagined. When you're reckoning with the ramifications of deeds done in the name of love, a short time spent with Markus Zusak's The Book Thief should be enough to help you come to terms with just how little control you have over the life itself, no matter how vast your love and how honorable your choices.
When it's sudden, unexpected, and utterly unprepared-for, the end can be all the more tragic. As an antidote to the unimaginable pain of loss, Joan Didion's meditation on the ultimate heartbreak is required reading for anyone suffering through an end they could not have imagined and the emptiness that follows.
Nobody celebrates the utter confusion of the ups and downs of love young and old better than the inimitable Lorrie Moore. When you're feeling lost, alone, unsure, or unsettled, a careful reading of Who Will Run the Frog Hospital can offer empathy, escape, and even, a roadmap of sorts, if you're into that kind of thing.
A life lived in love is nothing if not full of surprises, and Jojo Moyes' thrilling and touching story of the twists and turns life can take when you're open to love is as engaging as it is endearing. When you're on the ride of a lifetime and you don't quite no how to cope, take Moyes' Me Before You along, and if nothing else you'll be assured of some truly excellent company.
With The Goldfinch, a stunningly crafted tale of love, longing, survival, and adventure, Donna Tartt has brought something truly special into the world. Whether you're reckoning with loss, ready to start over, or just lost longing for a love you can no longer find in this world, Tartt's singular prose and astonishing storytelling may just be able to help you cope.
When dealing with the pain of a broken heart, there are times when you reach out for nuance, subtlety, and careful reflection, and then there are times when you simply want to grab heartbreak by the balls and laugh in the face of pain. In those moments, when you're looking to give heartbreak the finger, settle in with Heartburn, and remind yourself that there's always life after love.
Image: Mitya Ku/Flickr