The Whimiscal World Of Hello Kitty Tattoos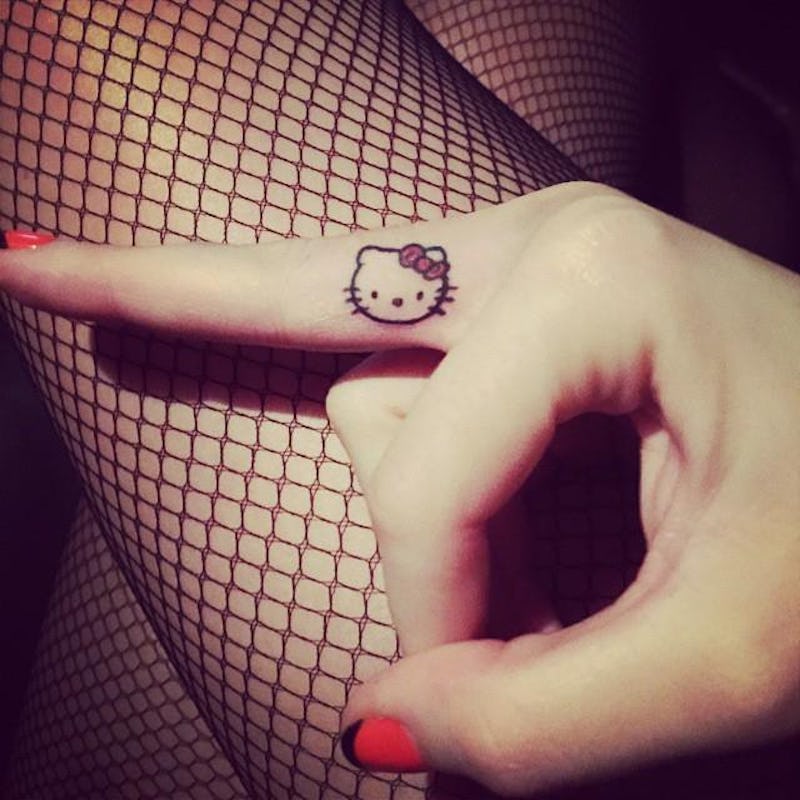 The first time I heard about Hello Kitty tattoos was a joke. My friend from college would tell the story about the one time during her after-prom weekend when she walked by a tattoo shop on the Jersey Shore and told her friends that she was going to get a Hello Kitty tramp stamp. She didn't go through with it because, as she put it, "After thinking about it for more than a second, 'Hello Kitty tramp stamp' sounded like a terrible idea." But the impulse to get the image of this iconic cartoon (who is, in fact, a "personification of a cat" and not a little girl) is one with which I can identify.
As a 23-year-old woman who protects her iPhone with a rubber Hello Kitty case and owns two Hello Kitty box cutters and traveled to Seoul to sit alone in a Hello Kitty-themed café and drink a Hello Kitty latte, my infatuation with Hello Kitty borders on the obsessive. But as my friend from college thought when she was in high school, I think getting Hello Kitty's image tattooed on my body seems like a step too far. There's also something inherently contradictory about getting this adorable icon inked on one's skin forever, especially given the Japanese association of tattoos with mobsters.
For several years, I assumed my friend was an outlier for wanting to get a Hello Kitty tattoo, but it turns out that the image of Hello Kitty has been translated to literally thousands of tattoos. It was a trend I first noticed after Kreayshawn, the rapper of "Gucci Gucci" notoriety, posted a picture of a Halloween-themed Hello Kitty tattoo she received at last fall's Hello Kitty Convention, or Hello Kitty Con for short. Kreayshawn's far from the only celebrity to take the plunge. Katy Perry also got Hello Kitty tattooed on the inside of her middle finger at Hello Kitty Con, and with over 7800 posts with the hashtag #HelloKittyTattoo on Instagram, one can only assume not all of those are on celebrities.
Both Kreayshawn and Katy Perry got their tattoos at Hello Kitty Con, which was the first of its kind, a celebration of the cartoon character's 40th anniversary that had booths for activities, lectures, workshops and tattoos. Sarah Walsworth, a tattoo artist and brand visual manager for Sanrio based in California, designed the spaces at the convention, including HK Ink, the booth where five tattoo artists set up stations and gave Hello Kitty tattoos to eager volunteers. As Walsworth told me in an interview for Bustle, the demand was huge. "By 2 a.m. every day, people were lining up outside, so it was pretty much booked before we opened," since each of the artists was only able to do about 50 tattoos per day. (All of the tattoos were free with the price of admission for the convention, which could have also driven demand.)
There were no limits on the size of the tattoo, so some of them were "huge," although Walsworth doesn't think anyone got a full back piece. But there were some restrictions placed on the design. Most clients picked from a sheet of Sanrio-sanctioned flash, which were graphics pulled directly from the Hello Kitty library. That didn't seem to be a limiting factor in terms of variety, because the available tattoos ranged from a simple red bow to Hello Kitty's face sitting on an ice cream cone.
For those who wanted something a bit more customized, the Sanrio design team worked with some of the artists to develop new images. Mario Desa, a tattoo artist based in Chicago and one of the five at HK Ink, brought a couple sheets of his own Hello Kitty-inspired designs. I asked Desa about the most memorable tattoo he gave over the course of the convention in an e-mail interview, and he said, "I had a good time all around that week, but I did really enjoy tattooing a big design of Hello Kitty as the Virgin of Guadalupe."
This creativity is what makes the wide range of Hello Kitty tattoos so interesting. Tattoos done outside of the confines of HK Ink are not Sanrio-approved, but that doesn't mean the art isn't creative and intricate and wonderful. In much the same way that Hello Kitty's image can be found on anything from nail wraps and contact lenses to Leica cameras and commercial airliners, you can find a Hello Kitty tattoo representing almost any fandom or interest.
Many of the traditional types of tattoos are given the Hello Kitty-treatment, like a memorial tattoo for a lost loved one or Hello Kitty's face in a traditional tattoo rose. There are tattoos of actual pieces of Hello Kitty merchandise, like a plush toy. But the most common style of Hello Kitty tattoos are mashups. Day of the Dead-style Hello Kitty skulls are popular, as is putting Hello Kitty's face in a "cute" food like a cupcake. People will regularly combine the image of Hello Kitty with the image of another character they love, like Darth Vader or Batman or even Freddy Krueger.
Despite being a long-time fan of Hello Kitty and a tattoo artist herself, Walsworth didn't get her first Hello Kitty tattoo until Hello Kitty Con, and by the end of the convention, she had two. Although both tattoos are clearly Hello Kitty, they also have idiosyncratic touches. The first, of Hello Kitty riding a scooter, was straight off the Sanrio-approved menu, but the reasons she picked it were personal. "That design is a little bit rare, and I collect Vespas as well." The second was a pair of scissors with Hello Kitty's face at the top, to celebrate Walsworth's personal collection of scissors featuring different Sanrio characters, including Hello Kitty, and her role as a designer and maker of things.
Both of her tattoos were done by Dan Smith, who once appeared on TLC's LA Ink, and Walsworth hopes to see him again this year to get another Hello Kitty or Sanrio character riding a scooter to add to the growing gang on her arm. Walsworth called the decision to get the tattoos a no brainer. "I've been a Hello Kitty fan for such a long time that it just makes sense. I don't even think about what my grandkids are going to think."
The same characteristics that draw people into the wonderful world of Hello Kitty draw them to get Hello Kitty tattoos. According to Desa, "From what I learned that week, she just represents happiness and friendship and is a non-threatening image that almost anyone can project their own definition and feelings onto." Walsworth added, "You fill in the space of how you're feeling with her design." This blankness, and ability to combine this iconic, friendly, adorable image with whatever else one loves and cares for, is what makes Hello Kitty the perfect canvas for a personal, meaningful tattoo.
So go forth, Hello Kitty fans, and get that tattoo you've been dreaming of. You probably won't regret it.
Images: Instagram/maxine_builder; katyperry; alexstrangler; dansmithism; aceshightattooshop; sarahwalsworth