6 Reasons Why 1994 Was An Influential Beauty Year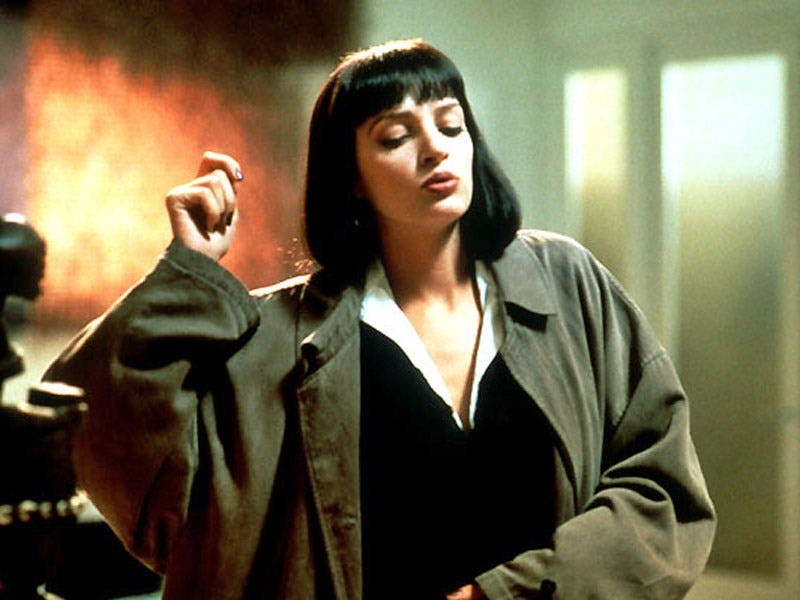 Let's throw it back to 1994, when you could go see Forrest Gump, Pulp Fiction, The Lion King and The Little Rascals in theaters for roughly $4.08. Simultaneously, Playstation changed computer games forever, O.J. Simpson was on the run, Kurt Cobain committed suicide, Lisa Presley and Michael Jackson got married, Boyz II Men's "I'll Make Love to You" played on the radio repeatedly, and everyone was watching Friends. It was an epic and tumultuous year all around, and so the makeup of 1994 tends to be forgotten. And it's a shame, because everything was much simpler back then (you '90s kids know what I'm talking about). Before cell phones, laptops, and GPS, you could ride your bike to your friend's house to see if they could play instead of checking their Instagram for news. You had to use an actual map to get anywhere, and e-mail was the new, hip thing to do. It was bliss.
Some argue that the '90s were tacky times — colorful butterfly pins, dark lip liner, over-plucked eyebrows, scrunchies, crimped hair and much more that I don't care to relive. But recently, I've noticed a lot of '90s trends making a comeback: Crop tops, overalls, choker necklaces, and platforms, for instance. While some cringe at the sight of these revived '90s staples, what they don't realize is that we have a lot to thank the '90s for, particularly 1994.
1994 was a huge year for the beauty industry, and M.A.C., Chanel, Nars, Stila, and Revlon all had a hand in shaping people's makeup routines. The brands came out with fresh new ideas never done before that are still very much in demand 20 years later. So here are a couple of highlights in the beauty industry from 1994 that revolutionized the market — and no, Lip Smackers unfortunately didn't make the cut.
Le Vernis Nail Color, $27, Jet
This was the first edgy color that everyone, even your grandmother, was dying to try. After girls saw this shade at Chanel's F/W fashion show and on Uma Thurman in Pulp fiction, Chanel's Vamp was selling out everywhere. Since it's debut in 1994, it's been a cult classic, and remains so after 20 years. Many other nail polish brands have copied this classic nail color, but year after year Chanel's Vamp comes out the winner.
NARS Lipstick in Scarlet Empress, $28, Sephora
In 1994, NARS only did lipstick. They started with 12 simple but alluring shades that would eventually turn into one of the market's leading makeup lines. After the success of their lipstick launch, NARS broadened their scope and started to produce all types of makeup products from foundation to eyeliner to eyeshadow to to blush and bronzers. Beauty gurus all over the world rave about NARS' Orgasm blush — but without the launch in 1994, all of our cheeks would be much less orgasmic.
MAC Viva Glam Lipstick in Lustre, $17, MAC Cosmetics
M.A.C. introduced Viva Glam in a daunting deep red that became instantly universal; the line now carries six rich and versatile colors for women of all styles. The best part about this classic? A percentage of all proceeds is donated to the M.A.C. AIDS Fund to support men, women and children living with HIV and AIDS. Most recently, Rihanna's Viva Glam M.A.C. collection was launched in a cool mauve tone as well. And other spokespeople for Viva Glam have included: Christina Aguilera, Elton John, Mary J. Blige, Pamela Anderson, and Lady Gaga.
Eyes Are The Window Shadow Palette, $49, Sephora
Stila celebrated its 20th anniversary in 2014, so you can thank 1994 for providing us with the brand that focuses on amazingly pigmented and waterproof eyeliners and eyeshadows. Their best-selling products? Their waterproof eyeliner, one step correct serum for evening out skin tone, and the stay all day liquid lipstick — which actually stays on all day with no smudging.
Revlon ColorStay Lipstick in Boho Chic, $10, Ulta
This is where it all began. In 1994, Revlon introduced its ColorStay Lipstick. Today, the idea has transposed itself into all facets of their makeup. There is now ColorStay foundation, balm stain, eyeliner, eye shadow, nail polish, lip liner, and much more. Personally, I have a few ColorStay longwear nail polishes and a few ColorStay ultimate suede lipsticks floating around in my purse — and they're my go-to! Revlon is truly a standout, affordable drug store product with high end quality.
Jo Malone London English Pearl & Fresia Travel Candle, $65, Nordstrom
If you've never taken a whiff of a Jo Malone London product, do your nostrils a favor and go smell one at your nearest Saks Fifth Avenue or Nordstrom. Jo Malone opened its first London boutique in 1994, and ever since then, they've been a hit. Although candles come with a steep price tag, people just can't get enough of 'em. But okay, I know candles aren't technically "beauty" products, but anything to do with relaxation classes as part of your "beauty routine," no?
Now, lets take a moment of silence to thank the brains of 1994 behind this beauty revolution. Without them, we'd be living in a world with average lipstick, mediocre pigments, and blah-inducing candles.
Photos: Miramax Films; Courtesy Brands