Awk-Length Bell Bottoms Are All The Rage Right Now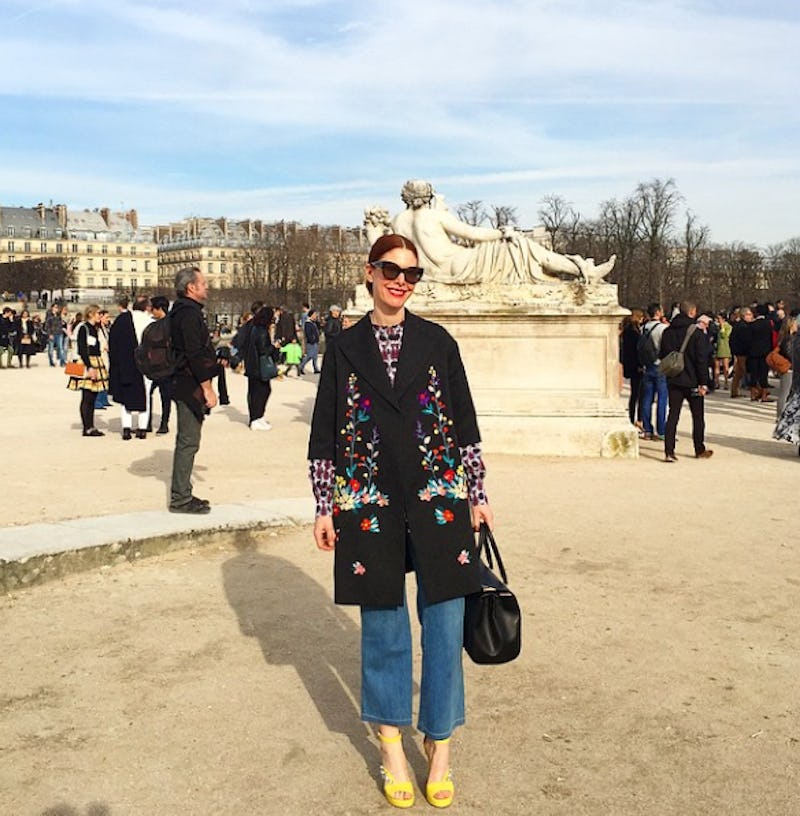 Odds are that at one point or another, you've ruled out a pair of flared jeans because they're just too short for you. Even for the more diminutive of us folks, there is a certain point somewhere between your mid calf and ankle that seems like the most wrong place for a pant hem to hit. But given what all the hip fashion girls are wearing at fashion week, those cropped bell bottom jeans are about to become all the rage. In other words, it's time to bust out all of your awkward length denim.
But let's be real. Most of us have spent our entire lives too afraid to try to rock a pant of this variety, for fear of looking like your trousers have become a casualty of dryer shrink. Or, better yet, like you've had an extremely delayed overnight growth spurt. Luckily, the street style glitterati are far braver than many of the rest of us. Offbeat fashion icons from the likes of The Man Repeller to Christene Barberich have revitalized this tailoring crime into a veritable trend. And if you're feeling bold enough to try it, there is no one better to follow the lead of than these style swamis.
Here are some styling tips from the fashion week street style magnates to help you imagine how to work a too-short bell bottom. You're welcome.
Tuck In Your Shirt
Take a page out of Leandra Medine's book. When you're dealing with awkward pants, you may as well tuck in your shirt and let them shine through. Also, going for a high waist seems to balance the over-short hem.
Opt For A Heel
Throwing on a block-heeled shoe puts the funkiness of these shants front and center, just as you see Christine Barberich doing above. Given the amount of ankle being shown off in this look, it would have been positively scandalous in Victorian times.
Throw On A Jacket That Hits Right Below Your Hips
A longer jacket balances the proportions of the pants and somehow makes them look more like culottes. This gal has the right idea.
Don't Be Afraid To Wear Them Over-Sized
Lauren Goldenberg deftly demonstrates how to rock the slouchy version of the short bell bottom. Shirt-tucking is, yet again, an essential tool in the styling toolbox.
Wear An Ankle Boot
If you have a super sick pair of boots, there's no better chance to show them off than with a slightly-short pair of pants. Whatever doesn't get seen with contemporary pants is showcased. Use this fact to your advantage.
Image: Instagram/Courtesy Users