What It's Like to Be a Female Activist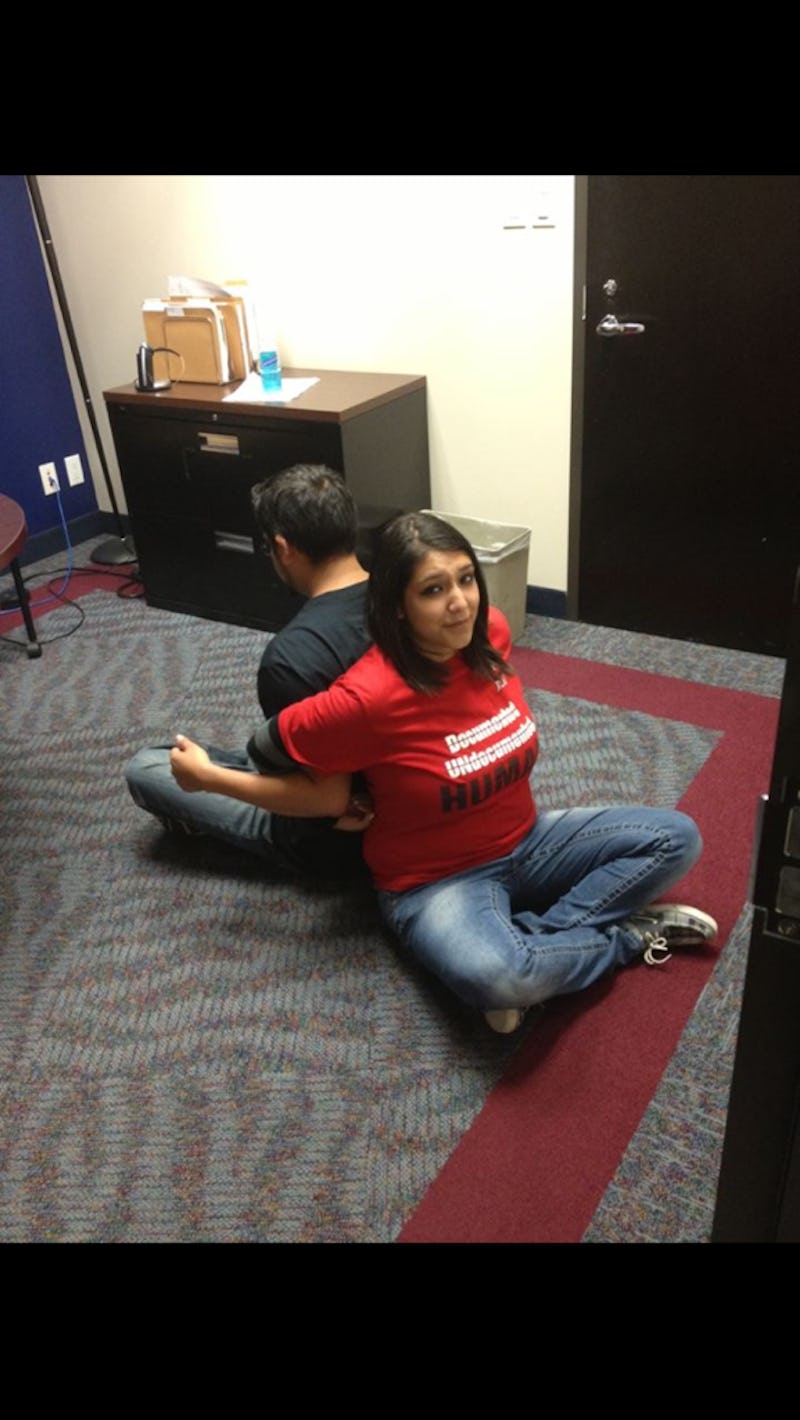 On July 22, nine longtime U.S. residents in their 20s and 30s marched through the streets of Nogales, Mexico toward the U.S./Mexico border and demanded entry into the United States. Six of the men and women had been deported or left the U.S. of their own accord. The other three were brought to the U.S. as children and crossed the border into Mexico weeks prior specifically to take part in this action, not knowing if they'd be able to return to the U.S. The goal of the demonstration, the first ever Bring Them Home campaign organized by the National Immigrant Youth Alliance (NIYA), was to shed light on the U.S.' broken immigration system. U.S. Citizenship and Immigration Services is only now processing citizenship applications from 1993, and nearly two million people have been deported during the Obama Administration, more than under any other president in U.S. history.
The activists, who became known as the Dream 9, were detained at the border and transferred to Arizona's notorious Eloy Detention Center, where they spent weeks until they were granted humanitarian parole. Each member of the Dream 9 is now in the U.S. seeking asylum.
What very few knew when the first Bring Them Home campaign was taking place was that round two was already in the works. This time there would be 30 participants (plus six parents), with the youngest member being just 13-years-old. Each member spent part of their lives in the U.S. and unlike the Dream 9, the Dream 30 didn't enter Mexico with the express purpose of crossing back into the United States; they were all deported or left because of dire circumstances.
On September 30, the Dream 30 were arrested at the Laredo, Tex. point of entry. Although a few have been released in the days since, 25 remain in custody at the El Paso Detention Center. The Dream 30 will also seek humanitarian parole.
As an activist with undocumented family members and friends and an organizer working with NIYA on the second Bring Them Home action, Samantha Magdaleno spoke to Bustle about her work with NIYA and about why Bring Them Home is important:
How did you get involved with NIYA?
My grandparents struggled as children of undocumented parents in the U.S. They went to work as soon as possible to help provide for their family. Being raised by them, I was constantly reminded of what they endured just for being Mexican. Organizing is a way for me to help people in [similar circumstances]. I reached out to NIYA to help my organization, RGV Community DREAMers, get a Secure Your Own Community training. After that, I helped any way I could.
NIYA is often referred to as "radical" and sometimes comes under attack from those who think actions like Bring Them Home are "attention-seeking" and do nothing but "embarrass" the president. What is your response to these claims?
The President has a record-high deportation rate; he embarrasses himself. NIYA reunites families and empowers people to take action. What is more important than a community coming together to save a fellow community member from being taken by ICE (Immigration and Customs Enforcement)?
Congressman Henry Cuellar recently expressed concern about the number of minors who participated in the latest round, saying it put their lives at risk. It has since been revealed that Cueller accepts campaign contributions from the GEO Group, one of the world's largest private prison companies that profits from the detention of undocumented immigrants. What is your response to Cuellar and why were so many minors included in this latest action?
The minors were scared to be in their country of origin. Why should we put age parameters on who we help? It is easy for Congressman Cuellar to call the action "exploitative," rather than lending a helping hand in support of the Dream 30. The minors were released with their parents within a day of being detained at the border. They may have been underage, but they were aware of what was going on, they had their parents' support and permission, and they made their choice to come home.
Why is Bring Them Home so important and historical?
Bring Them Home is about finding a way to re-connect families. It's about allowing the Dream 30 — and everyone involved —to take action for themselves. From signing petitions to actually walking back into the U.S., everyone has a chance to be part of the change they want to see. [Bring Them Home] highlights the injustices that have been committed and attempts to correct them.
What is the ultimate goal of Bring Them Home?
To bring as many families together as we can and point out that organizing goes beyond borders. There will be many more rounds of Bring Them Home, and I am confident that the 25 members of the Dream 30 still in detention will be granted humanitarian parole. I have heard all of their stories and believe they must leave Mexico to be safe.
Can you comment on those 25 who are still detained? How are their spirits?
They are holding each other up. I have talked to them on the phone and gone to visit a few of them. They all tell me the same thing: they can't wait to come home.
What do you want people to know about the work you do?
Anyone can do the work that I do. It is crucial for people to get involved and stand up for themselves. We can no longer stand back and wait for Congress to make the decisions about whether or not our communities stay together. People need to remember that even if this topic does not directly impact them, it is still important to help because immigration affects everyone, whether they recognize it or not.
Image: Samantha Magdaleno on September 9, 2013 at a sit-in at the Department of Labor in Houston. Courtesy of Samantha Magdaleno.