Louis Vuitton Revives The Anklet At PFW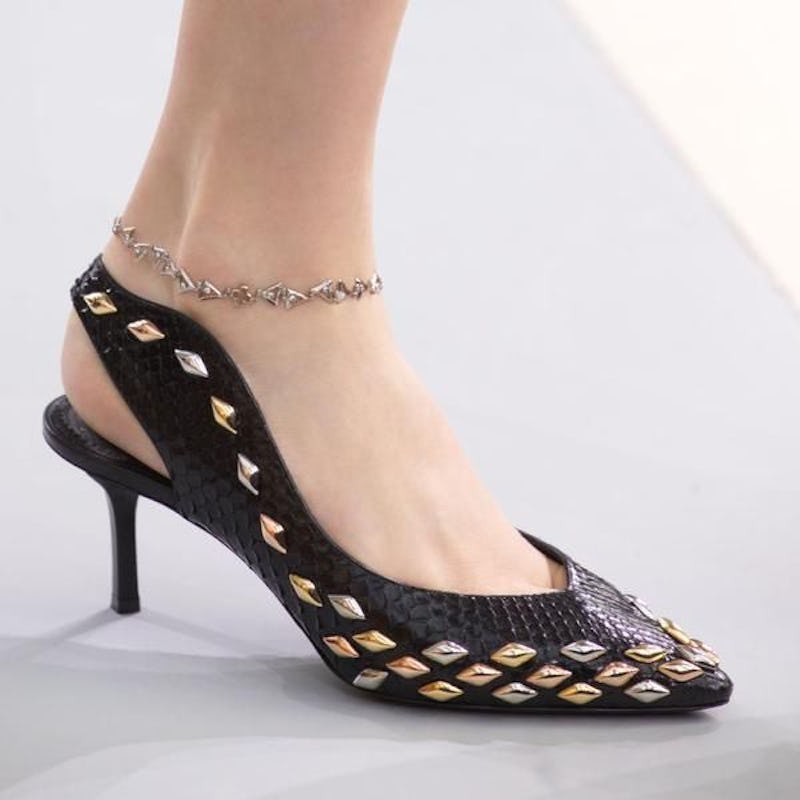 If your eyes weren't glued the mini-trunks in the hands of gorgeous models at the Louis Vuitton show this week, you were probably too distracted by the drones flying overhead to notice the ankle bracelets on display (to be fair, I only noticed because Louis Vuitton tweeted a close-up of the beauties). Nicolas Ghesquière incorporated ankle bracelets into Louis Vuitton's fall ready-to-wear collection, and hopefully revived the trend in the process, while also making them a new luxury staple.
Ghesquière's take on the anklet is super pretty and a little bit edgy, pairing well with the 1920s-inspired kitten heels he showed at the Fondation Louis Vuitton in Paris on Wednesday. The anklets were silver (some appeared to have gold incorporated as well) with small diamonds and the signature Louis Vuitton clover near the clasp. Ghesquière's decision to bring ankle bracelets into the luxury sphere got me thinking: Are ankle bracelets going to become trendy again?
Once a staple of the nineties, and more recently only worn by free spirits, festivalgoers, and fashion renegades like myself (I like to think I'm cooler than I am), ankle bracelets totally deserve a comeback, and with Ghesquière's help, I think it might happen. However, I don't think people will be running out to their nearest Louis Vuitton store anytime soon to adorn their ankles with an extremely pricey ankle bracelet.
Luckily for you, I've rounded up a few affordable anklet options from Etsy for those of you who want to jump on this trend before summer.
1. This Triple Chain Anklet
I'm in love with layered ankle bracelets. This three-chain one from LovMely on Etsy is particularly gorgeous. (Betsy Anklet, LovMely, $22, etsy.com)
2. This Simple Gold Chain
This delicate gold chain ankle bracelet from JulJewelry would be a beautiful addition to a pair of heels. (Delicate Gold Anklet, JulJewelry, $22, etsy.com)
3. This Gold, Beaded Version
Black and gold is just always a good combination. (Black Anklet, Sohocraft, $14.99, etsy.com)
4. This (Probably Noisy) Anklet With Bells
If the bells actually jingle, it might not be worth it, but this anklet, made in Thailand, is really pretty and will add a nice boho vibe to your look. (Cascade Anklet, Summerwrist, $12, etsy.com)
5. This Dainty Silver One
Very thin chains are super alluring. Not sure why a metal chain around someone's ankle is considered sexy, but this one definitely is. (Sterling Silver Anklet, VandAJewelry, $20.99, etsy.com)
6. This Colorful One
Not only does it come in turquoise, but there are also white and coral versions. Perfect for summer. (LovMely Anklet, $50, etsy.com)
7. These Coin-Charmed Ankle Adornments
I feel like you can't wear these without feeling like Esmeralda from the Disney version of The Hunchback of Notre Dame, and if you don't want that, you clearly were not a child of the nineties. (Turkish Anklet, Handmadebyinali, $20, etsy.com)
Images: Etsy (7)