The Greatest Clutches You Will Ever Meet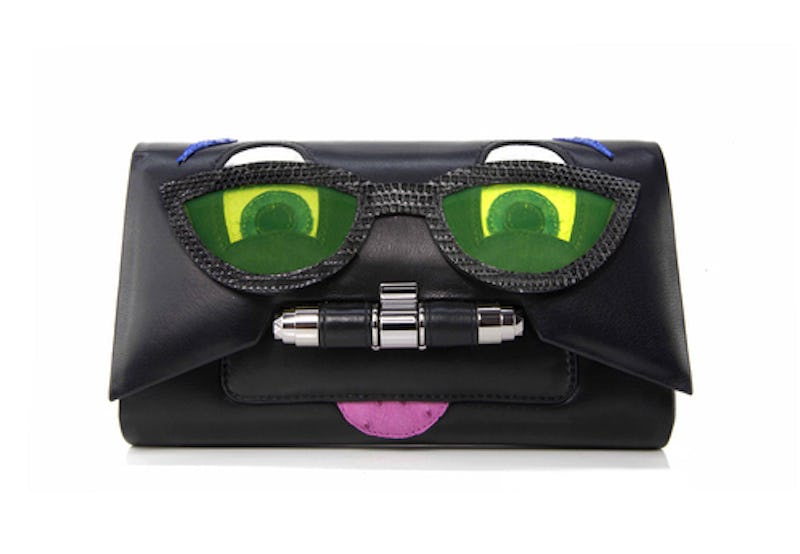 Have you heard of Kara Ross? She started out as a jewelry designer back in 2003, but over the years, she's branched into clutches. She's been in the purse game a while, too: A gander through the Getty Images archive revealed that her colorful clutches (often rendered in funky snakeskin) have been favored by everyone from Selma Blair to Sarah Michelle Gellar. Anyway, her newest line builds off of the creative coloring and fun prints of her previous collections, and takes it to an entirely new level. The collection, which launches today, is cheekily dubbed the My Purseonality collection (complete with a #myPURSEonality hashtag on Instagram and Twitter), and it (really) lives up to its name.
Ross has designed several distinct clutches, all with different faces — and each is rendered in that colorful, pop art-y style that's been everywhere lately: Think Anya Hindmarch's fringed traffic cones and leather-stickered handbags (which are actually surprisingly easy to DIY — thanks, Bustle's Maxine Builder). Suffice it to say, they're almost heart-breakingly chic — and who doesn't want a purse with a panda's face on it? Even if you are one of those rare people who doesn't love pandas, you can always pick up "Uptown Girl" (who wears pink eyeshadow and has rhinestone eyelashes) or "Mogul" (who has rock stud eyebrows and silver snakeskin teeth), because there's one for every PURSEonality (#jokefail)... there's even one for all of you emoji lovers out there. And hey, the best part is, you can always customize your own, if you're so inclined. Let's take a look at the collection:
The Pop Star
The Vampire
The Hipster
The Uptown Girl
The Emoji Master
The Mogul
The Aesthete
The Panda
The Boxer
Which one is your favorite? I'm partial to the pink snakeskin-eyed vampire and the slightly hapless-looking panda, of course. The collection launches today in Kara Ross stores and online today — so if you happen to have an extra $1.5k or so to spare, swing on by!
Images: Kara Ross