Girl Scouts Cover Taylor Swift's "Blank Space"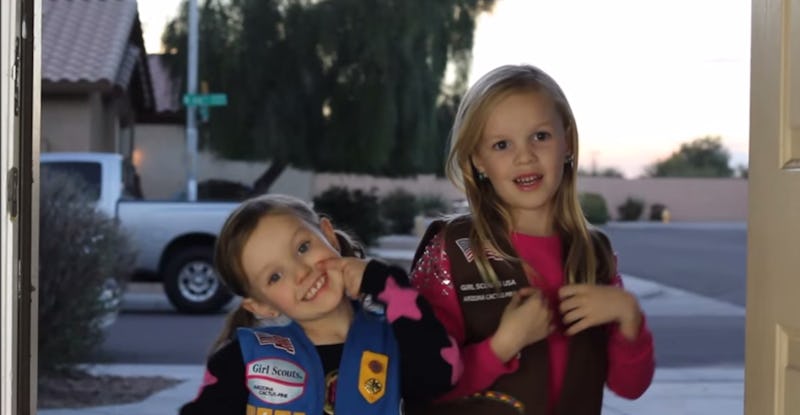 Kaylee and Lexi are typical little girls. They're involved in Girl Scouts and they love Taylor Swift. They sing, they dance, they're silly and adorable...and if you don't buy their cookies they will destroy your car and set you on fire. Okay, so they do explicitly state in a disclaimer that that is not true, but those are the lengths they will go to in their adorable Girl Scout cookie cover of "Blank Space" by Taylor Swift. This is entrepreneurship, ladies and gentlemen; I am both impressed and charmed. Between their entirely earnest but nevertheless lively efforts and winning lyrics like, "Grab your wallet and my hand/ I'll be selling cookies on your block this weekend!" I'm like, "OMG! Here! Just take all my money, you little moppets!"
I will level with you: I am as cynical as they come. The bitter, chain-smoking old troll who occupies a huge chunk of my brain initially watched this and was like, "Their parents spent a whole helluva lot of time writing, filming, and editing this. What for? Ugh! They just want to get famous!" And then the part of me that is still human and not quite so jaded was like, "Look at these two! They are obviously having such a blast! Shut up, troll!"
While it's too late to buy directly for Kaylee and Lexi this year, be sure to get in touch with them next year—or else.
Speaking of next year, this looks like an annual tradition for Kaylee, who's parody of "Do You Want to Build a Snowman" went up last year. For 2016, might I suggest a parody of the "ABC" scene from Glengarry Glen Ross ? ("A.B.C. Always. Be. Cookie. See this Hello Kitty watch? That watch costs more than your Barbie Dream House.")
Until then, enjoy the full video below, and good luck fighting off your sudden craving for Thin Mints!
Image: YouTube(2)