7 Foundations For A Flake-Free Face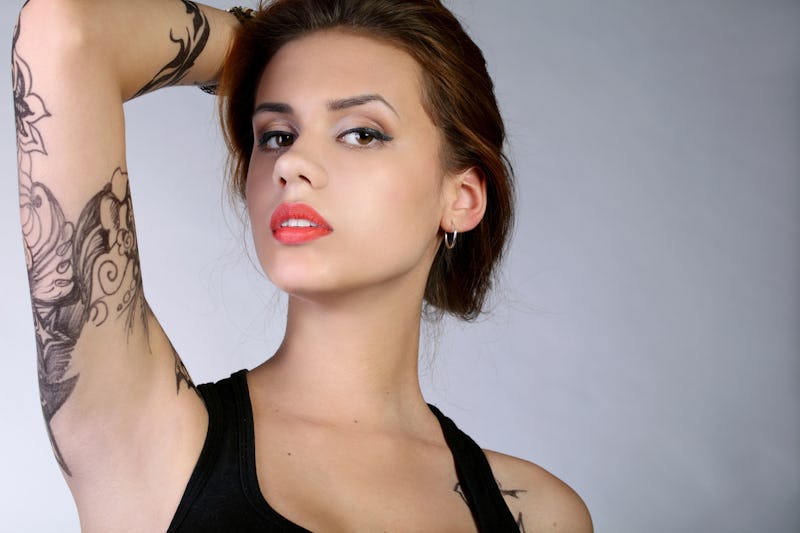 Hollaback girl if you've got dry skin! Now I'm sure oily skin is no sweetheart, but I'm being real when I tell you that dry skin is the meanest girl in school. Dry skin is straight up the Regina George on campus, and I think dry skin sufferers know what I'm talking about when I say this. They've known and experienced the infuriating dry patches, the flakes, and the overall tightness. During the drying winter months, it's very likely that the majority of the populous living in cold climate will have experienced some derivative of the symptoms. But some of us suffer from a dry visage all year round.
In all sincerity, I would liken finding a suitable foundation for your dry skin to trying to find A on Pretty Little Liars (no drama, people). Finding a foundation that is moisturizing enough to keep the flakes at bay is basically harder than the SATs. I might be getting a little carried away but this process can be hella frustrating. Cue The Rolling Stones crooning "(I Can't Get No) Satisfaction," to catch my vibes.
So I did some intense — some might even say grueling — research to find the foundations that are supposed to be the best of the best for my dry skin buddies and me. Along with that, I also included two of my personal favorite cosmetics that have worked very well in my own life. Take a gander, loves!
Vitalumiére Moisture-Rich Radiance Sunscreen Fluid Makeup, $60, Nordstrom
My keen detective skills landed me on this beauty of a foundation. According to Lisa Eldridge, makeup artist to the A-listers (i.e. Kate Winslet and Rosie Huntington Whiteley), this foundation is on her list of favorite foundations for dry skin. It is a best-selling Chanel product and is said to be packed with ingredients that are specifically targeted for dry faces — no wonder Eldridge notes in her YouTube videos that it has been a product in her makeup kit for a long time now. She also mentions that it is quite a lightweight foundation. Because there's no grosser feeling than that of heavy makeup sitting on your dry skin, I'd definitely advise you give this a try! Gorgeous packaging too, isn't it?
Clinique Moisture Surge Tinted Moisturizer, $25, Amazon
This is a product I have been using at the moment and I am absolutely loving it. I discovered this tinted moisturizer last year after my sister brought it home from the beauty closet at Cosmopolitan. From there, I fell in love. I had never used a tinted moisturizer before and I loved how lightweight it felt. When you're wearing this, your skin just feels and looks like skin. I don't even have to use a moisturizer underneath and it is not too shiny, either.
Koh Gen Do Maifanshi Moisture Foundation, $62, Amazon
This foundation, which is amongst Jessica Alba's favorite beauty products, is said to be Koh Gen Do's "hero" product. It is made up of 60 percent encapsulated water, which means this foundation is basically as hydrating as they come. It is also supposed to look super natural as well as being long lasting. While it is on the pricier side, it seems to be worth the extra cash. I mean, have you seen Jessica Alba's skin?
Nars Pure Radiant Tinted Moisturizer, $44, Amazon
Redbook Magazine named this "2012's MVP Award Winner." It has an oil-free lightweight formula that will leave your skin feeling hydrated but not oily. And it is infused with natural polysaccharides and mineral rich seawater, which should leave your thirsty skin feeling super moisturized.
Bourjois Healthy Mix Serum Foundation, $16, Amazon
Another pick for dry skin from Lisa Eldridge's list is this inexpensive foundation. With a lightweight, dewy mixture, she says she uses it on herself during the winter months. It is said to be full of vitamin-rich ingredients consisting of a fruit therapy of goji berries and pomegranates. That sounds hydrating and delicious!
Moisture Supreme Foundation, $48, Sephora
I don't know about y'all, but I trust the name of this foundation. It makes me feel like it will be supremely moisturizing. This is another product I have personally used and love. I substitute it when I want a little bit more coverage than my tinted moisturizer can provide. It gives great coverage so it's good if you're a tad blemishy, but it also feels quite light and natural.
Covergirl & Olay Tone Rehab 2-In-1 Foundation, $14, Amazon
Another more inexpensive option is this drugstore product from Covergirl and Olay. It has a more matte finish as opposed to a dewy look, but is not remotely drying. It is said to be great for dry, tight skin as it doesn't cling to those flakey patches. Olay's special hydrating serum is sure to keep your skin feeling super moisturized.
Images: Fotolia; Courtesy Brands