The Emoji Hair Clips You Never Knew You Needed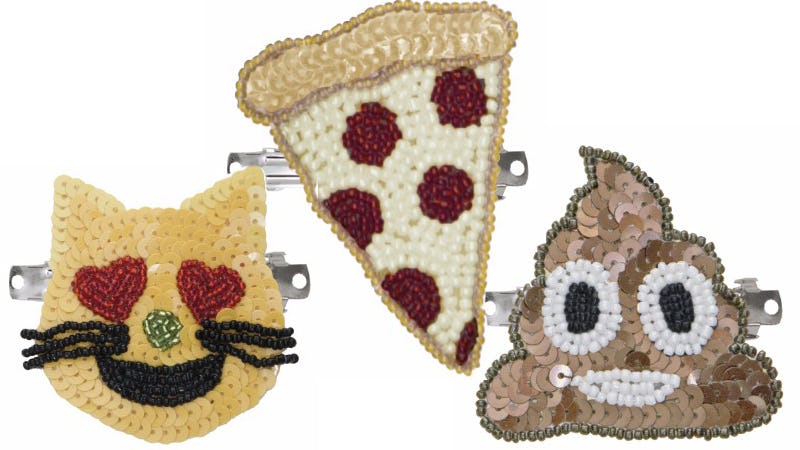 Have you heard of online boutique Bow and Drape yet? More importantly, have you heard of Bow and Drapes emoji hair clips?! OK, I'll start with the brand as a whole to ease you in. They're a curated customizable online store, where people can design their own items and sell it — it's basically like Threadless, except (if possible) even more cool, because most of the pieces feature beaded and sequin-ed decals. Plus, there's a little something for everyone: There's an honest-to-god makeup pouch with the words "Treat Yo Self" emblazoned across the front, there's an adorable Gryffindorable sweatshirt I've got my eye on, and let's be real, the "Wineosaur" sweater is sure to be pretty darn universally well-loved. But back to those hair clips.
I mean, think about it: customizable beaded emoji hairclips? I am so there. Even though the $18 price tag is a little outside the norm of what I spend on hair accessories (I stock up on hair ties whenever I see them at the 99¢ Store, even when they only have them in weird colors — and I've been recycling the same bobby pins since my senior prom), they're totally worth it. The clips come in two sizes (2" and 2 3/4"), and you get to choose the emoji of your choice — daintier folks are sure to get a kick out of the sparkly pink donut, while emoji-lovers with an... uh, coarser sense of humor will be purchasing the infamous poop emoji clip in hoards. Let's take a look at all of their options:
The Pizza
The Eight-Ball
The Shrimp Sushi
The Tuna Sushi
The Smiley Face
The Donut
The Poop
The Alien
The Heart-Eyed Cat
Pretty cute, right? Which one's your favorite? I'm personally loving the alien clip, being a huge X-Files nerd and all... and who doesn't want sequin-pizza in their hair?
Oh, and perhaps more importantly, which ones should they add to the collection next? The broken heart might be fun... or, ooh! The creepy moon emoji is a total must.
Images: Bow & Drape