Theory's First Post-Theyskens Line Is Everything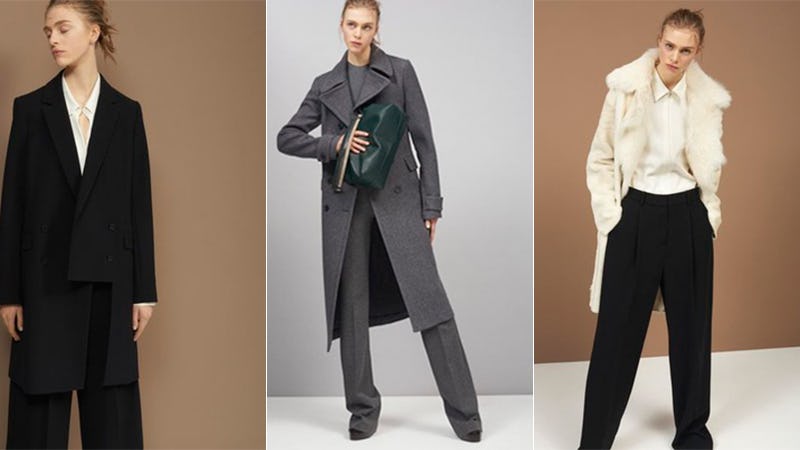 Nothing speaks to timelessness and class quite like a power suit, or menswear re-imagined for the shape of a woman. In its first move following the departure of artistic director Olivier Theyskens, Theory released its new fall collection, which is being hailed as the original purveyor of "Cool Suiting" by Racked. The line is a mix of "relaxed silhouettes," neutral palettes, and the minimal styling for which the label is revered. If we're being honest, I want my entire wardrobe to be nothing but a selection from this line.
"Long, relaxed shapes in premium fabrics like double-faced cashmere are the look, with skirts falling well past the knee and trousers tailored with some slack around the foot," reports Racked. "Turtlenecks rule up top, shown in both oversize and body-concious [sic] fits, the latter worn under tailored blazers. Maxi coats top off the monochrome outfits, which are largely gray and black with hits of warm camel, rich olive, and ivory." A line to drool for, basically.
Theory is no spring chicken when it comes to co-opting mens fashions for womenswear. Back in 2013, founding partner of Curatrix Group Melissa Leventon was joined by the brand's Chief Marketing Officer Siddhartha Shukla at a TED-sponsored event to speak to the evolution of the power suit in women's fashion.
"Leventon spoke about the idea that when women borrow aspects of men's dress, women, in turn, are borrowing aspects of the power that men have held for centuries," reported Bustle's Meredith Turits. "The perfect example: the suit. After all, when you see a woman in a suit, you think she's a lady with a job — and who's more empowered than a working woman?" Amen, sister.
Pop over to Racked to peek at the full lookbook.
Images: Theory