The 13 Emojis That Need To Be Wearable Now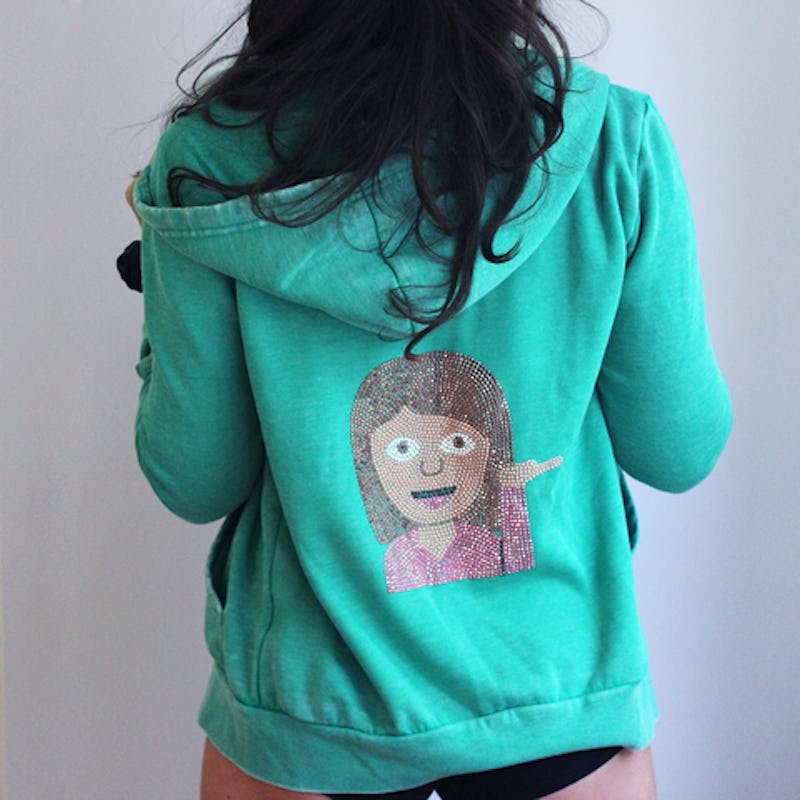 I am a self-proclaimed over-user of emojis. And by that I mean I use them the exact right amount, and other people clearly just don't use them enough. I am quite skilled actually — an emoji master if you will — with the ability to send an entire text using no words, only cute little digital ideograms. (I can almost see how this could possibly, in some way, be irritating if you're not into visually expressing your thoughts, but whatever.) Our favorite emojis say a lot about us, and my loyalty, hands down, lies with the one that Emojipedia refers to as the "Information Desk Person," although I have never met anyone who thinks this tiny, digital, pink-sweatered person was a concierge.
Some people think she is performing a sassy hair flip, or perhaps saying "Bitch, please!" but personally, I like to think she is raising the roof in a cool, one-handed, nonchalant sort of way. I use her for all happy texts and celebrations or when I am trying to say "whoo whoo!" or "you go girl!" TBH, she is my emoji true love. So, imagine my delight when, thanks to the wonderful world of Instagram, I discovered that I too could own a matching raise-the-roof-girl emoji sweatshirt and sweatpant set — that's right, the beautiful people at Shop Betches and Kings of Cole got together to offer the world a bedazzled emoji girl sweatsedo, because Japanese expressives aren't just for our phones anymore. All my dreams are finally coming true.
Now, while her action is the perfect compliment to either an excited or sassy text and that pink sweater is on point, raise the roof girl is not the only emoji in the arsenal (albeit the most fabulous one). Naturally, as I sat there in lust over my newfound favorite favorite emoji apparel, I began to think of all the other characters in my phone that could easily make the leap from digital to physical. I mean, doesn't everyone deserve to have their favorite emoji immortalized through wearable fashion? Plus, there are endless expressives that are perfectly suited for life's many events. The more I think about this all, the more I believe we actually need more non-verbal icon apparel in our lives and, clearly, there are 13 emojis that should be highly considered for this themed line of fashion.
1. See No Evil, Hear No Evil, Speak No Evil Monkeys = Perfect Going Out V-Neck Tee
With these three wise monkeys, we're simultaneously ready to stir up some shenanigans and plead the fifth about them later. Plus, a casual cool v-neck tee with a trio of mischievous emojis is a clear conversation starter.
2. Donut + Coffee = Flowy Sunday Brunch Swing Tee
With a casual, cute swing tee emblazoned with coffee and a donut, we are killing the sunday brunch style game. Also, this article of clothing let's everyone know we are serious about our caffeine and pastries, which is a fact.
3. Santa + Christmas Tree + Present + Snowman = Ugly Christmas Sweater
Ugly Christmas sweaters are an amazing and essential part of the holiday season. But an emoji ugly Christmas sweater? Themed holiday dressing just got tech chic.
4. Girls Holding Hands + Growing Heart = Best Girlfriends Forever Tri-Blend Tee
New BFF tee? Or how about a Pride tee? I think yes! We can now wear our lady love on our sleeve. Plus, matching is the coolest and never goes out of style. I know what all my girls are getting for their birthdays this year. You're welcome.
5. Dancing Bunny Besties = T. Swift Concert Zip Hoodie
Supposedly these lovely ladies represent Playboy bunnies, but if you ask me, they are Taylor Swift as an emoji. The little dancing divas are wearing black hot pants, cute accessories and have crazy fun dance moves — bedazzled on a hoodie and paired with high-waisted shorts, this is our new Taylor Swift concert go to.
6. Green Dress = Trendy Ironic Long-Sleeve Dolman
Who could forget all those trendy, ironic tees that read, "THIS IS MY LITTLE BLACK DRESS." With a sequin green dress emoji patch on a loose fitting, long sleeve dolman shirt, we are taking ironic dressing to the next level. This is our new dress — no verbal explanations needed.
7. No Way Lady = Monday Morning Uniform
No way lady is like the Comme des Garcons' heart with eyes — she is applicable on almost any piece of apparel as a symbol to be recognized by all. Because some mornings, especially those of the Monday variety, your current mood is "I can't even" and it needs to be communicated without having to speak.
8. Bride + Ring = Bachelorette Bash Trapeeze Tank
No more bad marriage puns needed, ladies. Thanks to bride and diamond ring emojis, group bachelorette dressing just got an update. On this one, we go all out — glitter, a few rhinestones, some metallic print — only the best for the last night out bash.
9. Tropical Drink + Wine + Beer + Martini = Rolled Sleeve Happy Hour Tee
One of life's important lessons: Keep your options open at happy hour and send the bartender those "equal opportunity beverage" vibes. In our loose fitting, rolled-sleeve, multi-drink tee, we're ready for whatever 5:00 p.m. may bring.
10. Princess + Cake = Birthday Girl Peplum Top
Because it's your birthday and you'll let everyone know you're the Queen B in an emoji peplum tee if you want to. Rhinestones on the crown and the candles, please.
11. Football + Cheers Beers = Gameday Raglan Pullover Hoodie
Team pride + emoji pride. Game day will never be the same. Can a girl get an Ohio State Block "O" emoji too? Also, totally applicable for all those Friday Night Light's marathons — cheers Tim Riggins. #texasforever.
12. Crown + Pizza = Friday Night Loung Set
We all think we love pizza the most and sometimes the best Friday night date is all the pizza and all the Netflix. Sharing is overrated. Taking a page out of the Shop Betches x Kings of Cole book, we obviously need a crown + pizza emoji sweatsedo to prove once and for all that we are the princess of pizza. Netflix watching now has an official ensemble.
13. Smiling Poo = Modern Day Humor Tee
Because, obviously. There is no tagline funnier than a pile of smiling poo. Also, this emoji should be a glitter print, because the only thing funnier than smiling poo is glittery smiling poo.
Emoji apparel for everyone!
Images: Shop Betches; Emojipedia