You NEED This Tumblr In Your Life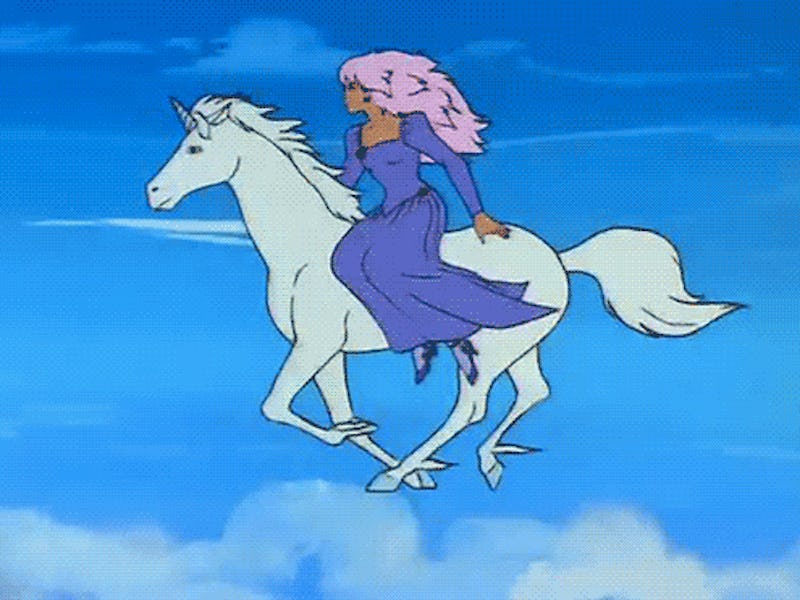 You know what you need right now? You need some words of empowerment from the F*ck Yeah Warrior Woman Tumblr. Creator Tanya Tarr's site shows a picture of Jem of Jem And The Holograms riding on a unicorn, while affirmations about what a kickass lady you are flash over the screen each time you hit refresh. If there was a single thing that you really needed to do as a small kindness to yourself today, it's checking out this website.
"I made a single-serving website that offers up f-bomb laden affirmations with a GIF of Jem riding a unicorn. Every time you click the link, it offers up a new power-positive affirmation," Tarr wrote in an email about the project. "And please send me phrases I can add!" She adds that there's a science behind her project, too. Affirmations are not just, as she says, "hippy woo-woo."
Tarr began her project after reading an article about bias last year in the New Yorker by Maria Konnikova, and claims she "fell down a rabbit hole" of articles on self-affirmation and its uses as psychological defense for women and minorities to shield themselves from the constant stream of societal browbeating. Affirmations, she adds, can help individuals cope with acts of discrimination, and "They help create the cognitive conditions for a person to make a positive change, including telling the haters to go fuck themselves." And who can argue with that?
This is the affirmation station we all needed today, and I strongly advise you to share it with your lady friends accordingly. Check out some of the gems (Jems?) I stumbled upon within the first few click-throughs:
"Rock this shit out like Joan Jett."
"Condoleeza would not tolerate this fuckery."
"BE FUCKING NOTORIOUS."
"Doubt is the patriarchy fucking with you."
"Reduce Gross National Stupidity. Be You."
"What would Frida Kahlo do?"
"What would Ruth Bader Ginsburg do?"
"Salute the inner badass in all today."
"Haters are not paying your bills so FUCK THEM."
What would Ruth Bader Ginsburg do? Amazing. You can also follow Tarr over on Twitter here.