For most college students, Spring Break is either winding down or over (sadcakes), but if you are planning next year's trip already, you might want to check out this Florida hotel, especially if The Lion King was one of those movies you loved as a kid. (And if it was not, what is wrong with you? That's a profoundly incredible film.) Every March since 2012, the Holiday Inn Resort in Panama City, Florida has awakened its spring break visitors with the song "Circle of Life" from The Lion King, playing the song promptly at 11AM each morning. Now, yes, for many spring breakers, they're barely conscious at that point on a given day, but this video shows the response to the hotel's alarm clock is pretty amazing. Hotel guests come out of their rooms on to their balconies, wave flags, and cheer. In other words, no matter how hungover they are, the hotel guests seem to love it.
According to WJHG-TV in Panama City Beach, visitors from past years will call ahead to make sure the tradition continues because they look forward to it so much. Philip Corvin, the hotel's marketing director told WHJG that the hotel DJ decided to try something different on a whim three years ago, and played the song. It's been a hit ever since.
It was a song that worked real well as a wake up call because of the loud beat in it and it also works real well because of the message of the song. It fits with the kids and the mood and what they're going through right now.
A little quick math shows that when The Lion King was first released in 1994, most 20-somethings were little kids, and it is probably one of the first movies they remember. The story of young Simba, who watches his dad die tragically and then learns all about Hakuna Matata... OK I am getting a little misty-eyed thinking about it.
Corvin told WJHG that he thinks the song evokes strong emotions in the hotel's spring break guests, which is why it's become so popular.
"We actually had kids that, after the first couple days, they showed up and they had stuffed Lion King dolls doing the whole pose at the top of the mountain with Simba," he said.
In case you don't remember that iconic song in the movie (again, come on already, it's a GREAT movie, go see it already), here's a short clip from the original Disney classic. Get ready for some feels.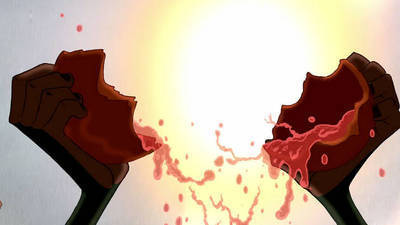 Images: YouTube; Disney