17 Tinder Messages (And What They Really Mean)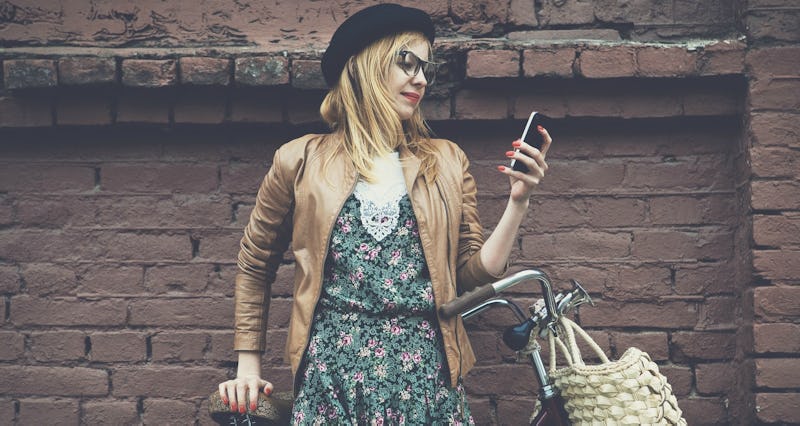 Dating is hard enough without having to decode the Tinder messages we receive, which look like texts but from strangers. It's as though we need to carry around a dating dictionary at all times, like the book, He Texted: The Ultimate Guide to Decoding Guys. Instead, however, we congregate with friends and have them look at our phones, or send them screenshots of the messages and add, "Please help!" or "WTF?!" as though we're trying to solve the hardest scientific equation known to man. Even the TV show Man Seeking Woman had an episode where the main character agonized over a girl's text and had a debriefing with several people to dissect it.
And if you're not on Tinder and you're single, don't worry, you probably will be eventually. As of January 2015, Tinder users swipe through 1.5 billion Tinder profiles and make more than 21 million matches per day and recently passed the 5 billion match mark. Tinder projects to have 40 million active monthly users by April 2015. Thats a lot of people — and a lot of messages.
With the plethora of Tinder messages that we gathered below, it's easy to see why they breed confusion when it comes to understanding them. If we used a dating dictionary, however, all the mystery would be taken away. Plus, what would we talk about with our friends?
Check out Bustle's 'Save The Date' and other videos on Facebook and the Bustle app across Apple TV, Roku, and Amazon Fire TV.
1. "Hi"
Translation: Hi, I'll let you do the work. I didn't read your profile and it's way easier to message dozens of people "Hi" at the same time and see who replies.
2. "You are probably not going to believe me, but did you know I think you are the most beautiful girl on Tinder?"
Translation: Like the "Hi" guy above me, I didn't read your profile and it's just easier to message dozens of people all at once. More efficient. At least I wrote more than just one word! (And, I added a rose emoji! How many people do that?!)
3. "You looking for anything on here"
Translation: I'm looking to hook up and want to make sure we're on the same page before I ask you how your day was.
4. "Well want to get **pizza emoji** then have **sex emoji**"
Translation: Guess she didn't want pizza. At least I tried.
5. "Hi. I'm a creep."
Translation: Hi. I'm trying to stand out by saying something attention-grabbing. Did it work?
6. "Hey! How's your Monday going?" Jk, I didn't want a response."
Translation: I obviously don't like waiting more than 8 hours for a response. Is that so much to ask?! Why do people play games with me?
7. "Roses are red, violets are blue, Like the Titanic I'd go down on you :)"
Translation: Hopefully, my super-original poem will turn you on enough to let a total stranger go down on you.
8. "Do you work at subway?"
Translation: This one gets them every time.
9. "Do you mix concrete for a living cause you're making me hard"
Translation: I hear jokes are the way to a woman's heart.
10. "Hi, my name is Andy! I would really like to take you out for dinner, and if it goes well, maybe we could see a movie after, or I could slap my dick on your face!"
Translation: I like to get straight to the point.
11. "With it being so miserably cold out, any chance I could use your thighs as earmuffs?"
Translation: Hope she likes how pragmatic I am because I know I sure do.
12. "When's the last time you came really good"
Translation: I only want sex. Isn't that what we're here for?
13. "Hey do you wanna have sex?"
Translation: You don't have to play coy with me. We all know what we're here for...
14. "Your a college student? I'm from Ireland with my friend till Friday here an were lookin for college parties? Fancy helpin a brother out?"
Translation: American girls love my accent, this should be easy.
15. "Give me an A!"
"A!""Give me an N!""N!""Give me an A!""A!""Give me an L!""No"
Translation: I'm drunk and possibly a teenager.
Translation: If I lighten the mood with cute emojis first, I'm sure she'd be down for a threesome once we meet.
17. Via emoji:
Translation: Damn, I'm romantic.
Images: Ivan Kruk/Fotolia; (2); Michelle Toglia (3); Tindernightmares/Instagram (4-7, 9, 13, 17-18); Tinderfessions/Instagram (8, 10-12, 14-16 )