Dress Like Princess Eleanor, The New Queen B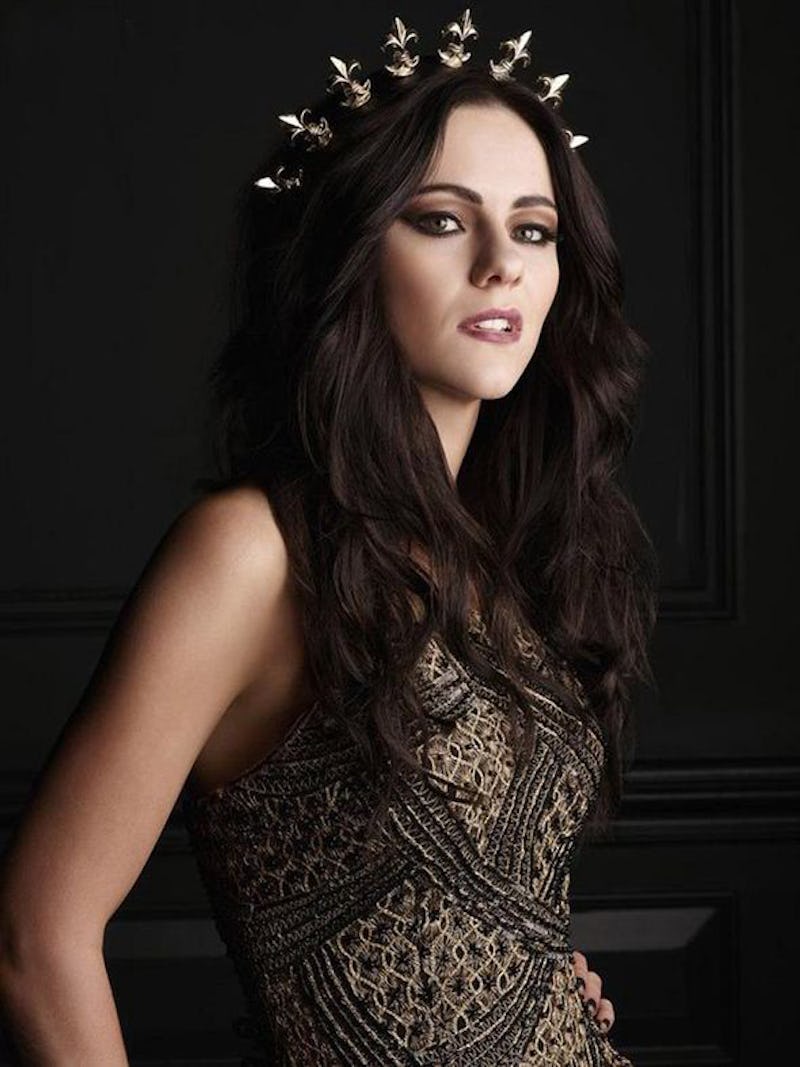 Gossip Girl fans all over the world have been mourning the end of weekly, Upper East Side sass, scheming, and over-the-top drama since the day lonely boy was unveiled as the one dedicated to wittily blogging everyone's secrets. While other series have come and gone, lovers of Manhattan's elite have been hard pressed to find a group of socialites as entertaining as the over-privileged, designer-wearing ladies and gents of Constance Billard and St. Jude's — until now, that is. With the premiere of The Royals on E!, there is anarchy in the monarchy every Sunday night that is breathing life back into our obsession with money, power, and plotting. Not to mention, the new "Brit pack" may just be poised to dethrone Gossip Girl with their impeccable fashion. All aboard the hot mess express — next stop, London.
Moving from New York royalty to actual British rulers of the monarch, the scheming now takes place within the walls of the palace and the tangled web is being weaved by a whole new cavalcade of innocents and deviants that royal watchers already love to love and love to hate. Naturally, though, there is always one mastermind that rises to the top and, like Blair Waldorf before her, Princess Eleanor is proving that she is the real leader of the people. No doubt the rebel of the palace, her royal highness has already, three episodes in, landed herself on the front page of the tabloids, recruited the girl next door to strategize a game of bodyguard blackmail and had a fashion show face off with the queen. Apparently, she who dons the tiara really does dole out the drama and, as such, we officially have a new face perched atop the proverbial steps of the Met. Yes, Gossip Girl fans, it is time to rejoice — with hot men (RIP Chuck Bass, but hellloooo Jasper and Prince Liam), high fashion, love triangles, undeniable drama and deviance, and a new lovably intolerable Queen B, the palace across the pond has become the new Upper East Side.
Yet, we all know one of the most important aspects of any show following in the still rocking pop culture wake of GG is show-stopping, lust-worthy fashion. After all, if there is anything Manhattan's elite taught us it's that both brunch and manipulation come with a fierce dress code. While The Royals may have big, Eric Daman-sized shoes to fill, Princess Eleanor is already making a rebelliously high-fashion statement with loads of black and flashy minis — all as fabulously un-princess-like as her obscene behavior. Statement making is Eleanor's M.O., but her three most unforgettable ensembles thus far have turned heads — and so can you with these non-traditional princess lookalikes.
Metallic Garden Party
Princess Eleanor is no delicate flower, an image staunchly upheld as she traipses around the queen's garden party in a flashy, two-tone, likely-too-short-for-any-royal-event, metallic skater dress while smoking a cigarette and chugging champagne out of the bottle. Bad behavior aside, this dress is on point in all the right ways — metallic is the new black and the silhouette is fresh. And the best part about a television series in its pilot season? The fashion isn't yet straight off the runway and exact items can often be found from our favorite retailers — sometimes even the affordable ones! Her royal highness' party dress is actually from Topshop's limited edition prom collection and, while it is sold out on the website, a lucky few may still find their size on Ebay. If not, seek out a skater dress with a unique neckline and a structured skirt short enough to show off those legs and you'll be channeling the new princess in town.
Topshop Two Tone Bonded Party Prom Skater Dress, $37, ebay.com
AQUA Dress — Metallic Brocade, $128, bloomingdales.com
After Party Vintage Rebecca Dress, $53, nastygal.com
Bagsy Purple Sequins
On Sunday, in a fashion week face off with her majesty the queen, Princess Eleanor simultaneously taught us how to properly use the term "Bagsy" (British slang for calling "dibs" on something) and pull off purple sequins and feather trims — the key to both being confidence, conviction, and burgeoning British attitude. A dress with such embellishments isn't for the faint of heart, but neither is channeling our inner Eleanor. You can ease into the look with the black version (more neutral?!) of the princess' first fashion week look or you can go full color with a body-hugging purple sequin. Either way, better call Bagsy on the look before someone else does — showing up samesies is so not royal.
GUESS Sequin Faux Feather Trim Sheath, $178, macys.com
Lashes of London Sindy Sequin Body-Conscious Dress, $39, asos.com
Rebellious Loyalty
In brilliant contradiction to every princess stereotype, Eleanor is dark and rebellious, inside and out, which gives her a cool, punk princess persona that transfers into her everyday attire. Her royally rebellious look is easy to copy cat with a sheer black shirt, asymmetrical leather mini and super long chain necklace — the clear focal point of the ensemble. Also, don't be afraid to pile on the oversized bangles to give the edgy, yet properly accessorized vibe — she may be a badass, but she's still a fashion forward princess.
Wilfred Free Alessandra T-Shirt, $45, aritzia.com
Y.A.S Assymetrical Zip Mini Leather Skirt, $143, asos.com
Coin Collar and Chain Fringe Necklace, $70, express.com
Natasha Couture Dynasty Magnetic Cuff Bracelet, $28, nordstom.com
Spring Street Girlie Rider Beaded Cuff Bracelet, $36, nordstrom.com
With short hemlines, revealing cut-outs and head to toe punk princess ensembles, Princess Eleanor is less Kate Middleton, more full blown Blair Waldorf with a little bit of Georgina Sparks thrown in there to up the ante. And I couldn't love the result — both antics and royal closet included — any more. (Cue the overage of blogs dedicated to fashion's newest elite inspiration.) Considering the show was picked up for season two, Princess Eleanor is poised to launch millions of new wardrobes and we know from experience that the couture only gets more over the top and lust worthy with each passing season. Here's to the new queen of style, long may she reign.
Images: E!; Instagram/samhoskins_; Instagram/alexandrapark1; Instagram/eatsleepfangirlrepeat17