Starbucks Opens Its First Tea Bar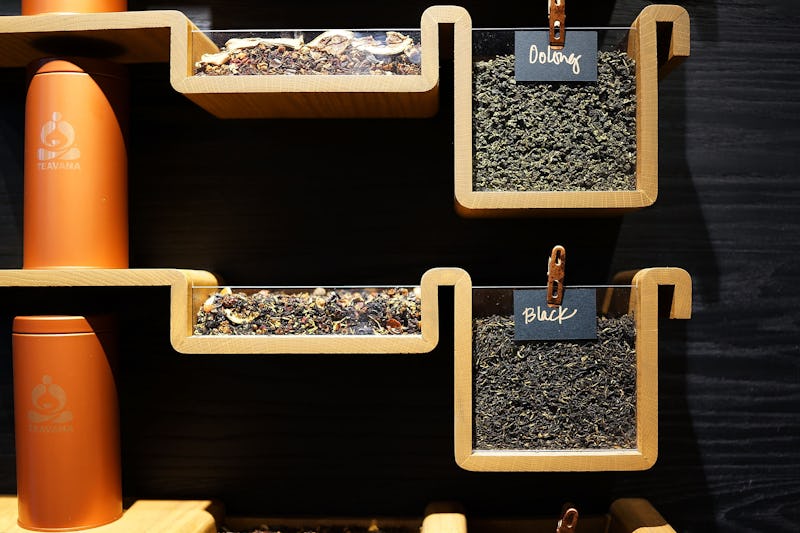 Spencer Platt/Getty Images News/Getty Images
Well, Starbucks has gone and crossed over to the dark side in an attempt to convert America to... tea? On Wednesday, Starbucks opened up its first tea bar, after taking over tea retailer (tea-tailer?) Teavana last November. The tea bar has opened in New York City — pretty daring, considering that New Yorkers are famous for some serious coffee addictions. The next outpost is in Seattle, which, given Starbucks' origins there, is either brilliant or completely mad. It's not that Starbucks' profits were necessarily strained (geddit?) but they're pulling out the big guns with this one: 1,000 more stores are slated to open, 300 of which will open up inside of existing Teavana shops.
For a cup of boiled water with a bag or metal strainer dipped into it — even one filled with fancy herbs and infusions that promise to make you live until 90 — $4.95, the cost of the tea drunk by Starbucks CEO Howard Schultz in a Forbes profile of Teavana, is still a lot. If a cup of tea breaches £2 (about $3.20) in London, one of the world's most expensive cities and the European capital of all things tea, it's an all-hell-has-broken-loose-apocalypse situation.
Still, Starbucks bets people are going to buy into Teavana: The NYC outpost is up at 85th and Madison, home of Lululemon and other yuppie outpost mainstays. With Teavana's suitably stereotypical "zen decor, grey walls, and dim lighting," the chain is bound to be popular with post-yoga mummies craving oolong and egg-white frittatas. And Teavana is catering to this demo: Its has a yogi for a mascot, and its Twitter bio reads: "Opening the Doors to Health, Wisdom and Happiness."
As much as America likes to consider itself a coffee country, tea is rapidly increasing in popularity: 160 million Americans — more than half the population — has a cup on any given day, and national interest in the drink has increased by 16 percent during the past five years, plausibly because of its perceived health benefits. But it's not just a quiet cuppa at the end of the day: Away-from-home drinking has increased by more than 10 percent each year for the past 10 years. Meanwhile, coffee consumption is tanking in at half of what it was in the 1940s.
The only roadblock? Hot tea: 85 percent of the tea America drinks is iced.
Or maybe it's the caffeine: Tea doesn't contain nearly the same amount that coffee does. And as if anyone needed to be reminded: If America doesn't run on Dunkin', it definitely runs on caffeine.
Images: Getty Images; Teavana