8 Perfect Jumpsuit & Shoe Combinations For Summer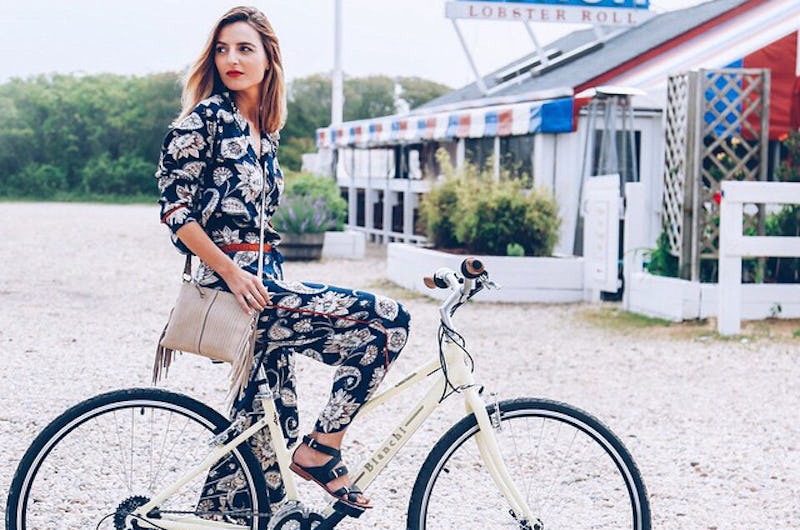 While the idea of wearing a dress every single day for the next three months is ideal, it's not likely. For this reason, you should consider the season's hottest trend: summer jumpsuits and rompers. Here are a few reasons why: They are one piece, which eliminates having to coordinate an entire outfit. They often don't need to be tailored if you acquire one in your true size. They can be casual or sophisticated, depending on how you accessorize. And lastly, you can wear them if it's windy without having to worry about an unexpected breeze. Oh, and it should be said that with the right shoes, you can wear a romper or jumpsuit to any occasion, from music festivals to outdoor weddings.
Perhaps the number one reason why I love these one piece outfits is because I'm a really short girl. I just barely reach five feet tall. I don't really like to wear pants or jeans very much because it costs money to tailor them and I definitely prefer higher hemlines because they help to make me look taller (and boy, do I need all the help I can get). I like skirts and shorts a lot, however, because I am very petite, separates are not always my friend. They tend to break me up, which sometimes contributes to my looking even shorter. That said, whatever size you are and whatever style you're trying to achieve this summer, consider these 8 perfect jumpsuit and shoe combinations for your next outing.
I love to wear a romper when I know that I am going out for the evening, especially if I'm going to be dancing. When your ensemble is a one piece with shorts, you don't have to worry about anyone getting too handsy. This red lace romper from TopShop is gorgeous. I'd wear it with a black motorcycle jacket and black d'orsay pumps, like this pair from Nasty Gal.
Lace Layered Playsuit, $75, T opshop
Shoe Cult Nicole Pump, $78, Nasty Gal
I live in Brooklyn, but I work on the Upper East Side. This kind of romper in a woven fabric is light, breezy, and perfect if I know I am going to be out and about all day. This romper is also sophisticated looking enough that I could wear it to a dinner with friends or to a date night. Espadrille wedges are a lovely companion for this look. This pair is from Ugg Australia, so you know they have got to be comfortable.
Pom Trim Cut-Out Romper, $20, Forever 21
Ugg Australia 'Jules' Platform Wedge Sandal, $105, Amazon
3. The Perfect Travel Companion
This kind of jumpsuit is so incredibly perfect for traveling. No one will care that you look like MC Hammer because they will be jealous of how comfortable you are! It's a one piece stretch knit. No zippers. Two pockets. The only thing more comfortable and normcore than this jumpsuit are the Birkenstocks that you will pair with it.
Sleeveless Jumpsuit With Pockets, $60, Zara
Black Oiled Leather Arizona, $125, B irkenstock
4. The Office Jumpsuit
This jumpsuit by Michael Kors is a really great and sophisticated '70s-inspired piece to wear to work. To avoid trying to figure out a length that will work with all heels, tailor this jumpsuit to look great with pointed toe flats like these from Halogen. Don't they look Valentino-inspired? You've got to love a look for less!
Michael Kors Embellished Stretch Jersey Jumpsuit, $112, N etaporter
Halogen 'Olson' Pointy Toe Studded Leather T-Strap Flats, $90, Nordstrom
5. The Special Occasion Jumpsuit
Jumpsuits and rompers are also great choices for formal events. When everyone else is wearing a cocktail dress or a gown, you will definitely stand out in a jumpsuit. Consider this red one shoulder number from ASOS to make a fashion statement. Let the jumpsuit be the star of the show and pair it with these nude ankle strap sandals, which are also from ASOS.
ASOS One Shoulder Drape Jumpsuit, $23, ASOS
ASOS Head Light Heeled Sandals, $32, ASOS
6. The Music Festival Romper
If you're still looking for something to wear to an upcoming music festival, channel Gigi Hadid and buy this romper. The paisley print is so great for the ambience of a festival. Wear this romper with metallic chunky heeled booties and you are ready to party.
Milk It Low Back Playsuit in Paisley Print With Bell Sleeves, $68, ASOS
Montoro Ankle Boots, $65, A ldo
7. The Casual Go-To Romper
I really like the Canadian Tuxedo look, especially in romper form. This piece from Forever 21 looks like denim, but its actually a lighter woven fabric that breathes easier. I love the denim look of it and the belt that gives it a cinched waist. Something like this is great to pair with no show socks and low top converse sneakers.
Life in Progress Surplice Back Romper, $28, Forever 21
Chuck Taylor Classic Sneakers, $80, Converse
8. The Beach Romper
A crochet lace romper is a the perfect summer or vacation staple. Wear this one with your favorite bikini and these metallic flip flops.
Crochet Flounce Romper, $33, Forever 21
Mercanti Fiorentini Valerie Flat Sandal, $40, Dsw
Images: JessAnnKirby/Instagram; Courtesy Of Brands