Should You Give A Wedding Gift Or Cash?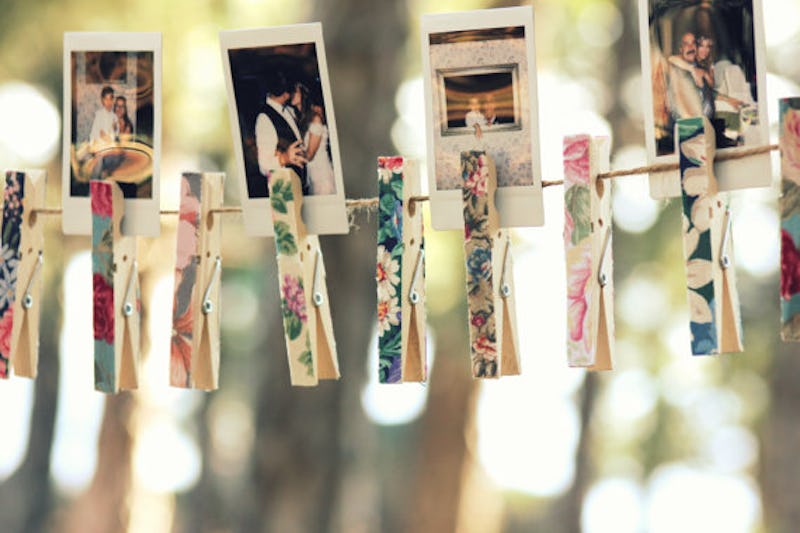 Spring is in full bloom, birds are chirping, and love is in the air, which can only mean one thing (as I'm sure you've noticed by the avalanche of wedding invitations in your mailbox) — wedding season is upon us. What a beautiful time of year to celebrate the union of two kindred souls forever and ever amen... there's only one problem: how do you know if you should give a wedding gift or cash in honor of these pending nuptials? And if you, like myself, live in a state of perpetual brokeness, this question is doubly hard.
Case in point: A couple weeks ago, I got an invitation from a dear cousin for his wedding in August, and while my first reaction was a momentary squee of delight that this gawky, sweet kid I grew up with found his forever person and decided to lock it down, my second thought, which came quick on its heels, was, %*#@ what do I get them and how do I afford this?!
So I did some quick Internet research to assuage my wedding gift-giving fears, and the most handy guide I found for determining what you should get your beloved bride and groom came from Glamour based on these 11 factors:
Salary
Attendance
Plus-One Status
Relationship
Wedding Number
Other Gifts
Other Contributions
Wedding Party Status
Wedding Location
Travel Distance
Their Gift To You
Their main idea being that the old benchmark of giving enough to cover what's being spent on your plate is all well and good, but for one, you shouldn't be privy to that information, and moreover, what they can afford doesn't have any bearing on what you can afford.
Most wedding experts seem to agree that giving cash is always acceptable, and gift registries are obviously the safest way to ensure your offering is what the couple wanted. The Knot provides these loose estimates to shepherd your cash-giving efforts:
Coworker and/or a distant family friend or relative: $50-$75
Relative or friend: $75-$100
Close relative or close friend: $100-$150
Urbanite: $150-200+
I also loved the suggestions from David's Bridal resident financial expert Catey Hill that cash-strapped guests could give a personal gift instead, and from etiquette expert Peggy Post that sending a bottle of champagne or a book of wedding photos after the honeymoon is a thoughtful gift. As always, keep it classy and know your strengths. Have a knack for woodworking? Awesome! Make the lovebirds a handcrafted end table for their new home. Not so great at scrapbooking? Scratch that idea, and come up with another plan.
While we're on the topic of wedding gift etiquette, you may be wondering, what's the timeline for this anyway? Goooood question.
As I was frantically trying to scrape together a last-minute gift for a wedding I attended this past fall and not looking cute doing it, my BFF — who was also minus a gift for said ceremony, but mysteriously was as cool as Harry Styles' man bun — informed me of the apparently famous, but somehow completely new-to-me "one-year rule," wherein you have up to a year to give the happy couple (fingers crossed) their wedding present without wreaking social havoc.
I had never felt the feeling of hallelujah course through my veins as strongly as I did in that moment! I was saved from the hell of having to figure out a wedding gift... at least for the next 12 months.
But like any "rule" with an attached amount of time, it's better in theory. And while you may technically have a year to produce a wedding present, some may consider taking that entire year rude, according to Hill.
Post agrees, advising that you keep your gift-giving fairly close to the date of the wedding (e.g. within a few months), but her guidelines are more lax and promote empathy among loved ones. To a reader who wrote in about how to handle a group of friends who hadn't yet given her and her new husband gifts, she responded:
If it turns out ultimately that some within that handful of your friends has not thrilled you with goodies, let it go. Chalk it up to their forgetfulness, cluelessness about the custom of wedding gifts or hard times. Friendships are fundamentally based on much more than gifts.
Exactly! And thank god, because I still owe a present to that friend who had her wedding in October (and I would like to keep her!!). But now that I know the rules, I no longer have an excuse, do I? Plus, no matter what I get my newlywed pal, at the end of the day, the old axiom is still true... it's the thought that counts.
Images: Maria Panayiotou/Flickr; Giphy (2)