How To Make A Perfect Fourth Of July Margarita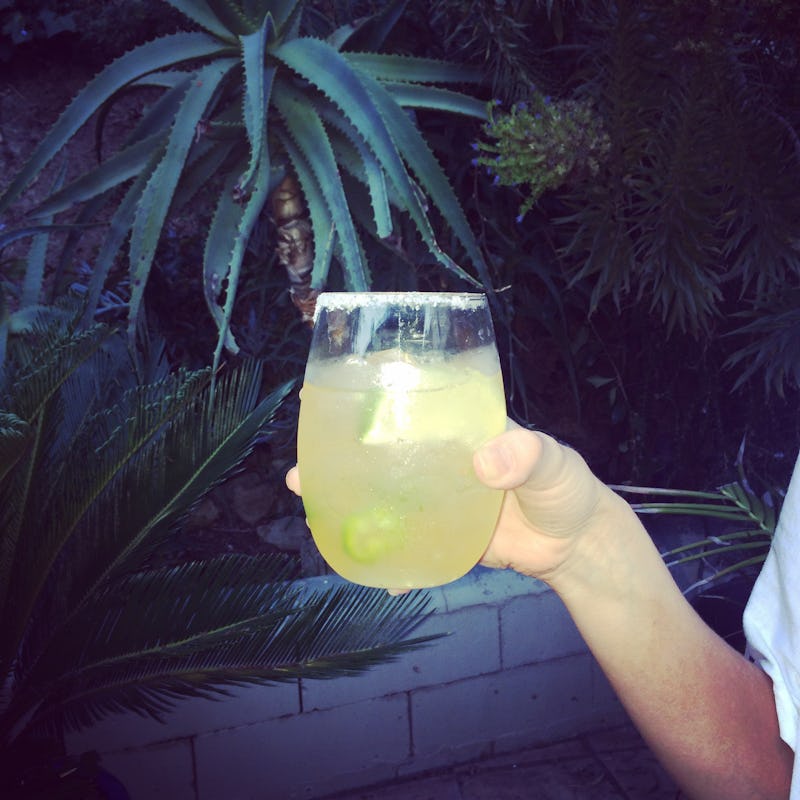 Fourth of July soirees and illegal fireworks are about to start popping off any minute now, and people will surely want to partake in some boozy libations in honor of our nation's independence (and not having to work the next day). While margarita recipes might not be the most American thing on the menu — they originated in Mexico — they are the yummiest way to exercise your right to party, and that's sort of what this holiday is all about (plus, a few little things like freedom and democracy). So as a person who typically goes full dunce in the face of ingredients and a recipe, I enlisted the help of my bestie, Stephanie, who is Wonder Woman in the kitchen, to help me pull off my Independence Day miracle: learning how to make the perfect margarita.
The thing is, margaritas are like snowflakes — no two of them are exactly alike, and they are all perfect in their own way. Have you ever had a margarita? Once you get two sips in, you're willing to forgive any imperfections on behalf of the drink and its maker, because DAMN, IT IS NICE TO BE SIPPING ON SUCH A REFRESHING ALCOHOLIC DRINK. That takes the pressure off! Margaritas will be perfect with or without you, so all you have to do is follow these six simple steps.
Happy drink mixing, and may the Fourth be with you!
1. Text your BFF and say "OMG how do i make ur famous margs???"
Actually you can skip this step because I already did it for you. No, I didn't text your bestie (jealous much? ;)), but I hit up mine and her recipe is certifiably bomb. She basically does a variation on Love & Lemons' jalapeño margaritas, which is awesome because spicy rules, and I've never left a ladies' night at her place anything less than toe up, so you best believe these margaritas are going to be good!
2. Gather the usual suspects
I'm talking ingredients here, but if you manage to round up Kevin Spacey as well, please throw the margarita idea out the window, swill tequila straight from the bottle, and make him tell you how dreamy Brad Pitt is in person. But the Seven creepster is not known for his Bill Murray ways, so you're probably going to have to carry on without him.
Maybe you have a full bar in your studio apartment (priorities!), or maybe your fridge is empty (that's me), but either way you're going to need the following:
3 cups of quality silver tequila
1 cup orange-flavored liqueur (Cointreau, Grand Marnier, etc.)
2 Volcano Lime Bursts or 1 cup fresh lime juice
½ cup agave syrup or 1 cup simple syrup
2 jalapeños
2 limes for garnish
Chili powder & salt for the glasses, optional but highly recommended
Ice
Grab a pitcher (yup, this recipe is party size, whoop-WHOOP!) and glasses for you and your guests. Alright, you're ready — now let's make some spicy margs!
3. Make some quick and dirty jalapeño-infused tequila
Chop up two jalapeños, and put the slices into your pitcher. Then, add three cups of tequila.
Yas, that's right, queen, these are strong. Which is the highest compliment a margarita can receive. Ideally, you want to let your jalapeño/tequila concoction chill in the fridge like that for an hour or two — the perfect time to finish up other last-minute things for your party.
4. Mix in the other ingredients
When the time's up, add your favorite orange-flavored liqueur, Volcano Lime Bursts, and agave syrup (or substitutes) to the pitcher, and stir.
5. Get all the fixins ready
Cut the limes into slices, make a little salting station, and set out your serving glasses and a bucket of ice. For the most delicious rim job in town, mix a little chili powder in with your coarse sea or kosher salt. It'll give an extra spicy marg-worthy kick.
To serve, wet the rim of your glass (I like to use a lime slice for this), dip it in the salty dish, add ice, pour, garnish with lime, and voilà! You've officially bought your ticket to margarita heaven.
6. Raise your glass
Now cheers to that special Fourth of July toast. To freedom! To maybe getting bangs this summer! To whoever invented the margarita! Obviously margs are served best with friends, so clink glasses with your loved ones and enjoy the wild spicy margarita ride that is sure to come.
Espero que te gusta, amigos!
Images: Courtney Kocak (6), courtneykocak/Instagram