How To Celebrate The Fourth Of July In L.A.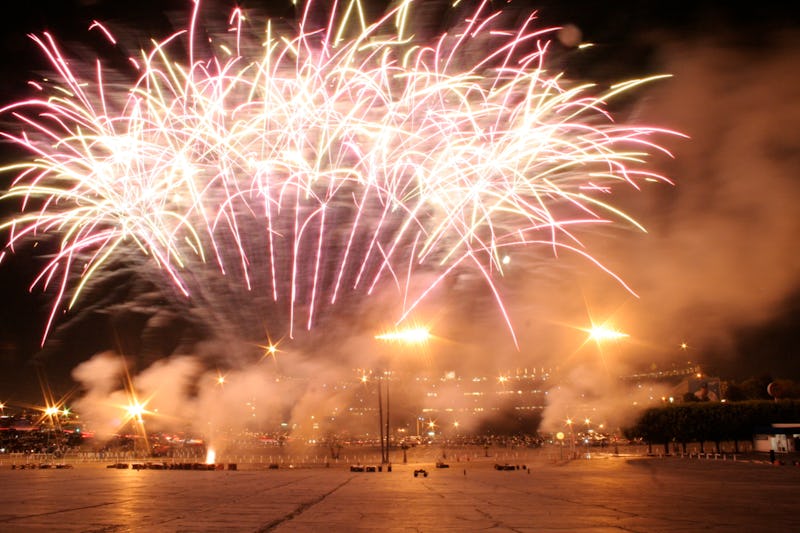 We get a bad rap because of the plastic surgery, smog, and supposed fakeness (don't hate us because we're beautiful), but Los Angeles is a veritable wonderland when it comes to free or cheap things to do (and it's even better if you have money, the city is your oyster) — and this Fourth of July weekend is no exception. The City of Angels brings the heat when it comes time to pop off some fireworks and crack a brewski in honor of our nation's independence. In fact, there are so many choices that I'm giving you a hand in whittling down your plethora of options with my picks for the seven best things to do in L.A. this Fourth of July weekend.
That being said, some of the best things to do this Independence Day aren't even on this list because they aren't technically events. For example, when I asked my friend Julia for recommendations, she suggested the Baldwin Hills Scenic Outlook, and other friends agreed. Its high elevation makes it the perfect place to peep on fireworks displays all over the city. But you can be sure she isn't the only one with that idea — even L.A.'s hiking trails will be packed come Saturday night with Fourth of July revelers hoping to catch some pyro eye candy.
Whatever you decide to do, my beloved Southern Californians, I hope it's as spectacular as you are! (Oh, maybe this is why they hate us.)
1. Americafest at the Rose Bowl
If I were picking favorites (I am), this looks like the best thing on the menu. The Rose Bowl's Fourth of July festivities feature motorcycle stunt and tribute band performances while you're waiting for what's touted as the biggest fireworks show in Southern California. Not only that, but after the main event, there will be a showing for Despicable Me 2. And the tickets aren't bad either: $13 for general admission, and $25 for reserved seating. The only way this could be better is if it were happening in the middle of one of their famous Rose Bowl flea markets, but hey, maybe next year!
The Rose Bowl is at 1001 Rose Bowl Dr in Pasadena, click here for more event info.
2. Grand Park Fourth of July Block Party
The price is right — FREE! — on this downtown soiree where your eyes will not only feast on top-notch fireworks, but your ears will get a treat as well, with tunes spun by KCRW DJs, among others. Doors open at 3 p.m., with the rooftop fireworks show at 9 p.m. There will be loads of food vendors on-site, and you're welcome to bring your own, but one thing that's not allowed is booze, as this is an alcohol-free event.
Grand Park is at 200 N Grand Ave in the downtown area, click here for more event info.
3. Fireworks at Dodgers Stadium
This year you'll have two chances to get your fireworks fix at Dodgers Stadium after their back-to-back games against the Mets. Friday's show is presented by Denny's at 7:10 p.m., and Saturday's show is presented by Cirque du Soleil's KURIOS in honor of the U.S. Armed Forces with fireworks set for 8:45 p.m. Combine baseball and fireworks for your most all-American Fourth of July yet!
Dodgers Stadium is at 1000 Elysian Park Ave in Los Angeles, click here for more event info.
4. Will Geer's Theatricum Botanicum Family Barn Dance
This is your Fourth of July wild card. If you want to turn back the clock and get off the beaten path, head over to Topanga (the rustic drive is a getaway in and of itself) for their hoedown Saturday from 11 a.m. to 5 p.m. Known for their outdoor productions of Shakespeare and other classics, you'll be in good hands as you take a page from decades yore and break into an old-timey jig. You can also count on playing a game of horseshoes, drowning your significant other in the dunk bucket, a pie eating contest, and BBQ, beer, and wine available for purchase — the only thing you have to bring are your overalls!
Theatricum Botanicum is at 1419 N Topanga Canyon Blvd in Topanga, click here for more event info.
5. Hollywood Bowl July 4th Firework Spectacular
The Hollywood Bowl is an L.A. destination spot for music lovers all summer long, but the holiday pyrotechnics give even the Orchestra a run for their money. Motown icon Smokey Robinson is this year's headliner for the three-day weekend. Tickets range from $13 all the way up to $256, but no matter how much you pay, the fireworks only are sure to be worth the price of admission. And if you love hooch, don't worry — alcohol will be available for purchase.
The Hollywood Bowl is at 2301 N Highland Ave in Hollywood, click here for more event info.
6. Culver City Fireworks Show at West LA College
This event is now in its fourth year and it continues to get bigger and better every year — last year thousands attended. For 2015, they're rolling out a longer fireworks display, more food trucks, and added carnival games for the kids. This event is a steal at a $5 per person suggested donation, however plan ahead because parking is $10 and limited.
West LA College is at 9000 Overland Avenue in Culver City, click here for more event info.
7. Studio City/CBS Fourth of July Fireworks Festival
This annual tradition always comes highly recommended. Plus, if you're into country music, or at least a little "Strawberry Wine," you're in luck as Deana Carter is headlining this year's shindig. Also on the lineup are magic shows, model airplanes, pirates, and kids zone activities. Adult admission runs from $20 to $125 for VIP, which includes a full buffet dinner, beer, wine, ice cream, and so much more.
CBS Studio Center is at 4024 Radford Avenue in Studio City, click here for more event info.
Happy Fourth of July, everyone! Wishing you a wonderful weekend of freedom, merriment, and fantastic fireworks displays.
Images: pyrospectaculars/Flickr; rosebowlstadium, grandpark_la, theatricum_botanicum, michelewellida, raheleh4n2u/Instagram; Dodgers/Twitter; ian-arlett/Flickr