The Bath & Body Works' White Barn Fabric Care Collection Just Dropped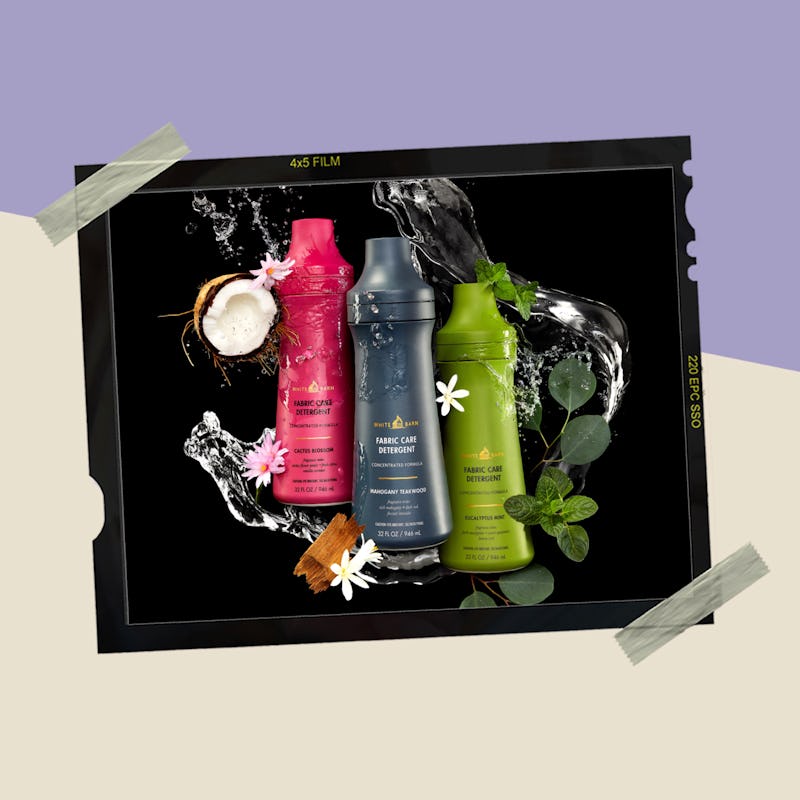 Bath & Body Works
When it comes to picking up the yummiest seasonal candles, hand soaps, body mists, hand sanitizers, air fresheners, and more, Bath & Body Works' iconic scents are an easy (and nostalgia-inducing) go-to for many. And if you just so happened to wish that your OOTD could also smell like your favorite scent, a brand-new drop — the Bath & Body Works White Barn Fabric Care Collection — will help you take things to the next level.
The online-only lineup of products marks an entirely new category for the brand, and they will elevate not only your daily scented experience, but also leave your clothing smelling eau so lovely.
The Line Comes In 18 Different Scents
The Fabric Care Detergents will be available in 14 fan-favorite White Barn scents — candle lovers will be familiar with the aromas of Mahogany Teakwood, Champagne Toast, Eucalyptus Mint, A Thousand Wishes, Lavender Vanilla, Cactus Blossom, Sundrenched Linen, and more — plus four extras that were specifically created for the brand-new collection.
Value For Money: The $ Details
Priced at $19.95, a bottle of the concentrated laundry detergent is enough to complete about 64 small loads of linens. The detergents also efficiently clean clothes in all water temperatures (yes, even cold ones), and work in both standard and high-efficiency washing machines.
A Booster For Bath & Body Works Fragrance Fans
The 12 aromas can also be paired with a Bath & Body Works Fabric Care Fragrance Booster (also $19.95), which are essentially little beads that you can add to your washing machine for an extra dose of fragrance. The result? Your clothing, towels, blankets, and more will smell fresh way longer than usual.
If you're ready to make your next laundry day more luxurious and personal, shop the Bath & Body Works White Barn Fabric Care Collection on the brand's website now.
Bath & Body Works
Bath & Body Works
ICYWW, the laundry category is surprisingly on the rise within the world of beauty. Just a couple of note: fragrance brands like DedCool and TOCCA, which have created their own scented detergents inspired by beloved aromas within their collections.
This article was originally published on