Bianca Bustamante Explains Why Makeup Is A Key Part Of Her Race Day Routine
The racer chats with Bustle.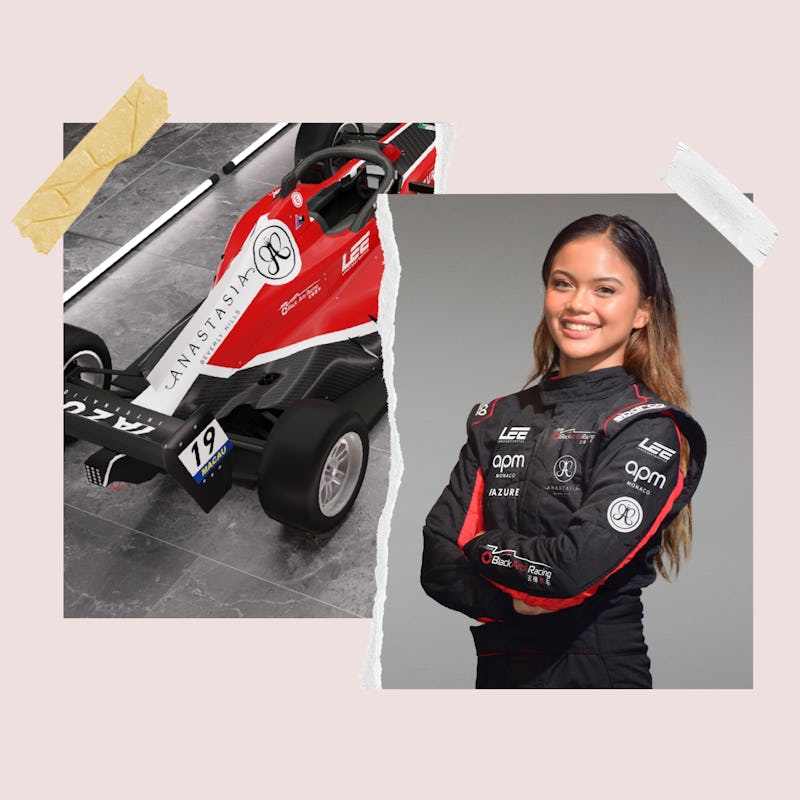 Courtesy of Anastasia Beverly Hills
Often associated with men like Lewis Hamilton and Mario Andretti, the world of race car driving is very much a male-dominated sport.
Bianca Bustamante, an 18-year-old Filipina who happens to be the first female driver to ever rep McLaren, is making her presence known, one race at a time. And in embracing her womanhood and rising power, she also snagged a major partnership with one of the beauty industry's most beloved makeup brands.
On the heels of her Macau Grand Prix debut, which featured Anastasia Beverly Hills' logo prominently displayed on her red race car, Bustamante shared her experience with Bustle. "From practice to race one, I drove my heart out and improved every single lap."
Despite the loss, Bustamante credits the race for teaching her to be patient, and not rush into things that take time and experience. "[Macau was] a tough lesson. We'll fight back as always."
In other words? Losses are lessons, especially in a young adult's career, and Bustamante is only getting started. Below, the she speaks on her first time behind the wheel, race day makeup routine, and more.
At what age were you first introduced to this world of race car driving? What did it feel like your first time behind the wheel?
I was fortunate to find my love for racing at a very young age — I think I was about three-years-old when my dad got me my first ever baby kart. From then on, it was everything I wanted to do from when I'd wake up to before I slept.
I'm never going to forget the first time I drove — the euphoric feeling it gave me, the adrenaline rush. I just kept asking for more.
Being a young woman in such a male-dominated space, how did you nurture your confidence?
I think it's always tough doing something different or that's out of the box that everyone wants you to be in. From a young age, I've always had to step out of my comfort zone to pursue my love for racing. It's always been tough. Often I would get criticized and told that I should dream less.
In the end, I was able to find myself through all of those failures. I think that's what sports should always give you: another life where you can be as brave, as adventurous, as fearless as you want. I'm quite fortunate to have found racing.
How did your sponsorship with Anastasia Beverly Hills come about?
I've always been a creative ever since I was young. Art is my center.
Makeup is one of my creative outlets. I've always used it to enhance my features.
This collaboration allowed me highlight my beauty as a driver and to be feminine in a male-dominated world. Having the support of other females is incredible, as well, to see them grow with me and open a lot of doors.
How would you describe your race day look?
This is one thing I always do — it's nearly a pre-race routine for me. Having my makeup allows me to be truly myself, but in my most perfectly imperfect ways. That gives me confidence to drive as fast as I can.
I love my morena skin, that I'm tan, and that I live near the beach. I'm able to highlight that using my Anastasia Beverly Hills essentials, like the Brow Freeze, or my foundation, or my bronze contour.
I love that I can be beautiful in my own way, even though it may not fit the 'normal' standards of beauty, as well as learning to love my features.