The Dr. Dennis Gross Lip Plumper Gives Gasp-Worthy Results
This stuff is the real deal.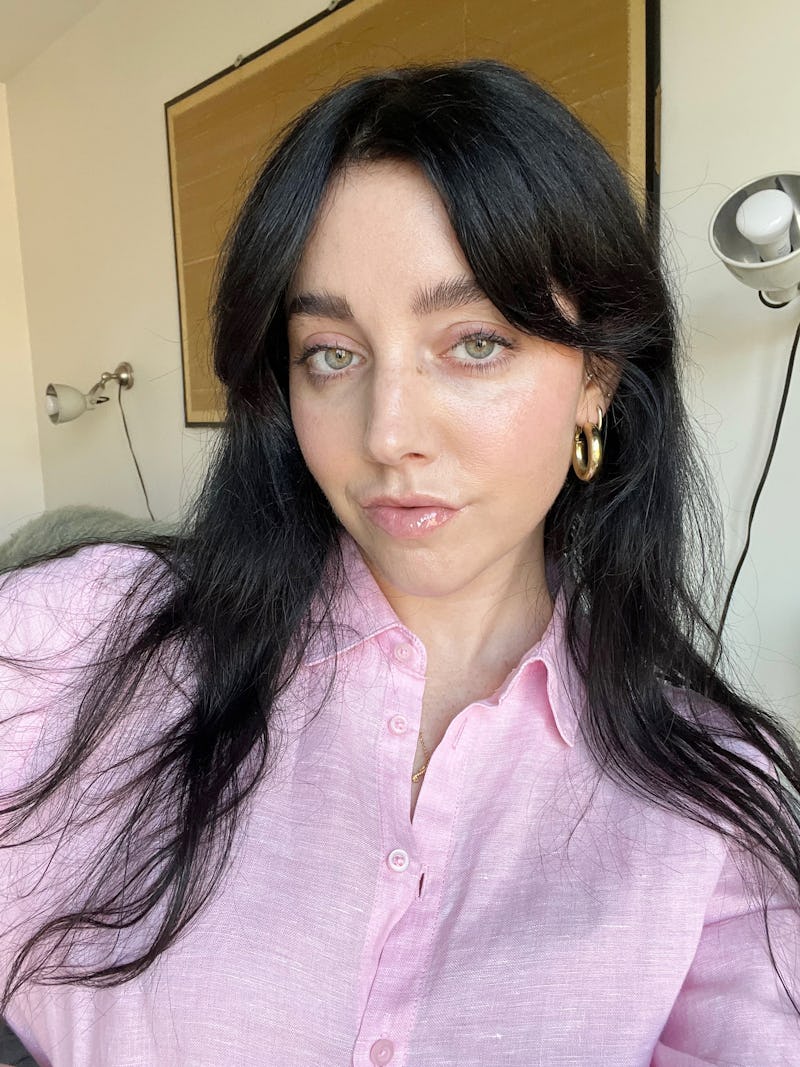 We may receive a portion of sales if you purchase a product through a link in this article.
You can't deny that the girlies want bigger lips. Ever since lip-plumping glosses became a thing in the early 2000s, high schoolers everywhere — including myself — stocked up Lip Venom by DuWop and Too Faced Lip Injection to achieve the volumized pout of their dreams. And the product category has only boomed since then: According to trend aggregator platform Spate, searches for "lip plumping gloss" have increased by 200% in the U.S. in 2022. Considering the number of plumpers on the shelves now, that number has undoubtedly risen.
These days, of course, plumpers have smarter, less aggressive formulas — as in, less chili, more hyaluronic acid. Still, in my over two decades of dabbling in the product category, there hasn't been a plumper that wowed me with its results. But that changed when I tried the Dr. Dennis Gross Skincare Dermalinfusion Plump + Repair Lip Treatment.
Celebrity dermatologist Dr. Gross really did lip fanatics a favor with his innovative formula, which just dropped in late July. I've been using it ever since, and trust: It delivers, and it does so without making you feel like your lips are on fire. Read on for my honest review of the brand's new lip plumper.
Fast Facts
Price: $45
Best for: Instant volume, long-lasting hydration
Your rating: 4.8/5
Brand: Dr. Dennis Gross Skincare
What we like: Moisturizing, reparative, actually enhances the volume of your lips
What we don't like: Somewhat pricey, need to reapply to maintain the fully plumped results
Dr. Dennis Gross Skincare DermInfusions™ Plump + Repair Lip Treatment
The volumizing lip treatment comes in serum form, housed in a pen-like tube that clicks out the perfect amount of product for one application. And it really functions as a treatment for the lips: Besides boosting the overall volume, it also works to moisturize and repair for an overall fuller, more nourished pout. Beyond doing all that, the serum also enhances your natural lip color — which, of course, adds to a more luscious-looking effect.
According to the brand, the product is fast-acting, so you get instant results, but the formula also improves your lip's hydration levels over time with regular use. Just note that it's meant to be applied to bare lips so the ingredients can go to work on your skin.
The Ingredients
The multitasking magic is all in the formula, which is specially designed to enhance volume three-dimensionally — much like lip filler. To do this, it relies on a cocktail of four different molecular weights of hyaluronic acid, a peptide blend, trehalose, ectoin, bisabolol, and centella asiatica.
To explain: HA is your all-star skin hydrator that penetrates deep into your lips to draw in moisture for a plumping effect (and this formula uses four different weights for better penetration). The peptides are doing the anti-aging work, much like they do on your face — so they improve softness, promote collagen production, and boost the appearance of lip sagging. Trehalose is a humectant derived from sugar that has antioxidant properties and helps improve lip volume. For further hydration, ectoin does the job while being super soothing on the skin. Then the bisabolol and centella asiatica soothe and calm, while supporting the skin barrier to promote fullness with regular use.
TL;DR? The Dr. Dennis Gross lip plumping treatment is filled with everything your lips need to look nice and full.
My Lips
While I have gotten lip filler before, I still appreciate a little extra volume in my pout — especially since I got my injections over a year ago and they've deflated a bit. Lip-plumping glosses have been fine for me in the past, but they've never really done much more than provide high shine.
First Impression
I first tried the Dr. Dennis Gross Dermalinfusion Plump + Repair Lip Treatment at a preview event, where the dermatologist himself went over the science behind the formula. After the presentation, an esthetician applied the serum to my lips and then handed me a mirror. Immediately, my lips were drenched in moisture. They also had a slight color to them — almost like they were flushed. About two to three minutes later, though, the full results came through.
The Results
After about a minute post-application, I felt a super slight tingling sensation — but not an unbearable level of burning (which can't be said for other lip plumpers I've tried in the past). My lips also continued to darken to a natural-looking rosy pink — like their natural color, only saturated.
Three minutes after applying the serum, I was really blown away. It looked as though I had just gotten my lips injected with hyaluronic acid filler: the color was super enhanced, my skin was super smooth and hydrated, and my lips actually looked fuller. I couldn't stop staring.
To be fair, the wow-worthy results don't last all day long, but the formula is safe to reapply as often as you want throughout the day — which I do. I will say that my lips haven't felt chapped since I began using the product, and they've definitely gotten softer and smoother with regular use. So it's a lip plumper that'll satisfy those who want instant gratification as well as those looking for more out of a lip treatment.
The Verdict
At $45, the plumper veers on the pricier side for a product in its category, but it's the best one I've tried in my many years as a beauty editor. Plus, $45 is practically nothing compared to the roughly $1000 you'd spend on actual lip filler — so it's definitely worth it, IMHO.
Studies referenced:
Essendoubi, M. (2016). Human skin penetration of hyaluronic acid of different molecular weights as probed by Raman spectroscopy. Skin Res Technol. 2016 Feb;22(1):55-62. doi: 10.1111/srt.12228. Epub 2015 Apr 16. PMID: 25877232.
Kauth, M. (2022). Topical Ectoine Application in Children and Adults to Treat Inflammatory Diseases Associated with an Impaired Skin Barrier: A Systematic Review. Dermatology and Therapy, 12(2), 295-313. https://doi.org/10.1007/s13555-021-00676-9
Maurya, AK. (2014). α-(-)-bisabolol reduces pro-inflammatory cytokine production and ameliorates skin inflammation. Curr Pharm Biotechnol. 2014;15(2):173-81. doi: 10.2174/1389201015666140528152946. PMID: 24894548.
Muto, J. (2023). Highly concentrated trehalose induces prohealing senescence-like state in fibroblasts via CDKN1A/p21. Communications Biology, 6. https://doi.org/10.1038/s42003-022-04408-3
Ratz-Łyko, A. (2016). Moisturizing and Antiinflammatory Properties of Cosmetic Formulations Containing Centella asiatica Extract. Indian Journal of Pharmaceutical Sciences, 78(1), 27-33. https://doi.org/10.4103/0250-474x.180247