The E.l.f. X Jennifer Coolidge Dirty Pillows Lip Kit Was Inspired By A Blooper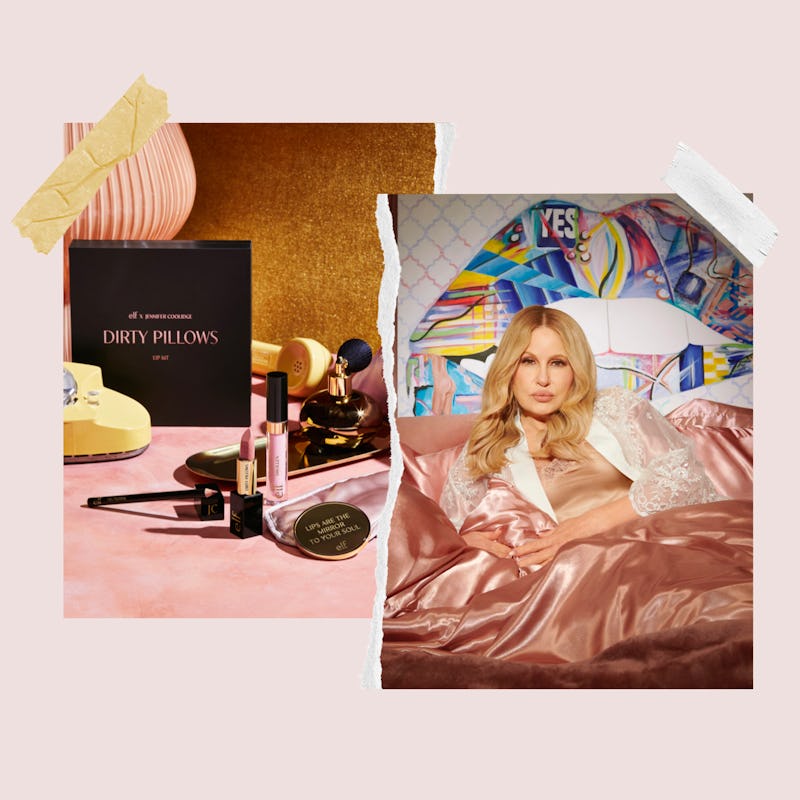 Allie Holloway; Griffin Lipson
Jennifer Coolidge is a certified comedy queen (see: Legally Blonde, American Pie, The White Lotus, and countless other cult-fave classics), which is why it made all the sense in the world when e.l.f. Cosmetics tapped her to create a hilarious commercial for the 2023 Super Bowl.
Now, e.l.f. and Coolidge are teaming up again to launch the Dirty Pillows Lip Kit, a collaboration born from a blooper recorded while filming that very commercial.
In the scene, Coolidge applies e.l.f.'s O Face Satin Lipstick in Dirty Talk and says: "I would come up with a shade [of lipstick] very similar to this — a little bit lighter — and I'd call it Dirty Pillows."
Officially available to shop on Sept. 27 at 12pm EST for $25, the Coolidge-approved Dirty Pillows Lip Kit is filled with the absolute essentials for a plush, soft pink-hued, glossy, and plumped lip moment that's akin to the star's go-to glam.
Inside The e.l.f. x Jennifer Coolidge Dirty Pillows Lip Kit
In true Coolidge fashion, each product in the four-piece set has a cheeky name.
Made to line your lips with a "your lips but better" neutral hue, the Cream Glide Lip Liner in the shade Fill Frontal is formulated to create a long-lasting, perfectly outlined pout. Next up, the O Face Satin Lipstick in the soft, cool-toned pink shade aptly named Dirty Pillows creates that kissable sheen.
As a shining final touch, the Lip Plumping Gloss in the icy pink hue Swollen creates that plumped-up effect on the lips. Lastly, the kit includes a gold touchup mirror engraved with the phrase: "Lips are the mirror to your soul."
Whoever said manifestation wasn't a thing should seriously consider calling up Coolidge to chat.