Everything To Know About Fresh Beauty's Lotus Youth Preserve Resurfacing Dream Serum
Exclusive details from one of the brand's co-founders ahead.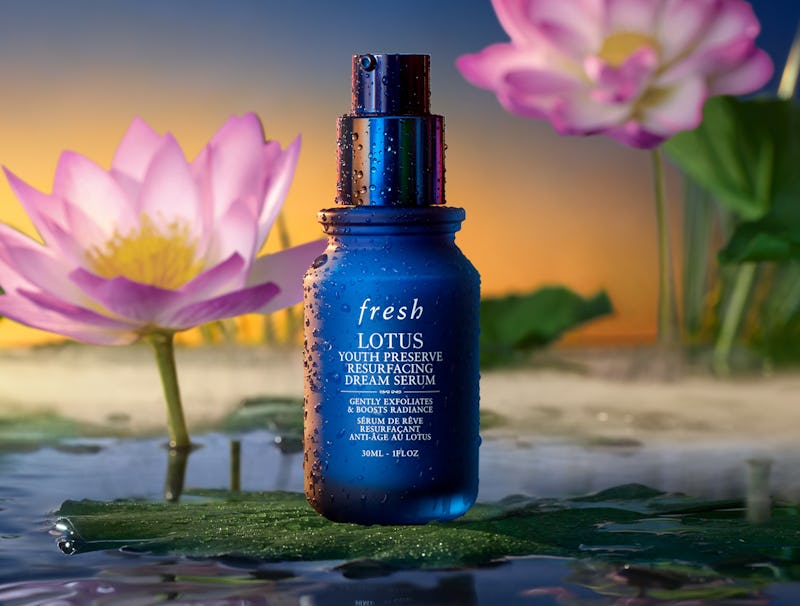 We may receive a portion of sales if you purchase a product through a link in this article.
When Alina Roytberg and Lev Glazman founded Fresh in 1991, the duo hoped to fill a gap in the skin care market by creating products that were both effective and indulgent. More than 30 years after launching, the brand has become a staple for countless beauty lovers around the world.
"We never could have dreamed where this brand would go over 30 years later — it's been an incredible journey," Glazman tells Bustle. In a world where trends come and go in the blink of an eye and new brands are announced every day, Glazman says that remaining consistent — while also evolving with the times — is a one of the biggest challenges for founders. As for Fresh, its ethos and main mission has remained the same. "We continue to push the boundaries of discovery and look to untap the power of nature, but every single product we create remains a full sensorial, indulgent experience and offers effective solutions for your skin."
The Lotus Youth Preserve Resurfacing Dream Serum — Fresh's latest release that offers nightly exfoliation — does just that. "We wanted to answer the need for an exfoliating serum that was effective without irritating skin," Glazman explains. The silky formula feels cushiony and smooth upon application, and quickly absorbs. Its light floral scent is delightful and swiftly dissipates as well.
With a combination of efficacious chemical exfoliants (namely, glycolic and citric) and soothing ingredients, the Lotus Youth Preserve Resurfacing Dream Serum is formulated to be as gentle on your skin as a cashmere blanket. "Exfoliating serums are great because they reduce dark spots and improve skin texture, but sometimes this comes at the cost of irritated skin. In addition to lotus, we decided to harness the resurfacing properties of prickly pear flower extract, paired with a duo of AHAs, to create a serum that was gentle on skin while giving a smooth, radiant complexion."
Polyglutamic acid, another one of the serum's star ingredients, is becoming more buzzy — but you may not be familiar with its unique benefits. "It focuses on providing comfort to the skin, working to lock in moisture on the skin's surface," explains Dr. Anne-Laure Bulteau, a skin biologist at Fresh. Thanks to its high molecular weight, it forms a protective layer on the skin to help prevent water from evaporating, resulting in a more hydrated complexion.
Bulteau also notes that the Lotus Youth Preserve Resurfacing Dream Serum is formulated with the optimal effective pH range for exfoliation (which is between four and four-and-a-half, ICYWW). Why is that important? "This range allows the AHAs to remain active in the formula," she says. "If the product is not formulated at the right pH level, the AHAs will lose their exfoliating power."
A little more science for context: "Human skin has an acid pH value ranging from four to six, contrasting with the almost neutral pH of the interior body. The role of this acidic surface is a defense mechanism to protect the body. It is key to preserve this acidic environment to support a healthy, functioning skin barrier." She adds that maintaining an acidic pH prevents loss of water and helps maintain hydration.
The skin care market is considerably more crowded than it was in 1991, but the brains behind Fresh haven't lost any motivation. "When I think about what keeps our teams around the world excited and inspired, it comes back to our brand's mantra: 'Sky's the limit,'" says Glazman. "No idea is too large or small, and every single team member is encouraged to push the boundaries in all areas of the business. Our teams bring excitement and creativity to work every day — and that leads us to great things."