Hailey Bieber's "Cherry Mocha" Nails Serve Big Sagittarius Energy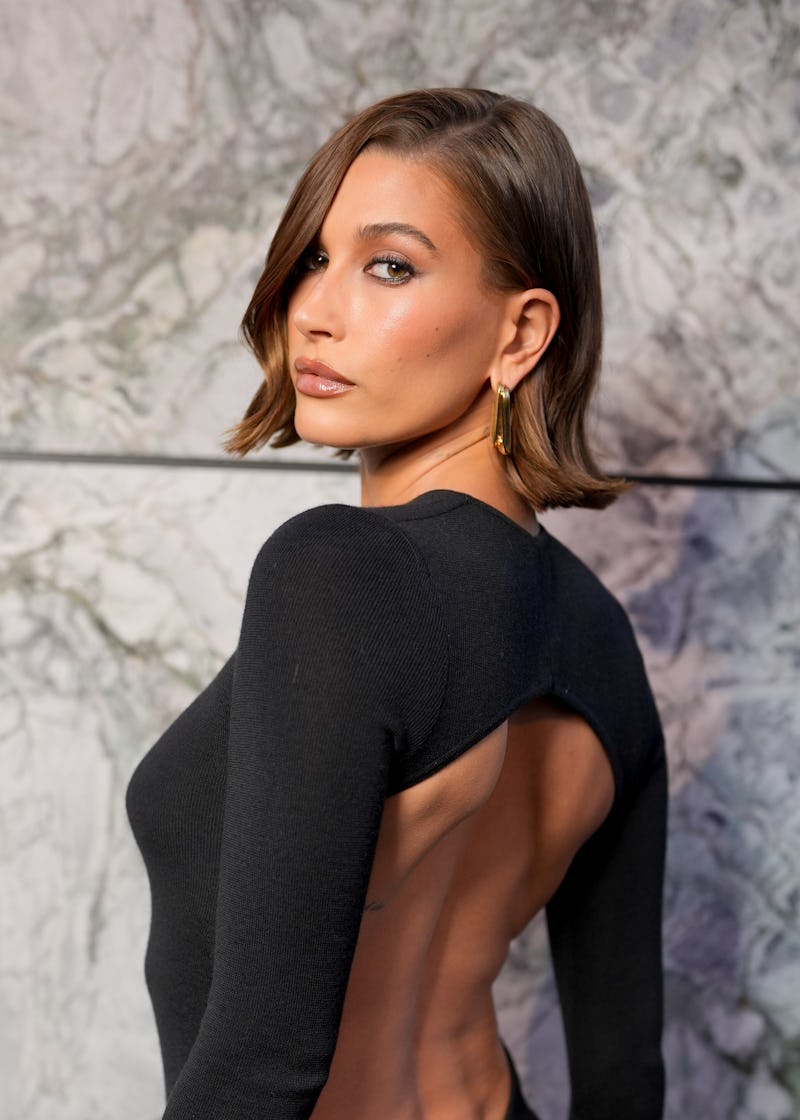 WWD/WWD/Getty Images
Hailey Bieber's 27th birthday isn't until Nov. 22, but the Rhode founder just took to Instagram to say that she's "starting the bday week off early."
That could only mean that she's officially ready to serve up some heavy-hitting, glamour-filled looks to celebrate another trip around the sun.
Hailey's Vampy Birthday Nails
In honor of her big day, Bieber recently teased a brand new Rhode Peptide Lip Tint that has a nostalgic jelly bean scent and Y2K-inspired shimmer. The new product's thong-baring campaign is all things pink and sweet — but her latest look is a bit more dark and seductive.
Formally claiming "cherry mocha" as her color, Bieber stunned in a luxe velvet, corseted gown with a sweetheart neckline that extended to points. Matching perfectly to the color of her dress, Bieber's monochromatic burgundy nails epitomized "cool girl" energy.
Accessorizing with golden hoops, rings, and a chain-link watch, she added a bit of soft romance to her ensemble with softly waved tendrils and a chic, slicked-back bun.
As for her makeup look, Bieber kept to her naturally glowing, "less is more" M.O, opting for pink-flushed cheeks, minimal eyes, and a juicy high-gloss pout.
The "Cherry Mocha" Nail Polish Trend
When it comes to the manicure trends on BeautyTok, "cherry mocha" is a trendy nail polish color that is defining the fall season. As the transition to winter begins, juicy, berry-inspired burgundy tones will remain.
Seeing Scarlet: "Deep, dark reds have been everywhere. These rich and sultry hues bring a touch of sophistication and warmth to your winter look, making it an ideal choice for those holiday gatherings this winter." Amy Ling Lin, founder of sundays.
Bieber's latest mani moment officially cements "cherry mocha" as winter's end-all-be-all color, from nails and lips, to accessories and 'fits.
Sagittarius Season Starts Early
With her birthday on the first day of Sagittarius season, Bieber has already begun embodying the energy of the zodiac sign with her manicure and velvet, body-hugging dress.
Born between Nov. 22 and Dec. 21, Sagittarius is a lively and magnetic fire sign depicted by an archer holding a bow and arrow. Adventurous, free-spirited, and bold, the sign is very much associated with vibrant red and deep purple shades.