Kora Organics Just Dropped A New Moisturizer That Mimics The Effects Of Retinol — Without Actually Using Any Retinol
Retinol-like results minus the irritation.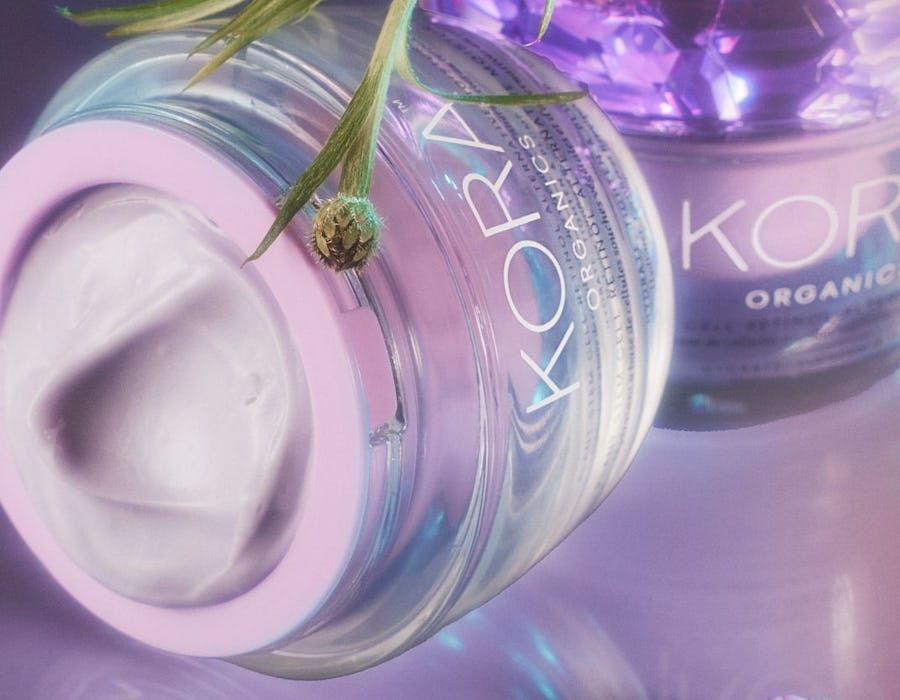 Kora Organics
We may receive a portion of sales if you purchase a product through a link in this article.
Thanks in large part to Hailey Bieber, there's no surer way to guarantee the beauty product you're launching will become a best-seller than by teaming up with Los Angeles-based supermarket Erewhon for a custom smoothie full of skin-boosting ingredients. Miranda Kerr is the latest celebrity to create a color-coordinated smoothie blend, and it's all in celebration of her newest Kora Organics product, the Plant Stem Cell Retinol Alternative Moisturizer. The launch comes nearly six months after the brand introduced its now best-selling Plant Stem Cell Retinol Alternative Serum, and as its name suggests, the certified-organic moisturizer was formulated with botanically derived ingredients that work similarly to retinol to deliver big results.
While you can only find Kerr's limited-edition Kora Glow Smoothie in Los Angeles, you can easily make the moisturizer a permanent (and effective) part of your skin care routine. Ahead, learn more about the ingredients powering the moisturizer, and how they work to promote firmer skin — like retinol — without causing any irritation.
The Science Behind The Moisturizer
There's a reason why prescription retinoids (and their no-prescription-required counterpart, retinol) have become so popular. The vitamin A derivative is the ultimate multi-tasking ingredient, working to speed up skin cell turnover and boost collagen production for benefits that include everything from helping to clear up acne and decreasing hyperpigmentation to promoting smooth, plump, radiant skin. But there is one major drawback. Retinol comes with an adjustment period known as retinization, which includes redness, dryness, and peeling. While most people can get past this (especially if they stick to using retinol just a few times a week), others find that their skin is just too sensitive to use the powerful ingredient. That's where retinol alternatives come in, and the Plant Stem Cell Retinol Alternative Moisturizer pairs bakuchiol (a dermatologist-loved alternative to retinol) with alfalfa (another plant ingredient that Kora Organics calls an "up-and-coming" retinol alternative).
Bakuchiol is a plant grown in India, which has been used in traditional Ayurvedic and Chinese medicine for centuries. But in more recent years, studies have shown that it has the potential to serve as an alternative to retinol, as it's capable of increasing skin cell turnover, stimulating collagen production, and potentially even treating acne. In the Kora Organics moisturizer, a 1% concentration of bakuchiol is used along with a 4% concentration of alfalfa extract, which has antioxidant and anti-inflammatory properties. Additionally, the moisturizer contains peptides, rosehip oil, ferulic acid, plant-based stem cell extracts from acai berries, and vitamins C and E for antioxidant protection (rosehip oil also contains retinoic acid). And, of course, because it's a moisturizer, it includes plenty of moisturizing and soothing ingredients like aloe leaf juice, glycerin, shea butter, and ceramides.
How To Incorporate It Into Your Routine
Whereas you have to gradually incorporate a traditional retinoid into your routine, the Kora Organics Plant Stem Cell Retinol Alternative Moisturizer can be used morning and night, right from the start. That's because those plant-based ingredients mentioned earlier don't pose the same risks of dryness, redness, peeling, and burning as a retinol. The brand recommends applying its Plant Stem Cell Retinol Alternative Serum first, then following up with your moisturizer for the best results, which, according to its own study made up of 55 retinol users, showed that 87% of participants reported that their skin was firmer and tightened after four weeks of using the moisturizer twice daily.
If you're interested in giving the moisturizer a go, you can purchase it from Kora Organics directly via the link below.