15 Luxurious Leather Perfumes That Complement The "Old Money" Aesthetic
Just in time for leather weather.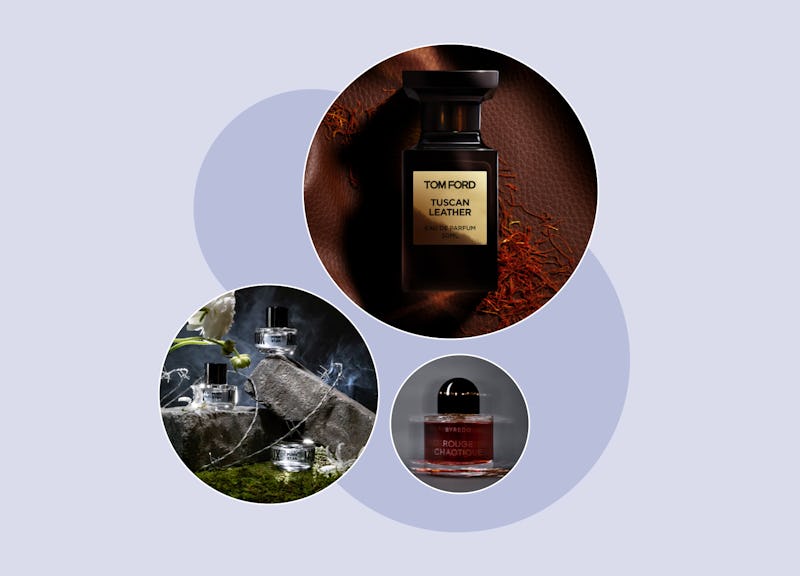 We may receive a portion of sales if you purchase a product through a link in this article.
From the familiar scent of a luxurious new designer bag, to the warm and earthy aroma of fine equine saddles atop a horse's back — leather is no doubt a sensual scent in perfumery that brings with it that unmatched "old money" vibe (which, ICYWW, is a rising aesthetic that stars like Kendall Jenner are a fan of).
"Leather is a super common base note renowned for adding edginess, depth, and longevity," Brianna Arps, the founder and fragrance composer of Moodeaux's genderless scents, tells Bustle. "While the raw material itself was [historically] derived from animals, rest assured the process for utilizing leather inside today's fragrances looks completely different."
In other words? No animals are harmed when you see the leather ingredient in modern perfumes, and instead, they are crafted with a combination of other natural notes, like "birch tar, juniper, and labdanum," to name a few.
What's more, the buzzy leather note defies gender, and is commonly used in both traditionally feminine and masculine creations to add bold complexity. "In my opinion, it smells best when paired with similar accords — think musk, vanilla, [and] sandalwood," Arps adds.
Especially for the fall and winter months ahead, perfumes filled with the essence of leather are a major green flag. For a bit of that luxe "old money" energy in your own fragranced wardrobe, here are 15 bold perfumes to shop now.