Low Messy Buns Are Fashion Week's Most Wearable Beauty Trend
Everyone's favorite lazy day hairstyle.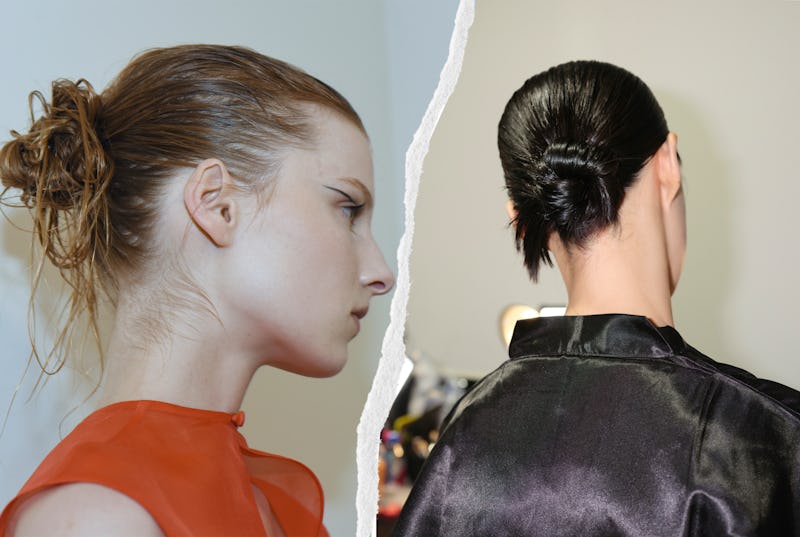 Ashley Jahncke / Getty Images; courtesy of 3.1 Phillip Lim
Ah, fashion week. The fabulous madness happens twice a year, and folks can count on it for a number of things: scouting the next big trends, gasping over clothes, being inspired by street style. Generally, everything is Very Aspirational. In a shocking turn of events, however, New York Fashion Week's Spring/Summer 2024 shows have revealed a beauty trend that's decidedly laid-back: the low bun.
Everybody's favorite lazy day hairstyle was spotted on numerous runways this season. At 3.1 Phillip Lim, lead hair designer Mustafa Yanaz created a ballerina-inspired sleek bun with spikes for an edgy twist. At Khaite, celebrity hair artist Guido Palau wanted a downtown vibe for the models' beauty looks, which is how he came up with the "downtown updo," aka a very sirencore wet version of the low bun. Joseph Altuzarra wanted a hairstyle that captured the "undone attitude" of his collection, so hairstylist Jawara dreamed up the show's effortless spiraled buns.
While each 'do looked sophisticated on the runway, they also happen to be easy to recreate at home. Sure, you may pull your hair into a low bun without even thinking, but these NYFW takes on the updo will give your chill hairstyle a very effortlessly-on-trend-fashion-girlie vibe.
The "downtown" updo at Khaite.
Ashley Jahncke / Getty Images
Ashley Jahncke / Getty Images
For the spiky ballerina bun at Khaite, Palau first prepped hair with TRESemmé Extra Hold Mousse for touchable texture as well as the TRESemmé Keratin Smooth Shine Serum for shine. He then pulled strands into a ponytail, but didn't pull all of the hair through — this gave the messy yet cool finish. The look was secured with pins and TRESemmé Ultra Fine Hairspray.
The spiked ballerina bun at 3.1 Phillip Lim.
courtesy of 3.1 Phillip Lim
courtesy of 3.1 Phillip Lim
At 3.1 Phillip Lim, stylists Yanaz and Leland Olson used Kevin.Murphy's Hair.Resort Beach Texturizer and Curl Enhancer for some grip along with the brand's Touchable Spray Wax Finishing Hairspray to piece out the spikes of the ballerina bun. To achieve the look, start with clean, dry hair. If your hair's already straight, you can add texture with the Hair.Resort Texturizer along with the Dyson Supersonic Professional. From there, create a mid-height ponytail, then twist it into a spiral and coil it around the ponytail's base. Wrap until you've created a bun, but leave your ends out for the spikes pointing downwards. Spritz it with hairspray to secure and use a straightener like the Dyson Corrale on the ends for a stronger hold on the spikes.
The "undone" buns at Altuzarra.
Jawara says he wanted the hairstyle at Altuzarrra to look completely effortless, undone, and like something people could do by themselves. He pulled models' hair into clean center parts and twisted it into low buns. For the models with textured hair, he did the same style, but with small cornrows.
For straight hair, begin on hair that's 80% dry and spray "loads and loads" of Fekkai's Full Blown Volume Dry Texturizing Spray for grit and shine. From there, blow dry from the middle part straight down, brush your hair into a low pony at the nape of your neck, and set it with the Fekkai Clean Stylers Flexi-Hold Hairspray. Secure it and spritz on some more texturizing spray, then twist the ends until the ponytail twists into itself to create a low knot. Use bobby pins to secure the bun and be sure to leave a few ends out for an undone vibe, then finish with hairspray along with the Fekkai Brilliant Gloss Glass Hair Anti-Frizz Oil Serum to smooth flyaways.
For the undone braided bun, prep hair with the Fekkai Clean Stylers Root Lift Volumizing Spray and brush back. Spritz on some texturizing spray and blow dry from the middle part down. Separate your hair into sections and braid it down tight to your head, then pull the braids into a low pony at your nape and spray some hairspray to set. Secure with an elastic and spray more texturizing spray, then twist ends until the tail twists into itself to create a low braided knot. Secure with pins and hairspray — and voilà.
Big love to all the hairstylists who have made our easiest updo a trend.