Rhode & Krispy Kreme Drop A Strawberry Glaze Peptide Lip Treatment
The collab marks Rhode's first partnership with another brand.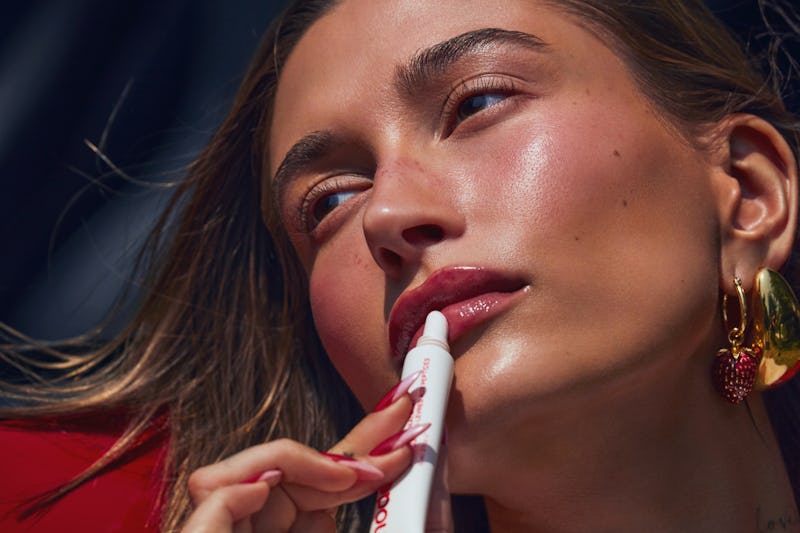 Rhode
We may receive a portion of sales if you purchase a product through a link in this article.
From the moment Hailey Bieber launched her skin care brand Rhode, the model's fans knew that it would most likely consist of a lineup that would help them attain her famously dewy skin. And while several products stood out — from the newer Glazing Milk to the Barrier Restore Cream beloved by her husband, Justin — there was one offering that captured the most hearts: Rhode's Peptide Lip Treatment, a glossy mix of shea butter, fatty acids, and more nourishing ingredients that help plump and hydrate your pout.
When Bieber dropped a "strawberry makeup" tutorial on TikTok, eagle-eyed followers immediately started speculating that her brand's next launch would be a product that was somehow related to the juicy berries (especially since that viral moment was quickly followed by multiple posts on Rhode's Instagram account that featured the strawberry emoji in the captions).
It turns out — everyone who guessed that Bieber would be releasing a fruity launch was correct. On Aug. 28, 2023 at 9am PST, Rhode will officially release the Strawberry Glaze Peptide Lip Treatment, a new flavor of the fan-favorite product inspired by Krispy Kreme. The collaboration marks Rhode's first partnership — and it corresponds with the return of Krispy Kreme's beloved strawberry glazed doughnuts at select stores on Sept. 1.
The Peptide Lip Treatment has been available in a variety of scents (vanilla, watermelon slice, salted caramel, and unscented), and you can officially sign up for the Strawberry Glaze waitlist on Rhode's website now.