Music Lovers Will Be Instant Fans Of These 26 Movies On Netflix
From Gaga: Five Foot Two to Eurovision Song Contest: The Story of Fire Saga, here are music movies you can't miss.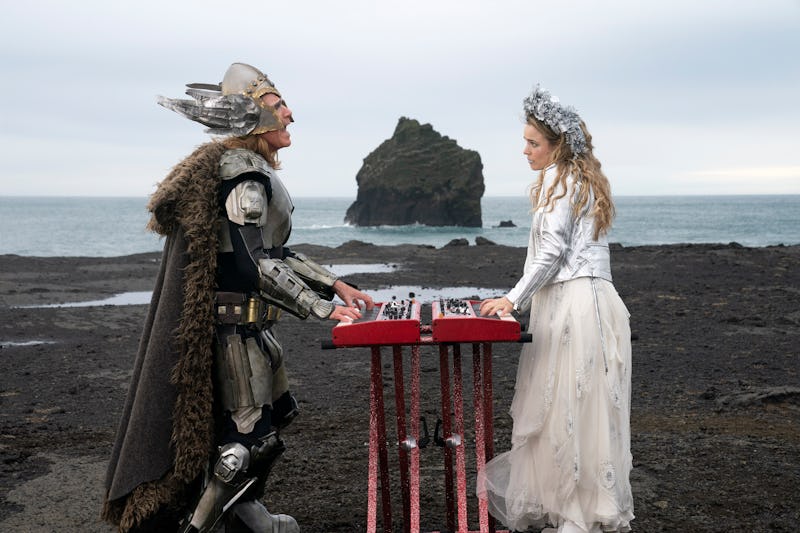 Netflix
While anyone who has anything to do with music can likely be considered a "musician," not everyone feels the same way. Some argue that pop isn't real music, some believe the only real music is classical, and some might insist that indie music is the only genre worth listening to. But as the many movies about music that are out there show, there are plenty of ways to be a "real" musician and express your love for the craft and industry.
Whether you're loud and dramatic, quiet and temperamental, or somewhere in-between, all musicians know there's nothing like connecting to your emotions and projecting them outward to create art. And while sometimes musically-inclined folks channel their energy and emotions into dropping a surprise album like Beyoncé or releasing a greatest hits record, they also sometimes just want to relax and watch a movie that will speak to their soul.
Without further adieu, here are 26 movies on Netflix that are perfect for musicians (and non-musicians) alike. From Taylor Swift's Miss Americana to The Dirt, there's something for everyone on this list, so press pause on that new playlist you're making and settle in for the best the streaming platform has to offer.
Love this list? Create a Likewise account to save these recs to your own watchlist and follow Bustle for more. You'll always know exactly what to watch next.
Andrew Garfield stars as Jonathan Larson in this autobiographical musical about the beloved Rent playwright — and as he told Bustle in November, saying yes to the project was one of the "handful of no-brainers in my life." The Oscar-nominated Netflix musical, helmed by Lin-Manuel Miranda in his directorial debut, is an affirming watch for musicians who know the pressure of juggling their art, family, friends, and day job — but still find a way to make their music anyway.
There's no age limit on pursuing your passion: a heartening reminder for musicians and creatives of all kinds. Radha Blank serves as star, director, and writer of The Forty-Year-Old Version, which follows a playwright as she rekindles her love for rap music — and changes her life along the way. The uplifting Netflix original earned critical acclaim, including an NAACP Image Award for Outstanding Writing in a Motion Picture.
Based on August Wilson's play of the same name, this Oscar-winning film follows 1920s blues singer Ma Rainey (Viola Davis) and focuses on an infamous Chicago studio session, during which she clashed with her white producers and recorded the titular song. Also featuring Chadwick Boseman in his final role, the movie was praised by critics for its costume design and celebration of Black culture and music.
Directed by Lana Wilson, this 2020 documentary chronicles Taylor Swift's career from the moment she learned Reputation had been snubbed in the big four Grammy categories in 2018 up until the release of her seventh album, Lover, in 2019. Miss Americana offers viewers a deeply personal look into her mother's battle with cancer, the singer's decision to publicly reveal her political views, as well as her 2017 sexual assault trial.
This Grammy award-winning documentary chronicles the life and career of iconic record producer Quincy Jones, the mastermind behind Lesley Gore's "It's My Party," Michael Jackson's Thriller album, and Donna Summer's self-titled 1982 album, as well as soundtracks for The Wiz and The Color Purple. Co-directed by his daughter Rashida Jones, the film provides backstories for his work with Frank Sinatra, Aretha Franklin, Jackson, and many more legendary musicians.
Featuring interviews with Simon Cowell, Alicia Keys, Jennifer Hudson, Sean "Diddy" Combs, and more, this documentary dives into the life of celebrated music executive Clive Davis, former CEO of RCA Music Group and current CCO of Sony Music Entertainment. Credited for launching the careers of Whitney Houston, Barry Manilow, and more, Davis' story is one that every musician should know.
This 2019 coming of age drama follows August Monroe (Khalil Everage), a shy teenager with a knack for making hip-hop music as he strikes up a friendship with a struggling producer, and the pair sets out to break into the Chicago music scene. Featuring Anthony Anderson and Uzo Aduba as well as original music from Chicago rapper Young Chop, Beats is sure to warm your creative heart — and perhaps even strike some inspiration.
If you're craving a feel-good musical, why wait for the holidays? Yes, Jingle Jangle: A Christmas Journey may be about a toymaker's family coming together in time for Christmas — but it's very much a movie for music lovers, too. John Legend co-wrote the soundtrack, which features Usher, Ricky Martin, and Anika Noni Rose, to name just a few familiar voices. Plus, the movie's message about embracing your gifts and harnessing your own power? Pretty relevant for musicians, too.
Released in 2021, this teen musical is kind of like the Christian version of Disney Channel's Camp Rock. It also stars Bailee Madison, who coincidentally acted in the network's Wizards of Waverly Place as a child. Centered around a troubled teen named Will (Kevin Quinn) who chooses to attend summer camp over going to juvenile hall, the film follows him as he meets Avery (Madison), one of the only campers willing to accept him despite his past.
This film is sure to make you feel good — pun intended. Starring the late Chadwick Boseman as the legendary James Brown, Get On Up tells the story of the funk musician's life and career, from singing in church to recording classic hits like "I Feel Good" and "Get Up Offa That Thang." It also features a stacked ensemble cast that includes Dan Aykroyd, Viola Davis, Jill Scott, Octavia Spencer, and Allison Janney.
Executive produced by Sean "Diddy" Combs and Biggie's mother Voletta Wallace and named after his 1997 song of the same name, this 2021 Netflix original documentary tells the story of The Notorious B.I.G.'s life long before he was known for hits like "Big Poppa" and "Juicy." It also features interviews with figures from the rapper's life, including Wallace, his grandmother, and his ex-wife Faith Evans.
Released alongside a concert film, Netflix's Shawn Mendes: In Wonder offers viewers a look into many aspects of the singer-songwriter's career and everyday life, from touring to his creative process, his relationship with Camila Cabello, and even his experiences with anxiety and depression. Featuring footage from his 2019 self-titled stadium tour, the documentary also served as a prelude to his 2020 album, Wonder.
Directed by Chris Moukarbel, this 2017 film is a deep dive into the life of international superstar Lady Gaga, documenting the making of her album Joanne, the lead-up to her halftime performance at Super Bowl LI, and the moment she landed the lead role in A Star Is Born. It also features personal footage of her experience living with chronic pain and fibromyalgia as well as a fly-on-the-wall view of her time working with Mark Ronson — and a scene where she hits his car.
Even if you're not into musicals, every musician should be familiar with the iconic Les Misérables, or at least songs like "I Dreamed A Dream" and "On My Own." And what better version of the musical to see than the 2012 film adaptation starring Hugh Jackman and Anne Hathaway that won three Golden Globes and three Oscars, including Hathaway's first win for Best Supporting Actress?
Set in New York City, this 2013 musical dramedy stars Keira Knightley as a singer-songwriter named Gretta who's down on her luck after breaking up with her longtime boyfriend and collaborator. Mark Ruffalo plays Dan Mulligan, a struggling record label executive and recent divorcée who meets Gretta and signs her before recording an album together in various locations throughout the city. Also starring Adam Levine, Hailee Steinfeld, and James Corden, Begin Again received critical acclaim upon release and earned a Best Original Song Oscar nomination for Knightley's "Lost Stars."
Released in 2019, this British documentary tells the story of prolific songwriter and iconic singer Dolly Parton, who's written countless hits from "Jolene" to "I Will Always Love You" and "Here You Come Again." Named after Parton's song of the same name from her 1971 Coat of Many Colors album, the film features interviews with family, friends, and the country legend herself.
Drummers will love this 2021 documentary directed by Mark Lo, which explores the role of legendary percussionists in rock bands throughout many decades. Clem Burke of Blondie and the Ramones, Stewart Copeland of The Police, Nick Mason of Pink Floyd, and Abe Laboriel Jr. of Paul McCartney and Eric Clapton's respective touring bands are just a few of the drummers interviewed about their craft in Count Me In. From their backgrounds to life on the road and why they picked up sticks in the first place, this film is a perfect watch for any musician looking for inspiration.
Based on the band's 2001 memoir The Dirt: Confessions of the World's Most Notorious Rock Band and developed for over a decade, this 2019 biopic tells the story of glam metal band Mötley Crüe — sex, drugs, rock 'n' roll, and extreme success all included. Its soundtrack features the band's hits like "Girls, Girls, Girls" and "Dr. Feelgood" as well as four new recordings: "The Dirt" with Machine Gun Kelly, "Ride with the Devil," "Crash and Burn," and a cover of Madonna's "Like A Virgin."
This 2019 documentary tells the life story of Grammy-winning Canadian musician and record executive David Foster, known for his work with Dolly Parton, Chaka Khan, Olivia Newton-John, Dionne Warwick, and Donna Summer, among others. The film also features interviews with many of his collaborators and peers, including Celine Dion, Barbra Streisand, Michael Bublé, Diane Warren, and more.
Every year, countries around the world — America not included — send a hopeful musician to the Eurovision Song Contest with an original song to represent their territory in hopes of winning. (Previous winners include Celine Dion and ABBA.) This Oscar-nominated film offers an Americanized, comedic take on the competition, stars Will Ferrell, Rachel McAdams, and pop star Demi Lovato, and boasts an Oscar-nominated soundtrack produced by Savan Kotecha (who has worked with Ariana Grande and Britney Spears).
Netflix's contribution to the #FreeBritney discourse explores Britney Spears' conservatorship and the pop culture phenomenon that was the "Stronger" singer's rise to fame. For those who are interested in the backstories of their favorite musicians — or simply want to analyze early aughts media coverage with a new lens — this 2021 documentary is a must-watch that will get you caught up on the conversation.
Released just after the group's debut album, The Album, which features hits like "Ice Cream" and "How You Like That," this documentary follows the meteoric rise of South Korean girl group BLACKPINK, the Billboard Hot 100's highest-charting female Korean act. Light Up the Sky has been critically praised for offering fans a deeper look into the individual personalities of the group's four members: Rosé, Jennie, Jisoo, and Lisa.
Starring Gina Rodriguez as a Rolling Stone journalist who was recently dumped by her boyfriend, this 2019 rom-com follows her as she enlists her friends for one final adventure in New York City before she moves to San Francisco. The film features music from Selena, Lorde, Mitski, and Lil' Kim, as well as a scene revolving around Lizzo's "Truth Hurts" that helped the song rise to No. 1 on the Billboard Hot 100 two years after its initial release.
This 2017 musical drama tells the real-life story of New York rapper Roxanne Shante, known for her songs "Roxanne's Revenge" and "Queen of Rox (Shanté Rox On)," starring Chanté Adams as the musician. Named after her memorable 1980s hip-hop rivalry with fellow rapper The Real Roxanne, the film is produced by Pharrell Williams and also features Mahershala Ali and Nia Long.
Known for his hit "iSpy," this 2018 comedy stars rapper Kyle as aspiring musician Owen Ellison, who is eager to be heard by high-profile music executives and make it big — no matter how many times he fails. Also starring Teyana Taylor and featuring cameos from Wiz Khalifa, DJ Khaled, the late DMX, and Fifth Harmony's Dinah Jane, The After Party is a musician's coming-of-age story jam-packed with famous faces.
Based on the 1980s cartoon Jem, this 2015 musical-fantasy film follows a teen named Jerrica (Aubrey Peeples), who performs in a band under the moniker, a nickname from her late father. Thanks to a robot he built that comes to life, the band members embark on a scavenger hunt that leads them to stardom in this film that also stars Hayley Kiyoko, Juliette Lewis, and Molly Ringwald.
Whether you're a pop lover, a crooner aficionado, or a hardcore rocker, there's a movie out there for every type of musician to enjoy.
This article was originally published on