Where 13 Famous Women Were at 24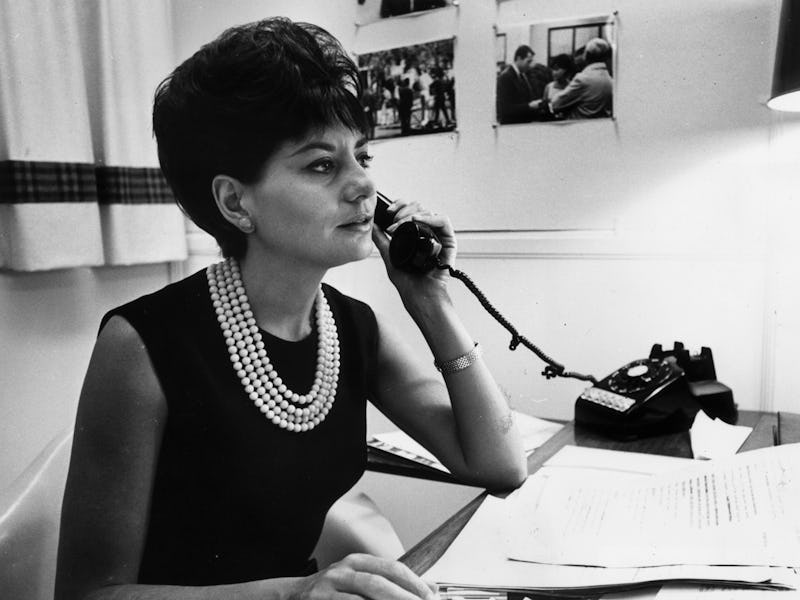 At 24, the quarter-life crisis is just around the freakout bend. While your twenties are often described as your defining decade, they tend to feel anything but defined. At 24 years old, it's easy to feel confused and uncertain and, well, not-so-grown-up. And it's for good reason — most scientists agree that the brain doesn't even stop maturing until 25, so technically, you still have one more year of adolescence to go.
And after that, you're still in for another six years of hard truths and lessons to learn. As if you aren't already plagued by question after question from everyone else about what you're doing with your life, you're also asking those hard-hitting questions yourself: Are you on the right career path? Should you be worried about not being in a relationship? Or, is the relationship you're in really right? What do you want to do with the rest of your life?
The good news is, if you're not who you want to be right now, there is still time. Whether it's professional or personal, success doesn't come with a deadline. Take it from any of these women — success may be just around the corner, or it may be at the end of a long road. What these 13 women have in common is passion, hard work, and perseverance. And most importantly, they remind us that who you are at 24 isn't necessarily who you will be for the rest of your life.
Lucille Ball
Before she was the most beloved redhead on television, Lucille Ball was panned as "Queen of the Bs" for her history of forgettable film work. At 24, Ball had just moved to Hollywood to start a career in film, after getting only minor chorus parts on Broadway under a stage name.
Ball spent her twenties taking supporting parts in minor films while working in radio on the side. It wasn't until Ball was 37 that television executives offered her the chance to develop a radio program she starred in, My Favorite Husband, into what would become I Love Lucy.
Throughout her career, Ball would pave the way for many women. Not only was she the first woman to head a production company, but she has influenced a number of female comedians today.
Vera Wang
We know Vera Wang by her iconic wedding dresses, but before she was designing, Wang chased other ambitions.
Throughout high school and college, Wang was a successful figure skater. But when she failed to make the U.S. Olympic team, she turned her attention to fashion. Though she found success early, becoming the senior fashion editor at Vogue at only 23, her career remained stagnant over the next 15 years. She was passed over for the editor-in-chief position in favor of Anna Wintour, and later left the magazine to design for Ralph Lauren.
Frustrated with what was on the market, she designed her own wedding gown, despite having no backgound in bridal. She didn't launch her own iconic bridal line until she was well into her 40s.
Arianna Huffington
Today she runs one of the biggest online news outlets, but in her 20s and 30s, Arianna Huffington was known more for her conservative politics than liberal digital media.
At 24, she had already published her first book, The Female Woman, a critique of trends in women's liberation movements (really). Her second book was rejected by 37 publishers, but Huffington made a name for herself throughout her twenties and thirties as a conservative commentator. She didn't even become a liberal until the late '90s or launch The Huffington Post until she was 55.
Carol Burnett
Carol Burnett discovered a love for comedy during her college years, finding solace in the joy of writing and humor after a tumultuous childhood. Her mother disapproved of her acting ambitions, wanting her to pursue writing, instead, because it was less reliant on looks.
Regardless, Burnett dropped out of college in her junior year to move to New York after a professor praised her talent and gave her a loan to make the trip. Her early years in the city as she tried to make it in musical theatre were far from glamorous. She worked as a hat check girl and lived in a boarding home. The only acting parts she booked were minor guest roles on television and nightclub performances.
She got her first taste of success at 26, winning a Tony Award for her role in Once Upon a Mattress. It wasn't until eight years later, at 34, that her iconic The Carol Burnett Show debuted, cementing her influence on many famous female comedians to come.
Halle Berry
Halle Berry didn't become the first — and only — African-American woman to win a Best Actress Academy Award overnight. In fact, her road to critical acclaim was long and riddled with troubles.
Formerly a beauty queen, Berry moved to New York to pursue acting at 21. Shortly after, she ran out of money and found herself living in a homeless shelter: "A girl had to do what a girl had to do," she told Reader's Digest."You can do that when you're 21 and ambitious, and your eyes are this big and you don't want to go home."
Her situation improved when she landed a role on a short-lived spin-off of Who's the Boss shortly thereafter. But during shooting, she collapsed on set and fell into a week-long coma and diagnosed with Type 2 diabetes.
The series was cancelled and she moved to Los Angeles where she landed a recurring role on Knots Landing. Her breakout role didn't come until she was 26, when she starred opposite Eddie Murphy in the romantic comedy
Boomerang. It would be 10 more years until she won her Oscar.
Diane Keaton
Diane Keaton spent her early twenties trying to make it on Broadway, first as a chorus member and understudy in Hair, then in Woody Allen's production of Play It Again, Sam, where she was nominated for a Tony Award. Until her breakthrough role in The Godfather at 26, Keaton's off-stage career was reduced to guest roles on television series and commercials.
But Keaton's twenties were spent battling more than career issues. She also struggled with bulimia for four years, stating that during that time, she would consume up to 20,000 calories a day.
"When you're living with a lie for four years, it wipes out any growth whatsoever," she told Dr. Oz about her battle with the debilitating eating disorder.
Eventually, Keaton sought treatment through a therapist, saying "One day I stopped. I never, ever did it again. I just stopped and I don't even know why."
Eva Chen
Though the Lucky editor in chief has quickly climbed the fashion magazine ladder, Eva Chen didn't always want to go into fashion. In fact, Chen was more certain she would be wearing doctor's scrubs than a Proenza Schouler dress — she attended Johns Hopkins University, where she spent the first three years doing pre-med.
The summer before her senior year, she applied for internships in different fields, from advertising to television to publishing houses, before taking an internship at Harper's Bazaar. It didn't take long for her to realize that magazine journalism was what she wanted to do, but she didn't graduate into a high profile job.
By the time she was 24, Chen had worked briefly at a law firm, then worked on credits at Lucky — sourcing the price for every item featured in the magazine and where it could be bought — and spent time in the beauty department at Elle.
Looking back, Chen told Lucky: "I think women in their 20s should really explore every path, leave no stone unturned. Making a mistake is not a bad thing. It's more instructive to learn what you don't like than just to like everything."
Barbara Walters
It took decades of hard work for Barbara Walters to build her career and become the legendary journalist she is today, and no one knows that more than Walters herself.
"In my 20s, when I should have been having this wonderful time, I was working and supporting my family," Walters told Vanity Fair. Unlike most other women, who were supported by a man, Walters said she had to work. "That's the difference. That's why I am where I am today."
Walters ascended to the top of journalism at time when women in the field were few and far between. At 24, she was one of the youngest producers at NBC, and later became the only female writer — but was only allowed to write lines for women. When she became a "Today Girl," the then-term for female on-camera reporters, she took matters into her own hands, writing her own material and reporting on her own stories, rather than the assumed fluff. Within the next ten years, she became the first female cohost of the Today show before moving to ABC as the first female evening news coanchor.
Bette Midler
Bette Midler wasn't yet the Divine Miss M when she was 24. Growing up poor in Hawaii, Midler's looks and ambitions separated her from her peers. Despite her parents' disapproval, she moved to New York at 19 to become a star. Her first few years were spent working in department stores while starring in small roles in Broadway shows like Fiddler on the Roof.
But by the time she was 24, her theater career began to stall. "I felt like I was stagnating, busting my ass every night for three years and getting nowhere," she told Rolling Stone. Needing a change, she was offered a spot to sing at a bar on the Bowery. Soon, she began singing in clubs all over New York, making a name for herself by playing at a popular gay bathhouse.
It wasn't until she was 27 that Middler was offered her first record deal. Her first solo album, The Divine Miss M , went on to win her a Grammy for Best New Artist, the first award of many in a long career of music, theatre, and film.
Molly Shannon
Before she helped spearhead a new wave of strong women on Saturday Night Live, Molly Shannon was an NYU graduate struggling to find serious acting work. At 24, she had moved to Los Angeles to pursue film and television roles, but found herself relegated to guest parts and minor bits in shows like General Hospital and a remake of Phantom of the Opera.
To get by, Shannon worked as a waitress and focused on her comedy, putting on one-woman improv shows. She was relentless in her path to SNL. To ensure a full house at her shows, Shannon told The New York Times: "I would cold call people I met at my restaurants, making 500 calls to get 200 people to come to my live show, and hustle and tell everybody, 'Come see my show, come see my show.'" Finally, it paid off. At 31, Shannon caught the eye of Lorne Michaels and won a part on the late night sketch show, showcasing her quirky sense of comedy on national TV.
Sheryl Crow
Sheryl Crow is a Grammy winner now, but at 24, her audience wasn't an arena full of fans — it was a classroom of kids. After graduating from the University of Missouri, Crow worked as a music teacher in an elementary school in St. Louis.
But she knew she wanted more from music, and decided to move to Los Angeles that year: "I remember coming home on a Tuesday and telling my parents I wanted to move to LA," Crow told the Daily Mail. "They were so adamantly opposed. I said, 'I'm going.' They said, 'When are you going?' I said, 'On Sunday.' That was the extent of the conversation."
By 25, she found herself touring with Michael Jackson as a backup singer, but struggled to strike out on her own. A solo album she had planned to release in 1992 was eventually dropped, and she was back to square one. Crow stuck with music, though, joining a group of musicians and songwriters on Tuesday nights. Their work together eventually culminated in Crow's hit debut album Tuesday Night Music Club. She was 31.
Anna Quindlen
Today, she is a Pulitzer Prize winning author, but when she was in her twenties, Anna Quindlen's life was more complicated than a work of fiction.
Quindlen's mother died of ovarian cancer when she was still in college, and shortly after, she found herself raising her four younger siblings. She returned to school to finish her degree, but things were different.
"I think, when I was in my 20s, I had a hard time adjusting to the prevailing concerns and speed of life for my peers," she told NPR.
After graduating from Barnard College, she worked briefly for The New York Post before being hired for The New York Times at 25. At the Times, Quindlen would go on to publish a popular column "Public and Private" — only the third woman to write a regular column in the paper's Op-Ed page. Quindlen wouldn't win a Pulitzer Prize for her journalism until she was 40.
Emmylou Harris
Today, Emmylou Harris owns 13 Grammy Awards — putting her in the top ten most-awarded female artists — but at 24, she had nearly given up on making it in music all together. Harris had dropped out of college to go to New York to pursue a singing career, where she met her first husband and recorded her first album. Her album flopped and she got divorced, and, at 23, she had moved back home to raise her first infant daughter alone.
"It was a tough time," she told The Independent. "I was living on food stamps and working six nights a week in clubs, trying to support my daughter. I had pretty much given up on the idea of 'making it' by that point."
Her career was kickstarted after meeting singer Gram Parsons at 24, who invited her to sing on two of his solo albums. He would become her mentor, introducing her to country-rock and shaping her musical identity. It wasn't until a few years later, after Parsons's death, that
her solo work gained notice, and decades until her songwriting influenced a new generation of famous women rockers.Images: Wikimedia (3); Getty Images (1)