Carey Mulligan & Marcus Mumford's Relationship Began In An Old-School Way
The Promising Young Woman actor shares two daughters with the Mumford & Sons singer.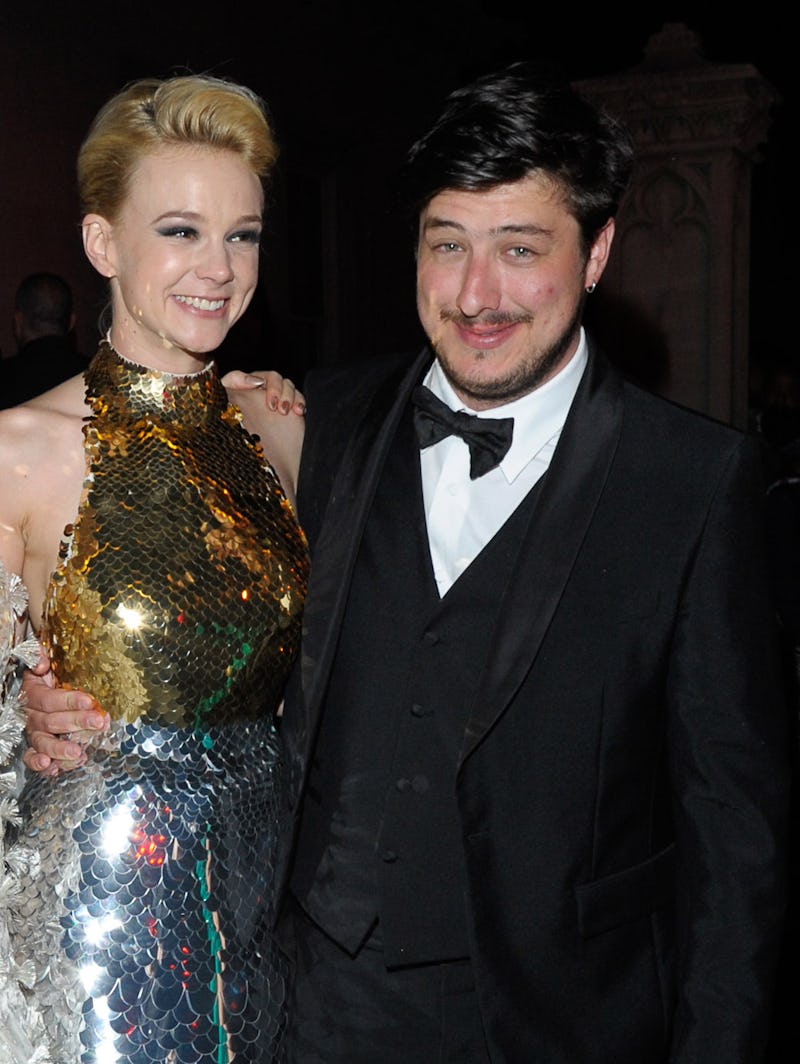 Dave Kotinsky/Getty Images Entertainment/Getty Images
During an April 2021 Saturday Night Live monologue, Promising Young Woman star Carey Mulligan was owning the stage when her husband, Marcus Mumford of Mumford & Sons, hilariously interrupted. But, hold up. How did Carey Mulligan and Marcus Mumford meet? How did this talented and hip and cute couple find each other, settle down and start a family, and then make their collective way to the SNL studio? Well, their story actually started quite a long time ago.
Although being wooed by Mumford doesn't seem like it would take very long after listening to his band's albums and hopelessly romantic lyrics, it turns out that Mulligan and Mumford have a story that would fit right into a Jane Austen novel. Before their nine-month courtship that ended in a wedding in 2012, Mulligan and Mumford were childhood pen pals! Too good to be true, right? Well, rumor has it that they both attended a Christian church camp — they both grew up in religious families — when they were about 12 years old. The story is widely published, though the couple has stayed pretty mum on the subject. Mumford's parents, both still involved in their evangelical church, officiated the couple's marriage in 2012. Awww.
Before getting together, both Mulligan and Mumford dated around. Mumford publicly dated fellow singer Laura Marling until they split in 2010. As for Mulligan, after a little fling with Eddie Redmayne, she was seen out and about with Jake Gyllenhaal as they both attended a Mumford & Sons house party in Nashville in February 2011. Either she was just friends with Gyllenhaal or she dropped him real quick because the following month, Mulligan and Mumford were spotted looking very cozy.
Not long after, Mumford started a tour, but the two kept their romance alive and began a life back in England, where they wed less than a year after they officially started dating. And it seems like their alleged pen pal past helps them keep their love alive despite the distance they often find between them because of their busy schedules. Mulligan once explained that she and Mumford write each other love letters in an interview with The Telegraph: "I think they're becoming a lost art form, which is very sad. To have a love letter from someone, to hold it in your hand and know that you can keep it for your whole life… well that's an amazing thing." Sighhhh. Seems like they've got something very special going on, and given each of their knacks for the written word and creativity, there's no doubt those letters must be epic.
The couple has since welcomed two children (Wilfred in 2017 and Evelyn in 2015), and it's clear there's so much love surrounding this talented couple. But while they do make public appearances together, Mulligan is thoughtful about how much she speaks about their relationship. She told Vogue in 2015, "Marcus is the only thing that's mine that I can keep totally away, so I try to." So, don't expect them to go on a comedy show tour together after that SNL performance.
This article was originally published on