Adele Sparks Marriage Rumors After Referring To Rich Paul As Her "Husband"
This is not the first time that the singer has fueled marriage rumors.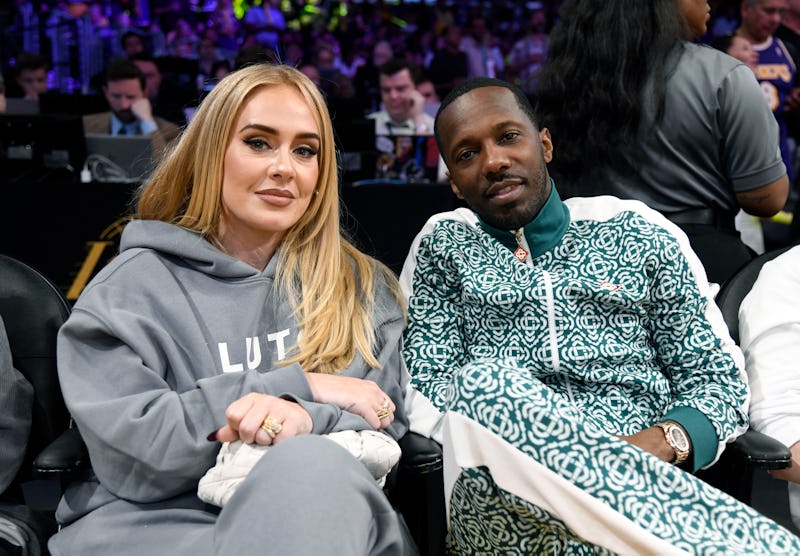 Kevork Djansezian/Getty Images Entertainment/Getty Images
Adele may have walked down the aisle without any of us knowing. At her Las Vegas residency show on Sept. 17, the Grammy winner sparked rumors that she's now married after referring to boyfriend Rich Paul as her "husband." As seen in a viral TikTok video, the moment came about when Adele was making her rounds to chat with audience members, and a female fan asked if she would marry her.
"You can't marry me — I'm straight, my love," Adele responded. "And my husband's here tonight, he's here." The fan did not follow up with questions about the word "husband." "Can you try?" the fan followed up with. "No, I don't want to try, I'm with Rich. You're crazy! Leave me alone," Adele replied jokingly.
This is not the first time that Adele has sparked marriage rumors with Paul, with fans thinking she was either engaged or married after sporting what seemed like a stunning engagement ring at the BRIT Awards in February 2022. She addressed those rumors in a September 2022 interview with Elle, confirming that she's "not married" or engaged but making it clear that she's "in loooove" with Paul. "I've never been in love like this. I'm obsessed with him," she said. "I'm happy as I'll ever be."
Adele was first linked to sports agent Paul in July 2021, after she attended an NBA Finals game with him in Los Angeles. She was previously married to Simon Konecki, with whom she shares her 10-year-old son Angelo, for three years before announcing their divorce in April 2020. While the singer usually keeps her relationships private, she's been open about Paul, celebrating their first anniversary on Instagram in May 2022 and singing him "Happy Birthday" at a December 2022 show.
No matter what their relationship status is, Adele and Paul appear to be in it for the long haul. At a Las Vegas show in August, Adele opened up about her family plans while talking with a pregnant attendee. "I really want to be a mum again soon, so I've actually been writing a list [of baby names]," she said. "Every time I see a name that I like, I write it down on my phone." When the fan asked the singer to help her decide between the names Parker and Spencer for her new baby, Adele revealed that one of those names were already on her own list. "Well, I can't say Parker because Rich likes that name," she said. "I'll say Spencer. I like Spencer."