Adele Gave Her Hot Take On Shakira & Piqué's Public Breakup Mid-Concert
It looks like Adele is Team Shakira.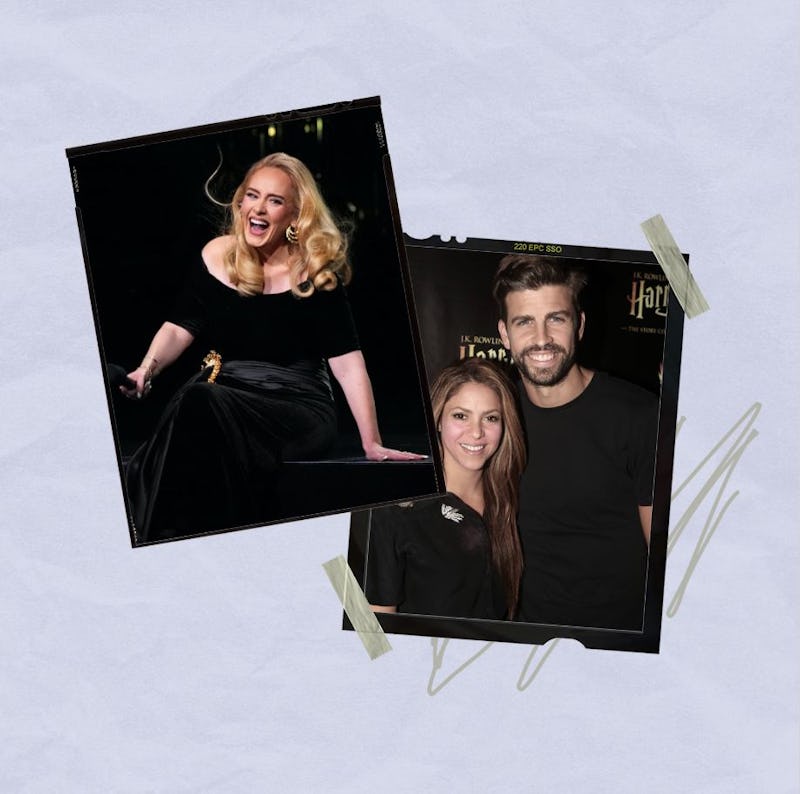 Kevin Mazur/Getty Images Entertainment/Getty Images; Bruce Glikas/WireImage/Getty Images
If Gerard Piqué hoped people would have moved on from his very public split from Shakira by now, he must be dealing with some bitter disappointment. The two announced the end of their 11-year-long relationship in June, and fans still aren't over it, especially in the wake of Shakira's hit breakup song "Bzrp Music Sessions Vol. 53." The three-time Grammy winner gave a lively performance of the Bizarrap collaboration on The Tonight Show Starring Jimmy Fallon on Friday, March 10, and it inspired even Adele to share her thoughts on the situation.
During one of her "Weekends with Adele" concerts in Las Vegas on March 11, the English singer was interacting with the audience when she asked a fan their favorite band or artist (besides her, that is). The woman named Shakira, which got an immediate reaction from Adele. "I saw her performance last night on Jimmy Fallon… oh her ex-husband is in trouble!" she proclaimed in footage shared on social media, making both herself and the audience laugh.
The Spanish-language track seems to take aim at both Piqué and his new girlfriend, whom he was allegedly seeing before his breakup with Shakira. The singer's lyrics certainly hint that was the case. There are multiple pointed references, not least of which is the well-executed wordplay that incorporates their names.
On The Tonight Show, Shakira said she's had "a very rough year" following her separation, so writing "Bzrp Music Sessions Vol. 53" was "so important" to her. "It's been a healthy way to channel my emotions," she explained.
The Colombian singer also talked about how great the reception to the song has been. "It's been unbelievable to feel the reaction from so many people," she said. "I think that people really connect to music when it's really genuine, when it's real, when it comes from a real place. … It has become sort of like an anthem for so many women out there."
Afterward, she shared clips and a photo on Instagram and reflected on her Tonight Show experience. "Last night with @bizarrap at @fallontonight," she wrote. "What an incredible audience. Just unforgettable!" It's unclear if she knew yet that her TV audience included the likes of Adele — and that her fellow singer essentially declared herself Team Shakira.
Adele's Vegas residency has given fans numerous gems since its Nov. 18 kickoff. Her audience interactions regularly get personal, and she set the standard during her inaugural show. "I am so scared and I'm so nervous, but I'm so happy," she admitted. "I don't know what the f*ck I was thinking, putting piano ballads at the top of the set; hopefully over time my nerves will disappear." Since then, she's stopped mid-show to give her son a kiss, recreated the Megan Thee Stallion's "Body" dance, and even signed a bride's wedding dress.