Alexandra Jarvis Married Sergio Soon After Selling The OC Season 2 Wrapped Filming
Her third husband is a CEO and patent holder.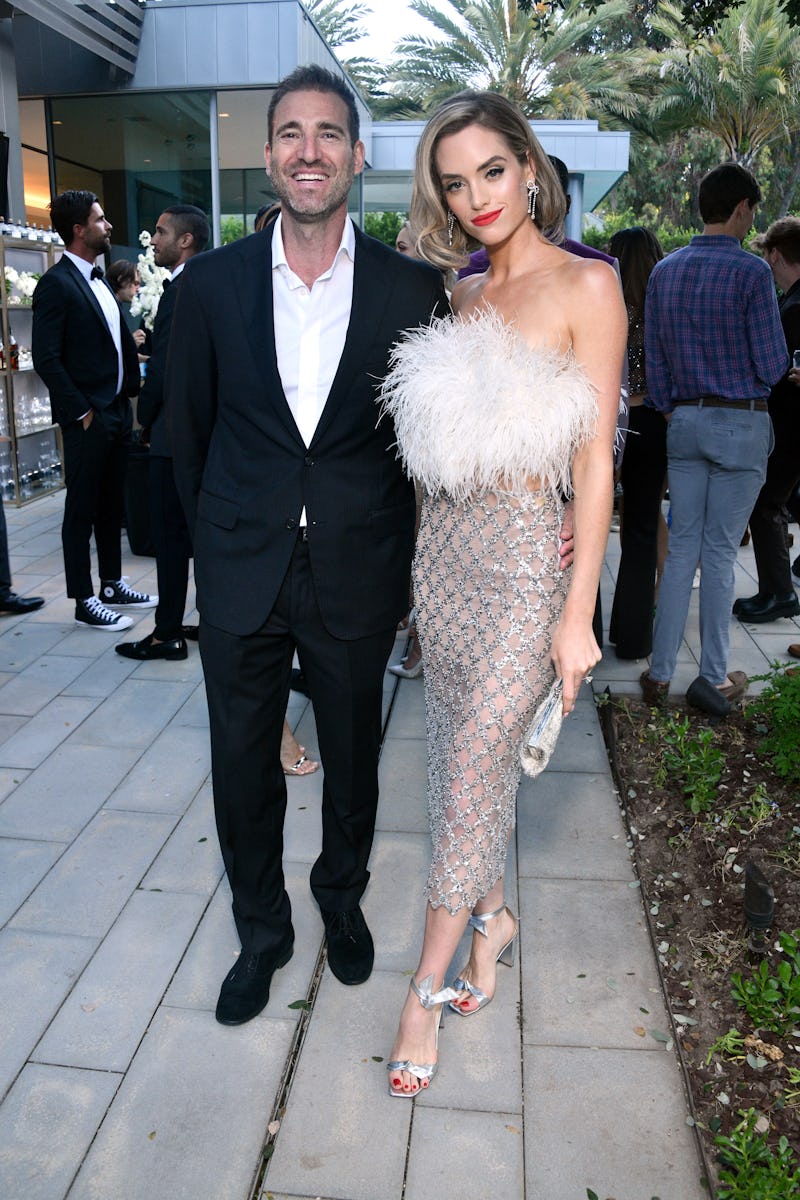 Araya Doheny/Getty Images Entertainment/Getty Images
Despite having been engaged for two years when Selling the OC Season 2 began, Alexandra Jarvis' past relationships were still a hot topic of conversation at the Oppenheim Group. Dubbing Jarvis a "ring collector," Polly Brindle claimed her co-worker had been married "about 17 times" already. Later in the season, Jarvis set the record straight, explaining that she'd been married twice before and engaged three times. Joking that she "definitely had to kiss a few frogs to get to this point," the Netflix reality star was also deep into planning her wedding to then-fiancé, Sergio Ducoulombier. "Third time's the charm," she added.
Before modeling her custom Michael Costello wedding dress for Selling Sunset's Chelsea Lazkani, Jarvis revealed that she and "soulmate" Sergio had decided to "just elope and go to Italy." Later during a dinner with Kayla Cardona, Jarvis added, "We've been engaged now over two years, so at this point, we're just kinda like, we're ready. We decided, you know what? How about just the two of us go have the most romantic, intimate day in Italy."
By the Season 2 finale, she said she felt like she had "everything done" for the wedding. Just weeks after filming wrapped, Jarvis married Sergio at a villa overlooking Italy's Lake Como on April 14. "We wanted to have a very intimate and romantic wedding day without all the traditional expectations around us," she told People at the time. "We've been before and it's actually where I told him I loved him. He had already told me he loved me, but I held back for a little while."
The newlyweds first met at a restaurant in June 2019 and dated for two years before getting engaged in December 2020. During her outing with Kayla, Jarvis also explained that Sergio had "been working so hard on this company he started a few years ago," adding, "It's a fintech company and he created an entire product, has a patent on it." According to LinkedIn, Sergio has been the CEO of Slip Cash, a mobile payment platform, since January 2019.
"As a mobile payments expert with a passion for innovation, I have extensive experience in developing cutting-edge technology that delivers seamless, secure payment experiences for customers," Sergio wrote. "My expertise in mobile wallet technology has led me to develop the Patented Slip Cash Launchpad, a powerful tool for businesses looking to attract and increase engagement with new and existing customers to streamline the payment and checkout process."
After the April wedding, Jarvis shared their plans for a celebration with family and friends in Orange County, teasing to People that certain Selling the OC castmates shouldn't expect an invitation. She added, "People may think that there would be certain people there that I was perceived to be close to in Season 1 who will definitely not be on the guest list."