Power Star Alix Lapri Wants A Bonnie & Clyde-Style Ending For Effie
Lapri shares her journey from singing on YouTube to starring in Power Book II: Ghost.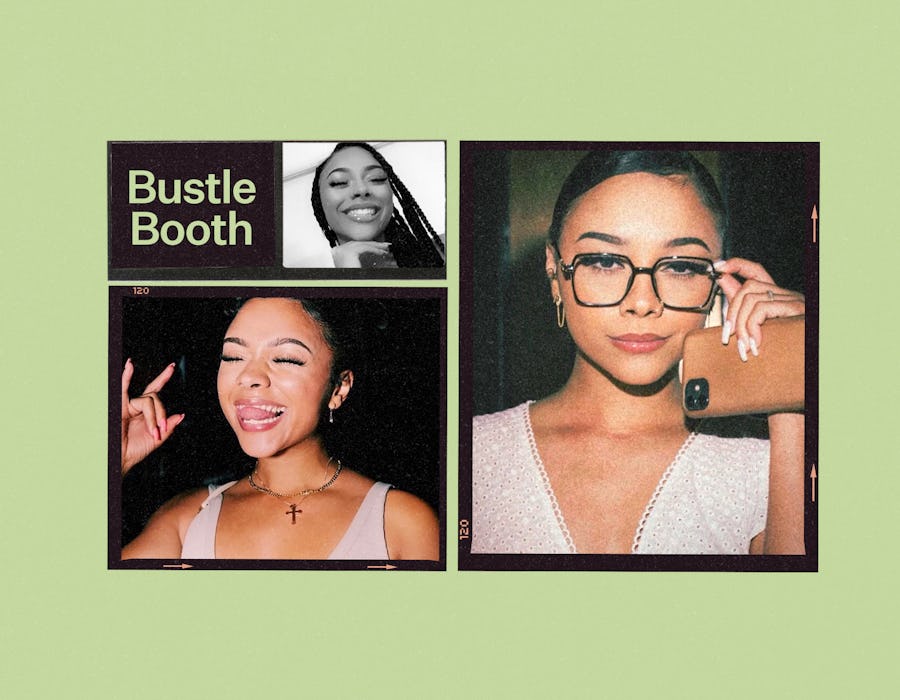 Alix Lapri credits much of her career to perfect timing. In 2021, the self-taught actor had just moved into her first solo apartment in Atlanta when she felt the "financial burden" of the pandemic hit. Just when she was on her "last leg" money-wise, her manager called with news that Starz wanted her to reprise her Power character, Effie Morales, as a series regular in the franchise's spinoff series, Power Book II: Ghost. "I was struggling and literally in my bed crying when I got the call," Lapri, 26, tells Bustle. "They gave me numbers, and I just dropped to my knees and instantly started praying because the timing was just too crazy."
While Lapri originated the role of Effie — a scrappy, street-smart college student — during Power's sixth season, Ghost reunites the character with former flame Tariq St. Patrick (Michael Rainey Jr.) and explores her backstory, revealing that she's much more than a well-intentioned drug dealer.
The promotion wasn't the first time the stars had aligned for Lapri. She'd launched a singing career on YouTube at age 13, but there weren't many opportunities to further that passion where she lived in small-town Kansas. "I saw Justin Bieber moved to Atlanta, and he was just blowing up, so I was like, 'Mom, listen, he did it, so I have to do it, too.'" Her mom quickly shot down the idea — until her job transferred them to Atlanta weeks later. "I swear my whole path has just been guided," she adds.
When, after several years of putting out music, she found the industry's business dealings "really murky," she decided it no longer made sense financially to continue that path. Although she hadn't been interested in acting, her music team pushed her to give it a chance. She booked her first big job in the 2018 action film Den of Thieves, alongside Gerard Butler and Power executive producer Curtis "50 Cent" Jackson. "I was like, I want to do this for the rest of my life," she says.
Now, with Ghost wrapping up its third season this month, Effie is caught in a love triangle with Tariq and Cane Tejada (Woody McClain) — and Lapri's chosen a side.
"Cane and Effie always made more sense because they're so much alike. They would do anything to protect the ones they love, but they're also out for survival," the actor says, citing how both characters get their hardness from a shared history of childhood molestation. "Whereas I feel Tariq and Effie only ever had a toxic attachment and history. It makes me so sad, but it's not looking too good for them."
Being on a series with such a high body count, Lapri knows her character could end up dead at any point, so she's also been dabbling in screenwriting for her own TV shows. What perfect ending would she pen for Effie? "I would give her a Bonnie and Clyde-style ending where whoever she's endgame with, they die together and go out in a blazing rage," she reveals. "That's exactly what I would write."
Learn more about Lapri in her Bustle Booth questionnaire below.
In The Bustle Booth
What's your coffee order?
I'm a tea fanatic. My favorites are Jasmine and Earl Grey.
What are the saved weather locations on your phone?
Brooklyn, NY, and Atlanta, GA.
What's your sign?
Scorpio.
Favorite overused movie quote?
"ARE YOU NOT ENTERTAINED?!?!"
What was your favorite cartoon as a kid?
SpongeBob and Fairly OddParents
What's one movie or TV show you're currently obsessed with?
Anything reality. I watch entirely too much of it. It's actually becoming a problem at this point.
Who is your celeb idol?
I don't have idols, but Frank Ocean and Post Malone are some of the coolest celebs to exist.
If you had to be on a reality TV show, what would it be?
The Challenge (my favorite TV show)
Go-to karaoke song?
"If I Ain't Got You" — Alicia Keys
What's something that's inspiring you lately?
Love.
What is something you would want people to say about you?
That I'm a genuine good person through and through. I take pride in my pure heart and good intention.