The Future Of All Creatures Great & Small Is Confirmed & Wedding Bells Are Ringing
The beloved Channel 5 series is set to return for two more seasons.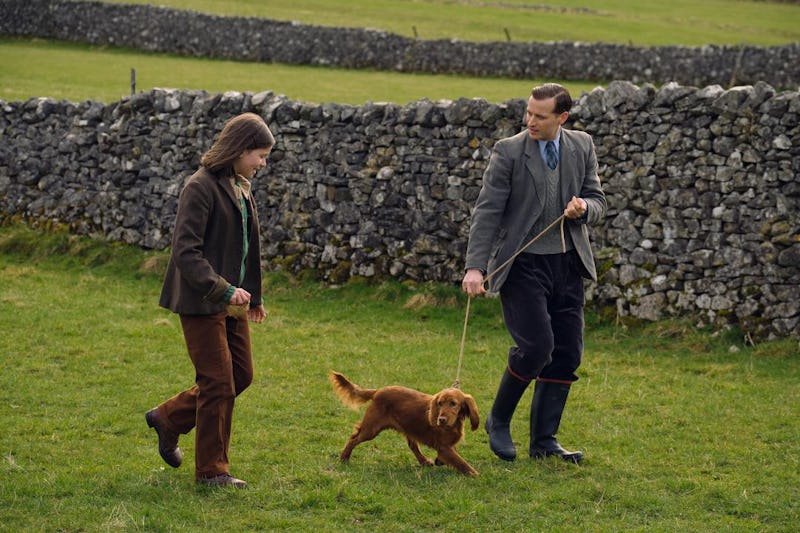 Channel 5
Following Channel 5's All Creatures Great and Small Christmas Special, there may be only one question that all desperately want to be answered: Will there be a season three? And if so, when can you expect it? So, here's everything we know so far.
Is There Going To Be An All Creatures Great & Small S3?
In short, it's pretty clear that yes, there will be a new series of the beloved show. On Jan. 8, 2022, Channel 5 confirmed that All Creatures Great and Small will return for a third and fourth series, plus another two Christmas specials. Fans are clearly in for a treat, and can expect "more heartwarming tales" as the series progresses into its next two instalments and festive editions.
All Creatures Great & Small S3 Plot
While little is known about the detail of seasons three and four, we do know that they'll see the residents of Darrowby, especially James and Helen, embark on the next chapter of their lives under a shroud of uncertainty as the threat of another World War looms over the UK. The episodes will, of course, likely centre around the engagement that fans longed for between James Herriot, played by Nicholas Ralph, and Alderson which happened at the end of the second season.
And now, Shenton has hinted that the third season might just be when we get to see the wedding. Speaking to Radio Times at the BFI & Radio Times Television Festival, the leading lady spilled the beans: "There may or may not be a wedding…". It was also revealed that it was a "fair assumption" that the animals might be involved in the wedding. They are, after all, the real stars of the show.
It took two whole seasons for Herriot and Alderson to finally make things official, and the relationship seemed unlikely to happen at times. When Herriot first arrived in Darrowby, Alderson was in a relationship with Hugh Hulton, a wealthy landowner. Hulton and Alderson then went on to get engaged. But luckily (well, not for Hulton), the season one Christmas special saw her call off her engagement.
This bravery is something that Shenton discussed with Town & Country. Of her character, she said "I was told really early on that she was actually one of the first women in her village to wear trousers. I thought that was a really telling bit of information, so I really took that on. And I think it was because she was through and through a practical woman."
Whether the show will continue beyond four seasons is up in the air, as show runner Ben Vanstone said at a Q&A ahead of series two launching: "I think that when we started the show, we had in mind arcs for these characters that took them across a number of series and initially, it was kind of four series. But everything in this show plays out slower than you think it would."
All Creatures Great & Small S3 Cast
Nicholas Ralph will return as a young James Herriot, alongside Rachel Shenton as Helen, Anna Madeley as Mrs Hall, Callum Woodhouse as Tristan, Samuel West as James' mentor Siegfried Farnon, and Patricia Hodge as Mrs Pumprhey. Tricki Woo will also make a stunning reappearance, played will also star, by the "lovable" Pekingese called Derek.
All Creatures Great & Small S3 Release Date
While there's been no confirmation from Channel 5 on a release date, according to Radio Times, you can expect to see the third series of All Creatures Great and Small sometime in Autumn 2022. But, it has been confirmed that production has commenced for season three. Rachel Shenton, who plays bride-to-be Helen Alderson, posted a picture to her Instagram which shows a clapperboard with the show's name written on it. She captioned the picture, "Back at it… Series 3".
This article was originally published on