Amanda Seyfried Made The Best Mean Girls Joke About Her US Open Outing
Seyfried watched the match from a celebrity-filled section.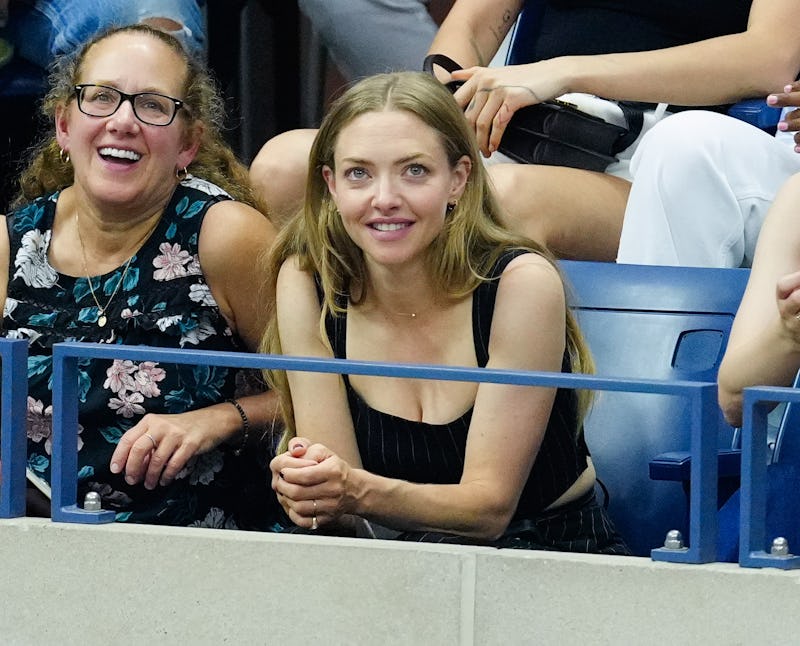 Gotham/GC Images/Getty Images
Amanda Seyfried doesn't need to have ESPN or something. The Crowded Room star had prime seats in one of the luxury suites at Arthur Ashe Stadium during the 2023 U.S. Open women's singles final on Saturday, Sept. 10, and she watched 19-year-old Coco Gauff defeat Aryna Sabalenka alongside several other A-list stars. The tennis lover's reactions during the match were exceptional, but it was her Mean Girls joke afterward that was true perfection.
Seyfried and her mom, Ann, were guests of Ralph Lauren, and they rubbed shoulders during the event with actors Diane Keaton, Mindy Kaling, Rachel Brosnahan, Ariana Debose, and Cara Delevingne. At one point, Seyfried and her closest celebrity seatmates were so into the match that the U.S. Open's social media accounts posted their reactions to a tense point, writing, "This is all of us right now," with a face-with-tears-of-joy emoji. Seyfried shared it to her Instagram stories after adding the text, "@usopen and @cocogauff got me very excited." She went on to share a photo of her, Keaton, DeBose, and Kaling, and that's where she dropped her Mean Girls joke.
"You can sit with us," she wrote over their photo. Her quip put a friendly spin on the scene in the iconic 2004 comedy when her character, Karen, turns on queen bee Regina (Rachel McAdams). She and Gretchen (Lacey Chabert) call Regina out for wearing sweatpants on a Monday, and Karen adds, "That's against the rules, and you can't sit with us."
Fans would have been all too happy to have actually been able to sit with Seyfried and co. "I want to be in this friend group….." one wrote under the U.S. Open's Instagram post, as others chimed in to agree. "Love them," another person added, "they really enjoying it." In her own comment, the Mean Girls vet wrote, "Wow that's some passion."
Kaling — who had tennis legend John McEnroe narrate her teen comedy-drama series Never Have I Ever and reunited with him at the match — confirmed that the final was as fun as it looked. "Witnessed @cocogauff become the US Open CHAMPION today and wept like she was my own daughter. Pretty weird of me," she wrote in a post-match Instagram post. "Loved seeing this incredible match with my pals, and being guest of the generous icon @ralphlauren. @usopen I love you and I LOVE YOU COCO!"
Seyfried showed that she was equally thrilled by their experience in a series of Instagram stories. The longtime tennis lover shared two throwback photos: one from when she and her mom attended the U.S. Open 10 years ago and another from her high school tennis days. "22 years ago I started playing tennis passionately," she wrote. "I didn't win (ever) but I've always enjoyed watching others do it."
New rule: On weekends, we watch tennis.