Amy Schumer Reveals Her Thoughts After Seeing Margot Robbie's Barbie
The actor was originally cast in the film's titular role.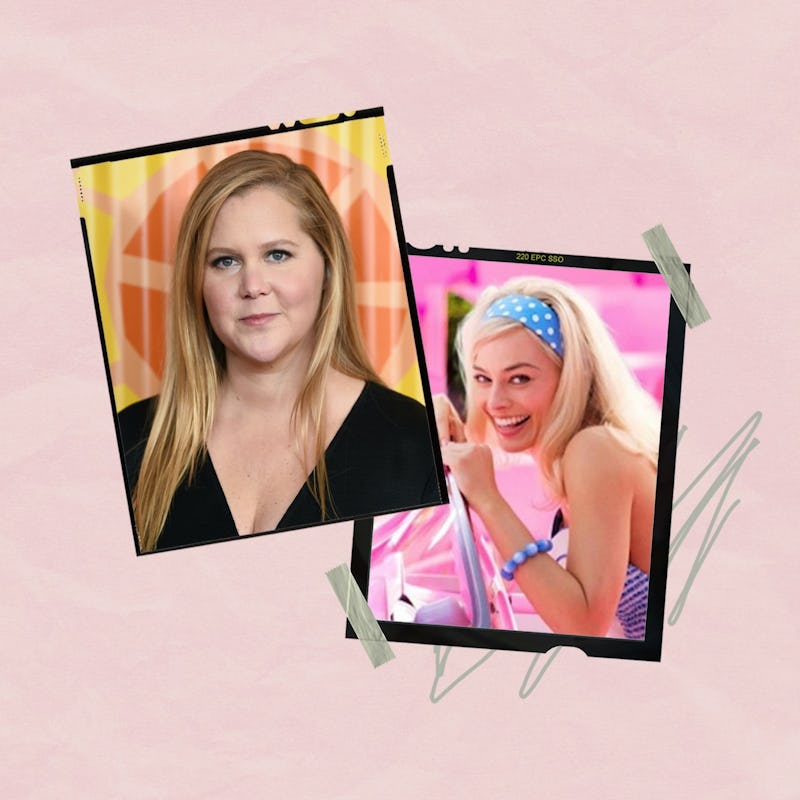 Credit: Dimitrios Kambouris/Getty Images Entertainment/Getty Images / Warner Bros.
With an all-star cast including the likes of Ncuti Gatwa, Will Ferrell, Issa Rae, and lead stars Margot Robbie and Ryan Gosling (aka Barbie and Ken), Greta Gerwig's live-action Barbie has fast become one of the most anticipated films of the year. To the surprise of many fans, Robbie wasn't the first pick for the movie's titular role, and Amy Schumer was originally set to star as Barbie. Speaking to Variety back in 2017, the Trainwreck star revealed that she was "no longer able to commit" to the project "due to scheduling conflicts." Now, after seeing the final film directed by Greta Gerwig, Schumer has shared her thoughts on the acclaimed movie.
On July 24, Schumer revealed on Instagram that she had seen Barbie, as well as its Barbenheimer counterpart Oppenheimer, and said that she "really enjoyed" both movies. The comedian refrained from commenting on Barbie further but did give her hot take on Christopher Nolan's latest film. "I think I should have played Emily Blunt's role," she joked, sharing a photo of herself in a straw hat, which is a nod to the title character Robert Oppenheimer's signature hat. "Do better Hollywood."
During a June 2023 appearance on Watch What Happens Live, Schumer revealed to host Andy Cohen that "creative differences" is what really sparked her decision to walk away from the original Barbie movie. "I can't wait to see the [Margot Robbie] movie, it looks awesome," Schumer commented. "I think we said it was scheduling conflicts. But yeah, it really was just creative differences. But you know, there's a new team behind it, and it looks like it's very feminist and cool so I will be seeing the movie." When WWHL host Cohen asked if the original Barbie script didn't "feel feminist and cool," Schumer promptly responded: "Yeah! Yeah."
Speaking with The Hollywood Reporter in 2022, the comedian opened up about her decision to pull out of the film, revealing that "they definitely didn't want to do it the way I wanted to do it, the only way I was interested in doing it." Schumer also disclosed that her idea for the film was for Barbie to be an inventor, which prompted the studio to suggest that the lead character could be the inventor of Jello high heels — and when the studio sent Schumer a pair of expensive shoes to celebrate her casting, she knew they had "the wrong gal."
This article was originally published on