Why Andrea Riseborough Is Confused By Her Oscar Nomination For Best Actress
"I'm not entirely sure how the f*ck this happened."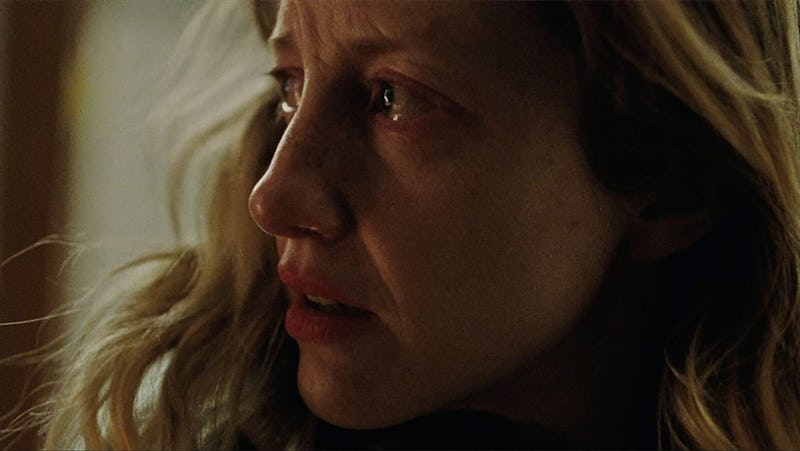 Bluewater Lane Productions
The 2023 Oscar nominations were full of sad snubs and pleasant shocks, but perhaps nothing was more surprising than hearing Andrea Riseborough announced as a nominee for Best Actress on Jan. 24. The British star received her first Oscar nomination for her role as a desolate lottery winner in To Leslie, a film that received a last-minute groundswell of support at the end of awards season campaigning. Nobody was more shocked than Riseborough: "I'm not entirely sure how the f*ck this happened," she told Deadline.
The Academy wasn't either. The surprise entry caused an internal "review" as to whether Riseborough's nomination, a product of a grassroots campaign by her famous friends and supporters, violated any guidelines. There were even rumors that the Oscar nod could be rescinded. On Jan. 31, the Academy announced while they aren't through with the investigation, Riseborough gets to keep her nomination.
"I'm astounded," Riseborough continued in the Deadline interview following her initial nomination. "It's such an unexpected ray of light. It was so hard to believe it might ever happen because we really hadn't been in the running for anything else. Even though we had a lot of support, the idea it might actually happen seemed so far away."
Although nominated for an Independent Spirit Award, Riseborough was snubbed by every other show during awards season, making her a longshot compared to contenders like Till's Danielle Deadwyler and The Woman King's Viola Davis, who was nominated for the Golden Globe, Critics Choice Award, SAG Award, and BAFTA but got shut out for the 95th Academy Awards. However, it seems that Hollywood was suddenly very determined to get Riseborough a nomination.
How Did Andrea Riseborough Earn Her Oscar Nomination For To Leslie?
Just weeks before the nominations announcement, The Hollywood Reporter wrote that A-listers like Charlize Theron, Jennifer Aniston, Courteney Cox, Edward Norton, and Sarah Paulson all held screenings of To Leslie as part of an impromptu awards season campaign. Gwyneth Paltrow also held a screening and called the film "a masterpiece," adding that Riseborough should win "every award there is and all the ones that haven't been invented yet." Riseborough was surprised but honored by the level of support, telling THR that "it's almost embarrassing to talk about."
To Leslie first premiered at the South by Southwest festival in March 2022, but had very little action until its limited release in October, where it only earned $27,000 at the box office. However, Riseborough and director Michael Morris felt motivated to do anything within their means to promote the film after hearing the emotional responses from viewers who did watch and connect with it. As a result, they reportedly turned to celebrity friends to raise awareness, and they personally made sure that it was uploaded onto the Academy's screening portal.
Still, their grassroots efforts didn't measure up to huge, expensive campaigns meticulously planned by studios. According to Deadline, To Leslie is now among the lowest-grossing movies to get an Oscar nod, but Riseborough is hopeful more people will watch it now. "The response we've had all along has been so personal from people," she said. "It felt like there was a scope for it to touch so many people. It felt like the most natural thing in the world to do, to keep talking about it even if people weren't very interested in it because as soon as they watched the film, they became instantly interested and couldn't shake off the story. The film really drove itself in that way."
Why Was Andrea Riseborough Investigated & Almost Disqualified?
After Riseborough's surprise nomination, the Academy of Motion Picture Arts and Sciences announced on Jan. 27 that it would be "conducting a review" to ensure that the competition is conducted "in a fair and ethical manner." Though the group doesn't mention exactly who or what they were looking into, the statement read, "We are conducting a review of the campaign procedures around this year's nominees, to ensure that no guidelines were violated, and to inform us whether changes to the guidelines may be needed in a new era of social media and digital communication."
Rumors floated that should the organization find violations, Riseborough's nomination would be rescinded. In the past, the Academy has revoked nominations after discovering "lobbying" from the nominees. (Though in the Oscars' 95 years, only nine have been retracted.) In Riseborough's case, lobbying could be construed in several ways. First, even though Riseborough didn't directly solicit votes, if other people who worked on the film did, that may also fall on her since she serves as one of the film's executive producers. Second, the Academy reportedly had to examine if her famous friends' promoting the film can be considered lobbying according to their guidelines.
After the review was announced, many took to social media to criticize the move, including Yellowjackets star Christina Ricci. "Seems hilarious that the 'surprise nomination' (meaning tons of money wasn't spent to position this actress) of a legitimately brilliant performance is being met with an investigation," Ricci wrote in an Instagram comment per The Independent."So it's only the films and actors that can afford the campaigns that deserve recognition? Feels elitist and exclusive and frankly very backward to me ... If it's taken away, shame on them." Ricci also added that actors rarely have anything to do with "campaigning."
Days later, on Jan. 31, the Academy finally announced that the Birdman star remains a nominee. In a statement, Academy CEO Bill Kramer said, "Based on concerns that surfaced last week around the To Leslie awards campaign, the Academy began a review into the film's campaigning tactics. The Academy has determined the activity in question does not rise to the level that the film's nomination should be rescinded."
However, the "campaigning tactics" are under further investigation. He continued, "We did discover social media and outreach campaigning tactics that caused concern. These tactics are being addressed with the responsible parties directly."
This article was originally published on