Airris From MAFS Says He Doesn't Regret Going To Decision Day With Jasmine
"There was not a time where I felt that I would walk away."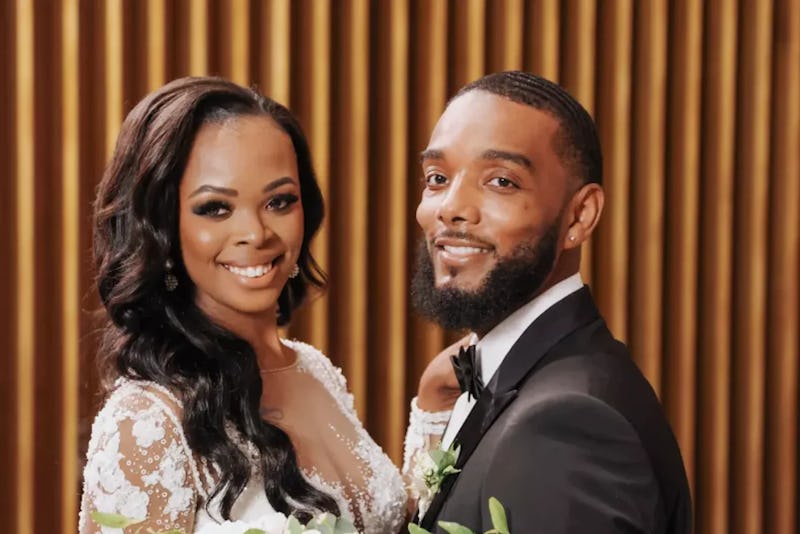 Haley Maria Smith Photography/Lifetime
The Feb. 1 episode of Lifetime's Married at First Sight Season 16 highlights just how differently couple Airris Williams and Jasmine Secrest view sex. While on their honeymoon in Jamaica, Jasmine blushes and pleads the fifth when her new husband asks about her "favorite sexual position" over a candlelit dinner. "My wife, you know, she's a little bit more reserved, but I feel like she's got a demon side. I've gotta kinda pull that demon side out of her," Airris, who had joked earlier about his "years of research" on the topic, told cameras in an interview clip shared by People. "That's gonna be fun. I've never been, like, a sex mentor, but I can show her the ways. I'll just add that on my résumé."
Though their interaction was playful, the MAFS Season 16 trailer teased that Airris' comfort with physicality will cause major problems as they navigate their new marriage throughout the eight-week social experiment. In fact, some fans have already predicted that Airris and Jasmine break up on the show because of one incident when she catches him dancing with another girl at a bar. Meanwhile, the show highlighted that Airris had been unfaithful in a prior serious relationship, and showed the 39-year-old software engineer and instructor insisting that he was "done with the streets" and ready to be a one-woman man — even if he has to share his new wife's attention with her 13 dogs.
That wasn't the only issue for the 32-year-old Nashville cheerleading coach though. During a recent MAFS after show interview, she explained to host Keshia Knight Pulliam that it "definitely raised [her] eyebrow a little bit" to find out that Airris hadn't been in many serious relationships, nor had he ever lived with a woman. As an only child, Airris valued having his own space, something that didn't help their circumstances. Meanwhile, Airris' cousin, Fallina, was staunchly against his decision to get married, and she grilled Jasmine about the fact she was living with another man just seven months prior to their wedding day.
Because Airris' and Jasmine's Instagram accounts are set to private, there are no social media clues about where the couple might stand today. However, "hopeless romantic" Jasmine recently told Distractify, "I'm in a place in life where I feel the only thing missing is my person," and her use of the present tense seemed to be a telling indicator. The former pageant queen continued by emphasizing an issue that brought her on the show in the first place. "I always fall in love with potential. I see the good in people and I'm that person that wants to always help my partner reach their full potential," she added. "Eventually, I realize that's not what they want for themselves and I'm back at square one."
Still, Airris' interview with the website seemed to hint that they at least ended on a positive note. "Between work, adjusting to marrying a stranger, and constantly being filmed, [it] did become overwhelming at times," he recalled of the MAFS experience. "Jasmine and I relied on each other a lot when the filming aspect became too stressful for one of us. There was not a time where I felt that I would walk away during the entire process."
Even if he didn't walk away prematurely, at least one MAFS fan account already claimed that Nicole and Chris are the only Season 16 couple that stayed together on Decision Day. But until then, fans will need to wait and see what leads to that point.