Alex Hall & Tyler Reveal If They're Dating After That Selling The OC Season 2 Cliffhanger
They explain to Bustle why the steamy jacuzzi scene "had to happen."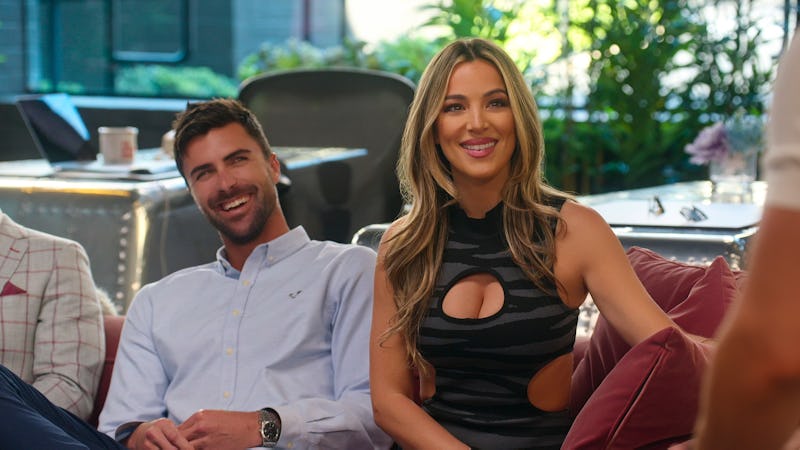 Courtesy of Netflix
Going back to their much-discussed "noseys" in Selling the OC Season 1, Alex Hall and Tyler Stanaland have hardly hidden the self-described "flirtatious" nature of their friendship. Their close dynamic came under heavier scrutiny when Tyler and Brittany Snow announced their separation after two years of marriage in September 2022, with the Pitch Perfect star eventually filing for divorce months later on Jan. 19. The very next day, Tyler and Hall were photographed together in Dubai, further fueling romance rumors.
When Netflix's cameras began rolling for Season 2 shortly afterward, however, the Oppenheim Group realtors insisted that they were just good friends and had never so much as kissed. According to them, Hall, who'd already navigated her own divorce, was simply supporting her fellow OC native and friend. That all changed by the finale, when Tyler and Hall shared an intimate moment in the jacuzzi at Polly Brindle's 37th birthday bash in April.
However, Tyler — who finalized his divorce with Brittany this summer — insists that his relationship status with Hall remains unchanged. "We're still navigating our friendship and just kind of taking it one day at a time," he tells Bustle, providing a post-filming update.
Their jacuzzi conversation certainly left the door open, though. Noting in the finale that they've "always had a very flirty relationship," Tyler admitted, "I would be lying if I said I didn't think about us being more than friends." Hall, for her part, replied that she had "those thoughts," too. As the single mom explained to him, she'd been "on a mission to find a f*cking husband" for the past few years, wanted more kids, and wasn't "looking for something casual."
Responding that he "wanted kids 10 years ago," Tyler further opened up about how the "biggest loss" he felt in his divorce was the idea of starting over with someone new. After telling Hall he wanted to court her and take her to dinner sometime, he admitted that she also "[scares] the f*ck" out of him, though. "You are different than anybody I've ever dated," he said. "You're loud. You're opinionated. You are a f*cking nightmare. And I genuinely, like, I love everything about you." After mutually agreeing that they were "opening Pandora's Box," Tyler went in for an epic season-ending kiss.
About five months later, the duo also broke down Season 2's final scene. "Watching the season back, it's interesting to see me pour my heart out in the jacuzzi. Kind of surreal," Tyler adds. "I think that night specifically, there were conversations that we had had off camera that kind of led to that conversation. But it kind of took both of us by surprise, and thanks to the help of 15 tequila shots, it all just came pouring out of me in the moment. I don't regret it. I'm glad that I said all those things, and it was, at that point, a will-they-won't-they moment that just had to end. It had to happen."
Hall, who also insists she has "no regrets" from Season 2, agrees with Tyler's assessment. "What he said," she jokes. "And he's being serious about 15 tequila shots." His reply? "It took that much to get it out of me."