All The Clues Clint & Gina Aren't Still Together After MAFS Season 16
Only one of the five couples reportedly stayed married.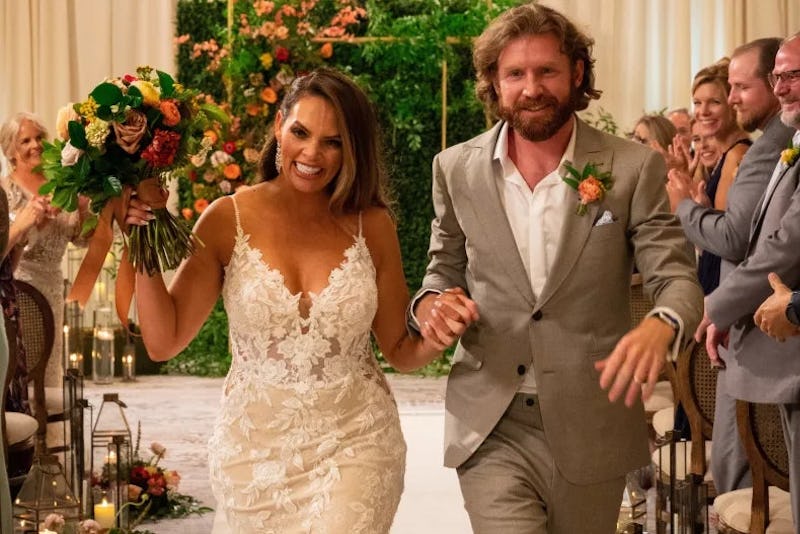 Matthew Kahn Photography/Lifetime
When Married at First Sight Season 16 cast member Gina Micheletti moved into her high-rise condo in downtown Nashville, she predicted that she'd meet her husband there. The 35-year-old salon owner wasn't too far off, either: On the Lifetime reality dating series, she learned that her match, Clint Webb, lived in the same building, and they might have even talked to each other in the elevator. Though they got married on MAFS, it remains to be seen if Clint and Gina are still together — but the clues aren't exactly promising.
For starters, Clint's Facebook lists his current relationship status as single, though it's worth noting that his most recent public post as of publication was from May 2020. The 40-year-old native of Youngstown, New York, still seems focused on growing in his job as a commercial account executive at Salesforce, a company that makes cloud-based software designed to help businesses.
Similarly, Memphis-born Gina explained in her MAFS bio that she'd previously put a pause on dating to advance her career and was in the process of expanding her salon business. Though Gina's personal Instagram is set to private, she recently created a new page for Slay Bae Beauty Co., which the University of Alabama alum founded in 2018.
Also working against Clint and Gina? Reportedly, only one couple stays married on Decision Day, according to the MAFS Fan Instagram account, and all signs currently point to Nicole and Chris going the distance. Meanwhile, there are also several strong hints that suggest fellow Season 16 cast members Mack and Domynique had an "epic" breakup before filming even wrapped.
The MAFS Season 16 trailer didn't exactly paint their relationship in the best light either. In one scene, Clint described the typical women he's dated as being "very athletic, slender," prompting Nicole to tell the cameras that he'd "made comments that were offensive to every woman out there with a real, natural body." She punctuated her statement by making a gagging noise and calling Clint "a d*ck." After Mackinley tells him that he thinks Gina is "sexy" and that he's "crazy" to think otherwise, a subsequent clip shows the couple in an argument that leads Gina to walk away, telling Clint she's "done." His response? "You should be done," Clint says back, adding, "What an unfortunate turn of events. Unreal." A later preview scene reveals that they at least make it to Decision Day though.
As the season has progressed, they've already experienced several issues, starting with the fact Gina didn't feel "sexual sparks" right away. "I definitely can feel the chemistry in conversation, but I'm not feeling a ton of physical chemistry," she explained to host Keshia Knight Pulliam on the Jan. 11 episode of MAFS: Afterparty. Meanwhile, Clint admitted that he liked the "concept" of having a wife but also had been a player in the past. "I've slept with 65 partners, but at the end of the day, I just haven't found Mrs. Right," he explained in a confessional.
Judging from the clues that he and Gina split after MAFS, it seems that his search now continues.